Diagnosis of Disaster
Experts dissect the missteps in five recent hiking tragedies
Heading out the door? Read this article on the new Outside+ app available now on iOS devices for members! Download the app.
William Hudson and Carl Cox

Rocky Mountain National Park, CO

Blasting winds scour RMNP almost daily in fall and winter, and November 27, 2007, was no exception: Gusts registered 60 mph near Sandbeach Lake Trail, where these two 68-year-olds from Boulder were hiking. Their route cut through a dense forest of lodgepole pine, Ponderosa pine, and Douglas fir, which shuddered in the wind. Suddenly, a fir rooted 30 feet from the trail snapped in half and crashed down on them. When Cox came to, he saw Hudson pinned beneath the tree, his head on a rock, and he knew immediately his friend was dead. "There's absolutely nothing they could've done to prevent what happened," says ranger Patty Shafer, but she warns that falling trees may pose an increasing threat in the West. In recent years, a massive bark beetle outbreak has transformed entire forests into swaths of standing dead skeletons: Colorado alone has lost 1.2 million trees. "We've been removing dead trees from campgrounds and backcountry campsites, but there's no way we can make the trails safe from falling trees," Shafer says. Instead, the park warns hikers by posting notices at trailheads. To avoid being squashed, pay attention to dead trees beside your routes and campsites, especially when it's windy.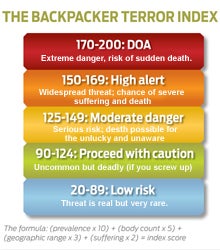 Kimo and Marie Coray

San Rafael Swell, UT

Kimo Coray and his wife Marie, both 58, had five years' experience hiking Utah's slot canyons when they slithered into Knotted Rope Canyon on July 14, 2007. They expected to hike about six hours on a loop circuit through the southern San Rafael Swell. But a few hours in, they came to a pothole they couldn't cross: Smooth, concave sandstone walls surrounded a pool of water 15 feet below the rim where they stood, frustrating their attempts to skirt or swim it. The couple attached a rope to an existing anchor above the pothole, and Marie gripped the line as she tried shimmying around the wall, her nails clutching at–and skittering off–faint ripples in the sandstone. Suddenly, she slipped and slammed into the pothole's rock wall, breaking her arm. She couldn't climb up–and her husband couldn't haul her up, either. She dropped into the icy water, where she struggled to stay afloat. Finally succumbing to hypothermia, she drowned. "The San Rafael Swell is beautiful, but it's not real forgiving," says Kimo Coray, who had packed a rope and some webbing and carabiners, but no harness or tools to place additional anchors. "In five years, there were never any challenges we couldn't handle, and this was supposed to be an easier hike than others we'd done," he said. Improvising with the climbing equipment they had just wasn't sufficient for the technical puzzle they faced–or the rescue scenario that ensued. Says Coray, "If I had to do it over, I would've stayed there, above the pothole, and not tried to cross it."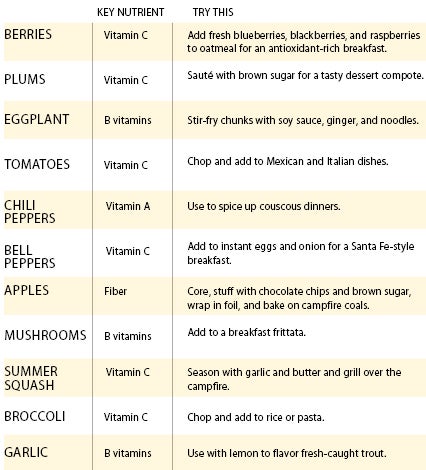 Jackson Still and Devin Furlong

Los Padres National Forest, CA

A newbie hiker, 23-year-old Jackson Still accompanied his more experienced friend, Devin Furlong, 20, on a backpacking trip across Hurricane Deck, a barren ridgeline blackened by last year's wildfires. The Deck boasts wide-open views of the surrounding San Rafael Wilderness for eight exposed miles. On June 7, 2008, the second day of their trip, they tackled the steep climb up to the Deck, enduring 100°F heat and thirst: The duo ran out of water by mid-afternoon. Still's skin became red and dry before he lost consciousness on the shadeless ridge. Furlong hiked out to get help, but by the time rescuers arrived, Still had died of heatstroke. "People often don't realize that heat can be as dangerous as cold," says Jim Frank, a Santa Barbara County Search and Rescue team member. When hiking in intense summer temps, tackle mighty climbs early or late, and drink a liter of water per hour to replace what you lose through sweat. You can also acclimatize your body to extreme heat by creating those conditions where you live: Exercise for several weeks (or months) in a room with the heat turned up, wear extra layers when you hike, or log spare hours in a sauna.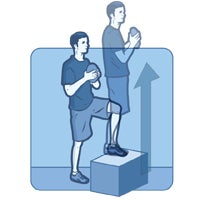 Roger Cooper

Baxter State Park, ME

On June 26, 2004, Roger Cooper, 51, joined three pals for a hike up Mt. Katahdin in Maine's Baxter State Park. They were following the Cathedral Trail, a steep, talus-choked route to the summit requiring all-fours scrambling skills, when a 500-pound boulder burst from the mountain and bounced down the route, dislodging more rocks as it fell. One of them hit Cooper, killing him. "It was unpreventable, a pure accident," says Jean Hoekwater of Baxter State Park. But while rock slides seem random, they often occur at predictable places and times. State geologist Robert Marvinney says Maine's coast and peaks are prone to rockfall, as are most mountain regions. Exercise special caution on huge talus slopes below cliffs: Those rockpiles indicate boulders have toppled there for years. Freeze/thaw cycles in spring also dislodge rocks, so cross beneath cliffs early in the day, when slides triggered by melting ice and snow are less likely. Another sign of fresh activity: The absence of lichen or moss on rocks.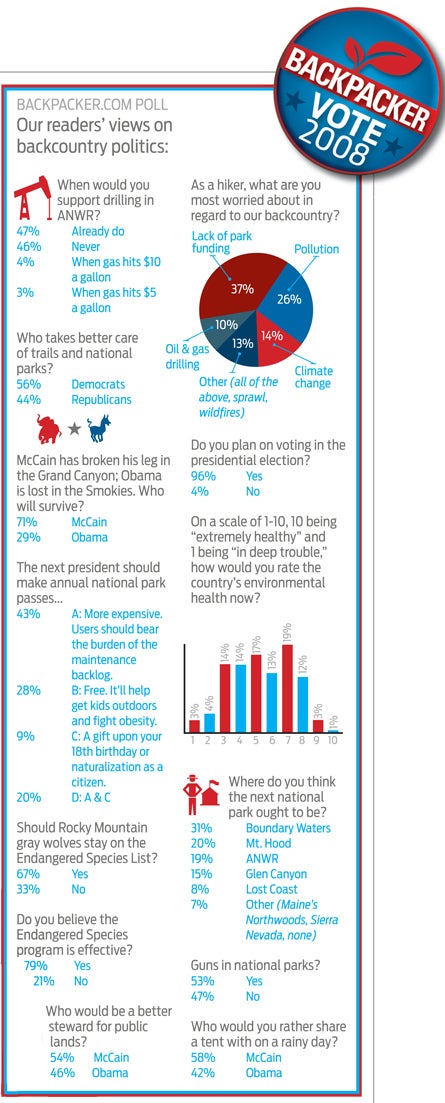 Jon Francis

Sawtooth National Forest, ID

His summer job at Luther Bible Camp nearly over, Jon Francis was hustling to bag as many peaks as he could before leaving Idaho's Sawtooth Mountains. He'd tried to round up a posse to hike the Grand Mogul, but finding no takers, he struck out alone on July 15, 2006, to climb the 9,733-foot peak. Reaching the summit was apparently no problem for Francis, a fit 24-year-old who had begun to branch out into mountaineering. But instead of taking the easy route down, Francis chose to foot-ski the scree down an ugly Class IV gully that looked viable–but actually steepened into sheer cliffs. The searchers who finally located his body estimate Francis fell 300 feet. Unable to brake his descent, he might have accelerated over the unseen cliff, or he might have exited the couloir and fallen while downclimbing without a rope. "He was one of those guys who used his fitness to get him out of trouble," surmises Jeff Hasse, who coordinated the search. Hasse says hiking alone didn't help. "The consequences of failure are much higher when you're solo, so it's a good idea to back off a step and stay well within your abilities. Hiking alone is not the time to push it." To help other families of lost hikers, Jon's family started the Jon Francis Foundation: visit jonfrancis.org for more info.