Deepest Daks
Journey through America's most accessible wilderness in search of untouched places, and you might just find peace of mind to match the lakes and hills.
Heading out the door? Read this article on the new Outside+ app available now on iOS devices for members! Download the app.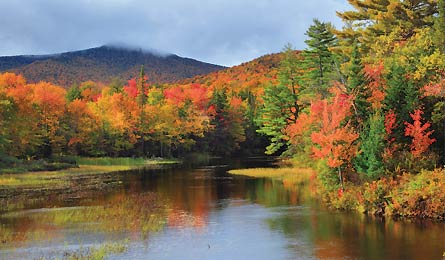 Lewey Lake in the fall (Pat & Chuck Blackley)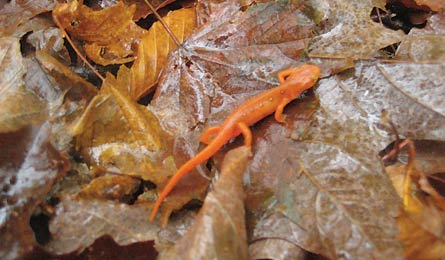 Red Eft Newt (Adam Dixon)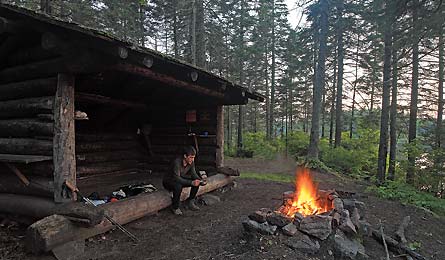 Pillsbury Lake Lean-To (Tim Seaver)
Trip Planner | 5 More Favorites
The other side of the streams looks too far to me, but Adam thinks he can jump it.
"Don't worry," he says, sizing up the five-foot-wide torrent of muddy water and muscling his 40-pound pack back into the reeds to give himself a proper two-step launch pad. "I used to run track in high school."
I want to point out that high school was a long time ago, but I think what he needs right now is my support. I know the precise reason I'll give it to him.


Here on the Sucker Brook Trail, not 3.5 miles from our trailhead at Lewey Lake, we'rea bout to enter some of the deepest forests the Adirondaks have. This lake-filled corner of the 6.1-million-acre park isn't the place to rub elbows with dayhikers looking to bag a pretty peak. It's the least-visited corner of the East's largest natural area. Even the name sounds out there: West Canada Lake.


We'd planned to stay on trails for the first four days, skimming Cedar Lake en route to the Adirondacks' highest lake basin, then circle back to Lost Pond over hardwood-forested ridges popping with Candy Land fall colors. On day four—if we were up to it—we'd turn abruptly east, hike to where the dotted line ends, and bushwhack a backside ascent of 3,899-foot Snowy Mountain, the tallest peak in the southern Daks.


It's the kind of wilderness that requires more commitment than a casual weekend on the trails. And it's the kind of trip I need during the conflicted time I've recently entered. Having just turned 30, I'm nagged by all sorts of questions about life: I want to know if I've lived up to the promise and potential I had when I was younger.
Mostly, I want to find out if my 18-year-old self would punch the man I've become in the face. The optimal way I've found to measure myself against the past is to try something harder than what I've done before.
Here, without even knowing it, Adam, a 31-year-old who's been between internships lately, has neatly encapsulated this messy mix of potential and current reality into the space between this bank and the far one. His jump is my experiment. "All right," I say, "let's see what you got."


Like a guy about to shoulder through a door, Adam shifts his momentum back and forth. Then, without another word, he takes two giant steps and commits his mass to gravity.


It's the kind of jump that takes place in slow motion, viewed from underneath and lit from above, even if it isn't. Flecks of dirt fall off his Asolos and into Colvin Brook. He reaches the zenith of his arc and sails toward the far bank. His body blots out the sun.


But then he lays up short. His left foot goes forward, but the other slips back, shears the grass off the bank, and dunks in the stream. He comes to rest briefly in a near-textbook hurdlers' split—though flat on the ground.


I think what Adam probably needs right now is my indifference (he'd probably lobby aggressively for a mulligan), and I'd give it to him—if I could control the spasms of laughter. I drop to a knee. I'm wiping tears from my eyes. It's like I've been tear-gassed.


I'm guessing the 18-year-old version of Adam would join me and my teenaged self laughing—though perhaps he might be a little shocked that 12 years could translate to such a loss of linear leap. Then he snaps me out of it.


"OK," he says, scraping the mud off his shin. "Your turn."
Trip Planner | 5 More Favorites
For one in six people in America, "Adirondacks" defines wilderness. These woods, with their rugged but reachable mountains, forests, and fish-packed lakes, provide the counterpoint to all the parts of the Northeast beset with signs, cities, and interstates.


Leaf-peeping trips (starting in early-September in the northernmost parts of the park, then expanding south) anchor the seasonal must-do list. But daytrippers stick mostly to the fringes. Even in the hot months, the interior hangs with a silent immensity that's hard to grasp and hard to resist, but sometimes hard to find.
As an efficiency-minded Northeasterner myself—I grew up in Connecticut—I planned this route to carry us to the deepest interior in the most direct way. It already feels far away, partly because the trail keeps disappearing, partly because of the rain.


Almost immediately after Adam's failed jump (hubris be damned, I scouted a dry crossing), the cold October rain begins. It dumps on us as we pick our way across slick, moss-covered rocks over serial crossings of Colvin Brook. It taps our hoods as we reach the Northville-Placid Trail, heading south toward Cedar Lakes. We stop for a dry break in its lean-to at mile 10.3.


The water, scenic against a backdrop of conifer green and spent-autumn yellow, is blurry with tiny explosions. The lean-to sags in the rain like an old mule. Adam's got the wild-eyed look of mutiny rising. We need fire.


A few minutes later, he returns with a sodden armful of branches and a bundle of stuff he'd protected in his jacket. I lurch into a thicket tinseled with ribbons from the paper birch above. With a few dry twigs scavenged from under the shelter and with our bodies as a rain break, we'll have our fire.
As Adam sets his stream-soaked boot to braise, I think about what this five-miles-too-early camp really means: The weather is drowning the grand, 68-mile sideways-mushroom cloud-loop I'd come to do. Compromise comes early.


As I fall asleep under the leaky roof that night, I can picture teenaged me reaching back for the haymaker. It was always all or nothing back then. No one ever taught that kid to jab.


We open our eyes to more rain the next morning. Across Cedar Lake, fog clings to Good Luck Mountain and Noisey Ridge like smoke rising from 100 campfires. Last night's thoughts seem silly, and the idea of an either/or world childish. It's not either it rains, or you hike. Sometimes it's both. I feel invigorated and ready to push deeper.


We suit up and head south on the Perkins Clearing Trail into a forest of young birch. Their skinny boughs hang like low-slung arches over a yellow-brown mosaic. The trail slowly disappears under half a foot of water that widens into a lagoon.


My heels slurp inside my boots with each step; I swashbuckle through. The bridge at mile 12.4 is washed out, and the grass on the lower side looks like slicked-back hair; we're practically singing. We enter stands of older hemlocks and maples after we turn west on the Pillsbury Lake Trail. Adam spots a fire-colored red eft newt in the leaf litter. They only come out when it's wet.
Trip Planner | 5 More Favorites


By my fourth step into Mud Creek on the third morning, the water reaches my thigh. By the fifth, I'm yelping as the cold envelopes my waist.
Adam's around the corner putting his clothes back on. The clouds are fragmenting now, but after two days of rain we've decided a few things: We're not going to let our skivvies get wet, and we're not going to let deep, slow-moving water lock us out.
I can't say that was always the case. Teenaged me would have strode up to that bank and plunged in—fully clothed and come-what-may. Now I just chuck a rock into the current and know it's a go. At moments like this, it's striking to realize how time converts what's merely possible into wisdom and skill.
Dressed again, we start to crank, like our skin is converting the rays that penetrate the canopy into energy. As we gain a little elevation, the trail emerges from ankle-deep puddles and looks paved in gold for all the fallen leaves. (A drier-than-average summer contributed to quick leaf death and the primarily yellow foliage display.) To our right, we get occasional glimpses of mirror-shine lakes where few people go.
Then we arrive at a stream, five feet across with milky swirls covering the rocks we're supposed to step on. "Looks like we have two options," I tell Adam. "We can take the easy route and cross up there." We both look upstream to a fallen tree encased in a brushy tangle. "Or, we can take the sporting approach and jump it."
"Me first," I add.
I count three steps back, deliberately as a placekicker, dig the toe of my back boot into the dirt and push off hard. Call it a calculated incaution. Call it whatever you want, because the next thing you know, you're airborne. Committed.
I extend my right foot mid-leap and find the far shore. I run out the momentum for the rest of the day to Beaver Brook Lean-to, which sits 20 feet above the water and has an impossibly (improbably) red sugar maple framing our cross-lake vista of Blue Ridge, a sloping nub in a rolling forest.
I'll need that momentum for the rest of the trip. The next two days will take us off the well-known Northville-Placid Trail, into second-growth forests pooled with beaver ponds, and finally across a river to where the trail fades, a few miles southwest of Snowy Mountain.
Trip Planner | 5 More Favorites
On our final morning, we're standing at the edge of Little Squaw Brook. The map shows the trail continuing, but neck-high grass disagrees.
"Good a place as any," I say to Adam. We start off-trail, uphill and east, toward Snowy's long southern ridge, which we'll follow to the summit. The leaves crunch under our feet in the wide-open forest dotted with suitcase-size boulders and crossed by thin drainage brooks still gurgling with fresh rainfall.


White pines thread in with the hardwoods the higher we climb, closing off the cross-valley view to Buck Mountain until we reach a 30-foot-tall cliff band near the top. Just short enough to hide between topo lines.
It'd be easy for Adam and me to turn back here, give in to doubt, re-ford the chest-deep Cedar River like we did yesterday afternoon, take the NPT back to the Colvin Brook Trail, and blame it on something besides ourselves.


But that's not what we're going to do.


After a few minutes of grunting and scraping fingernails, Adam joins me on a ridge so crowded by white pines that light barely penetrates. In their race for open air, these 40-foot-tall, Nalgene-skinny trees let the bottom branches die to feed the crown. The tight, two-foot space between trunks is now barbed with hundreds of skewers. They poke our arms and legs and whip our faces.


Mossy logs flatten to mush when we step on them. Cliff bands on both sides keep us on the ridge. We take turns breaking branches. We don't talk much. Hours pass. Frustration gives in to doubt. Doubt collapses into exhaustion.


The sun is on its way down by the time we stand below the last 200-foot broken rock face on the backside of Snowy. I take the inventory: both water bottles missing, right leg of shorts ripped off, bleeding from both forearms, scratched and swollen left eye. I look like a kid fresh from a hiding spot in the prickers, or a man returned from clearing them away. Then I realize: I am both. I can hold fast to my teenaged taste for risk, but inform it with the things I've learned; I can convert my ideas into adventures better than ever before. Growing up doesn't mean getting soft. There's nowhere to go from here but forward.


Testing each step, Adam leads up the steep, tree-filled seam between sheer rocks. We shift boulders and uproot tiny saplings. We never look back or down. Adam smells something familiar. "Campfire," he says. "We're close."


And then, leading to the cliff we've just scaled, we see a faint trail that delivers us to the base of an 80-foot fire tower. We scale it in seconds; it's like being born into the sky. The southern Daks stretch out before us. To the east, Indian Lake shines like a sword below rolling hills splotched with yellows, oranges, and forest-greens. To the north, the High Peaks chip the horizon.


Far away on those slopes, the ant paths deliver dayhikers—teenagers and seniors alike—to popular summits with finer views than the one here. But we're the ones who gained perspective.


Trip Planner | 5 More Favorites
Trip Planner
Tour one of the most remote spots in Adirondack Park on this five-day, 48.8-mile, lake-filled loop.
Do it Start at the Sucker Brook trailhead at Lewey Lake and hike west for 5.5 miles, making a series of creek crossings to the Colvin Brook Lean-to. Pick up the Northville-Placid Trail heading south and hike 3.9 miles to the Cedar Lake Lean-to. Next day, head south on the Perkins Clearing Trail for 2.8 miles, then west onto the Pillsbury Lake Trail. Rejoin the northbound NPT at mile 19.7, and shelter at South Lake Lean-to .6 mile later. Day three follows the NPT 6.3 miles to the Beaver Brook Lean-to. Day four heads north on Cedar Lakes Trail toward Lost Pond, then turns east toward Moose Lake, and reconnects with the NPT at mile 35.9. Ford Cedar River and enjoy dispersed camping (150 feet from the trail). On the final morning, head east on the Little Squaw Brook Trail, then ascend southeast to reach Snowy Mountain's long southern ridge. Bushwhack along the ridge for 3.3 miles to the fire tower, then follow the 3.6-mile Snowy Mountain Trail to NY 30.


Easier ending Cut the bushwhack at mile 36.6, and take the NPT south to the Sucker Brook Trail for a 41.3-mile loop.


Get there From Albany, go 28.9 miles west on I-90 to exit 27. Drive north on NY 30 for 65 miles. Continue .2 mile beyond Lewey Lake Campground to a small turnout, just after the bridge.


Shuttle The trailheads are separated by 4.6 road miles along NY 30. Hike it or try to bum a ride at the Snowy Mountain trailhead.


Map Trails Illustrated Adirondack Park #774 ($12, natgeomaps.com)


Trip data Get a GPS track, photos, and more route beta at backpacker.com/hikes/westcanadalake.
Trip Planner | 5 More Favorites


5 More Favorites
Discover deep wilderness in these wild corners of the Adirondacks.
Five Mountain Loop Find iconic summit views from five 4,000-footers on this three-day, 17.3-mile loop through the Dix Range. Start at the trailhead near NY 73 and the North Fork of the Bouquet River (15 miles west of Lake Champlain) and scramble up the East Dix Slide to bag 4,012-foot East Dix and 4,060 foot South Dix. From there, edge along ledges with over-cirque views to the trailless summit of Macomb Mountain and Hough Peak. Complete the circuit with a steep climb to the grand finale: 4,857-foot Dix Mountain. Trip ID368779


St. Regis Mountain How deep is the solitude on this 2,874-foot, northern Daks peak? You have to paddle 2.1 miles just to reach the trailhead. Put-in where St. Regis Carry Road (off NY 30, north of Lake Clear) dead-ends and paddle northwest across Upper St. Regis Lake. Stow boats on the western edge of Spring Bay. Climb 2.2 miles through second-growth forests of beech, maple, and yellow birch (fall colors in mid-to late-September) along a rarely trodden trail. The bare rock summit offers 360-degree views over pristine lakes and tree-covered rollers. Trip ID 12355


Gleasman's Falls The Adirondacks don't reserve all their beauty for the summits. This 5.5-mile out-and-back in the Independence River Wild Forest crosses mountain creeks and mixed maple forest to a rocky gorge and the cascades of Gleasman's Falls. At the edge of the gorge, look for an unmarked spur leading to a bare-rock overlook of a series of 5- to 10-foot cascades. Trip ID369194


Blueberry Mountain With a steeper climb than nearby peaks (2,000 feet in 2.2 miles), this trek to the top of 2,920-foot Blueberry sees fewer visitors. Hike past moss-covered rocks and up a ravine to views of the Keene Valley's angular mountains on this 4.4-mile out-and-back. A few ledges deliver you to the summit, where you'll find SUV-size boulders and one of the Daks' best views of the High Peaks. Trip ID42331


Crane Mountain Pack serious adventure into just 2.6 miles on this loop, which achieves the 3,254-foot summit via scrambles over rock jumbles and ladders. From the summit, the view of Vermont's Green Mountains stretches out to the east, and Moose Mountain rises in the south. Continue north to Crane Pond, and turn right onto the Summit Trail. Trip ID 1167608