An Explorer Confronts His Last Canyon
After a lifetime plumbing the backcountry of the Southwest, David Roberts finds himself face to face with mysteries past and present.
Heading out the door? Read this article on the new Outside+ app available now on iOS devices for members! Download the app.
Go deeper with Backpacker: Become an Outside+ member to get access to all of our stories, plus exclusive event invites, training plans, magazine subscriptions, and more. 
We had started that morning at the head of the nameless canyon in southeast Utah. By now, 4 miles into the late autumn afternoon, we had discovered six Anasazi sites—ruins and rock art left more than 700 years before by the farmers and hunters (now "officially" renamed Ancestral Puebloans) who had flourished for millennia on the Colorado Plateau.
The date was November 9, 1993. I was 50 years old. For three days and two nights, my companion and I had seen no one else on Cedar Mesa. The canyon's crystalline silence seemed alive with the fugitive presence of the ancients. What god or shaman had the artist painted in red ochre on the sandstone wall deep in the recesses of this gloomy alcove? Who had lived in those tiny stone-and-mud rooms now squashed beneath the fallen boulder?
It was getting late, and we needed to cross from the north to the south side of the canyon, then rim-walk by headlamp back to our car. On our way down, as we circled beneath an enormous hoodoo—an overhanging pillar of stone that seemed to guard this bend of the valley—we came across the finest ruin yet. Eight or 10 rooms, some with their pole-thatched roofs intact. On the left, one ledge up, a blank facade of mortared wall hid some inner sanctum. My companion stuck her head through the only portal in the wall. Her eyes slowly adjusted to the dim interior. Then she ducked back out. "David," she said quietly, "you're not going to believe this."
I will not attempt to describe what lay behind the facade. Words cannot match the builders' craft and cunning. Suffice it to say that the next two hours passed for us in a trance of astonishment. Twenty-five years later, that November afternoon remains one of the most enchanted interludes I've ever spent in the Southwest. But now, thanks to the malady that changed my life for good two and a half years ago, I know I will never be able to repeat such a hike. My enchantment with Cedar Mesa is steeped in sorrow.
Near the end of our visit, my thoughts cohered in a name. So this is Moon House, I mused. I had heard vague whisperings from the cognoscenti about the place, but no hint of how to find it. Instead, we had found the ruin by accident, aided by the instincts that were creeping into my topographical ken. And the solitude that graced our discovery intensified its magic.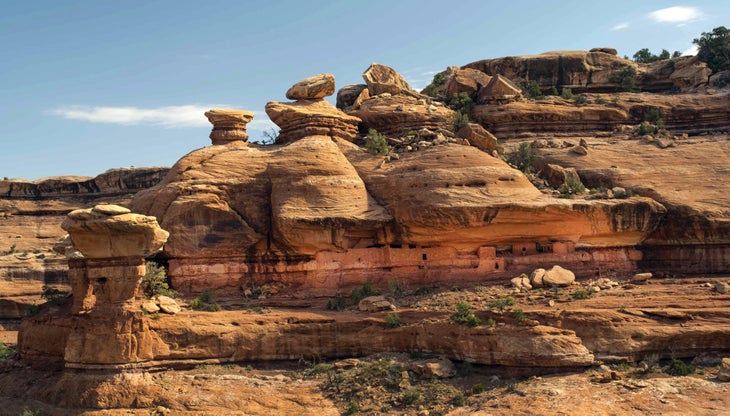 In May 2017, I stopped at the Kane Gulch Ranger Station on Cedar Mesa. Since 2010, a permit system has regulated the traffic to Moon House. The longtime ranger, Scott Edwards, told me, "They start lining up at dawn. Sit in lawn chairs in the parking lot. And once we open, the day's permits are gone in two minutes flat."
It was inevitable that over the years, Moon House would become known, then jump to the top of every casual hiker's Cedar Mesa tick list. During the last decade, websites extolling the ruin, complete with route directions and GPS coordinates, have proliferated on the internet. Yet Cedar Mesa retains its mysteries, and not even the staunchest of devotees can know them all.
I first hiked a Cedar Mesa canyon in 1987. By the early 1990s, I was heading out there at least twice a year, on sojourns lasting as long as three weeks. But Cedar Mesa—400 square miles of canyons and ruins in southeast Utah—unfolds as an intricate and subtle landscape, and it took me years to start to figure it out. Two of my first outings were eight-day llama treks with my wife, Sharon, that combined to cover the 56-mile length of Grand Gulch. As blissful as those rambles were, I realized in later years that because our eyes were still untrained, we missed something like half the ruins and rock art panels that lay along our path.
Among their other gifts, the Anasazi were virtuoso climbers. In many a canyon, I've spotted granaries a hundred feet off the ground up near-vertical cliffs, or a hundred feet below the rim, that looked impossible to get to. In the company of my buddy Greg Child, I've gotten to sites without rappelling (which is against the BLM regulations on Cedar Mesa) that we're quite sure no one else has entered in the last 700 years. How and why the ancients built where they did remains a conundrum no expert has begun to solve. Yet the labyrinth of the vertical must have served as a key component of Anasazi culture, one that the archaeologists, noses buried in their horizontal excavations, have all but ignored.
Were Cedar Mesa devoid of all vestiges of the Anasazi, it would still be a hiker's paradise, its slickrock slabs and buttresses unfolding in angular tableaux with every canyon bend. But what makes its preservation so essential today is that its backcountry contains more prehistoric sites than any other comparable swath of land in the United States—by some estimates, as many as 100,000 of them, if you count every lithic scatter or boulder scarred with sharpening grooves. Nearly all the roomblocks and kivas remain unexcavated (in pristine condition, thanks to the climate and the sheltering alcoves), except by the wanton shovels of the pothunters. At Mesa Verde, such famous villages as Cliff Palace have been reconstructed (often badly) into museum-style dioramas. On Cedar Mesa, at Turkey Pen and Jailhouse and Bannister House ruins, what you see is what the Anasazi left—minus the potsherds scattered in the dirt that visitors over the decades have not been able to resist slipping into their pockets.
None of the ruins is big. Cedar Mesa was the home of marginal bands, of extended families eking out their livings tending small fields of corn, loping across the plateaus to bring down deer and bighorn sheep with stone arrowheads and atlatl darts. Yet especially during the century and a half before the great abandonment, from 1150 to 1300 AD, Cedar Mesa must have seemed as fine a place to live as anywhere in the Southwest. Why? The answer remains a puzzle. Except for the pioneering scholar William Lipe, archaeologists have pretty much ignored Cedar Mesa. Greg and I have spent many a night around the campfire speculating why the Old Ones were so drawn to this corner of the Colorado Plateau, without coming close to an explanation. Yet the sheer unsolvability of the question deepens our passion for the place.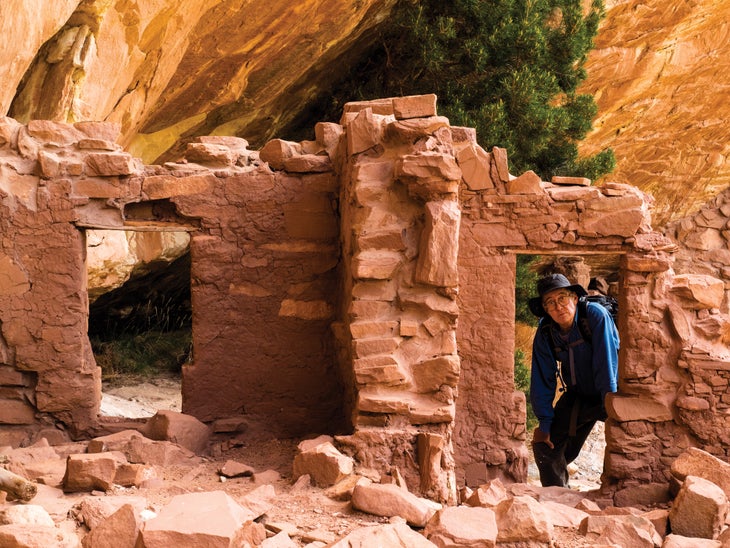 By about 2005, once such places as Moon House and the Citadel had become to-do stops on the standard Cedar Mesa tour, I was spending my happiest days setting out across obscure mesa tops and into nameless defiles searching for what I had never before found. Nearly every trip produced something new and startling—a frieze of petroglyphs framing humanoids whose heads dissolved in rays and crescents, an intact granary hidden from sight until you stood 10 feet away from it. I thought there was no corner of this tableland whose nooks and crannies I could not reach in at most a two- or three-day hike. I planned a future with no end in sight for my forays.
Then in July 2015, after I consulted my doctor about a strange swelling in a lymph node in my neck, I was diagnosed with stage 4 throat cancer. The oncologists at Dana-Farber Cancer Institute in Boston ordered an immediate regimen of intense radiation treatment and chemotherapy.
Week by week, I felt my strength erode, and I succumbed to several emergency hospitalizations. Three times I thought I was going to die, and for days on end I lay in bed in the cancer ward befogged with morphine, sensing the seasons fade beyond my cell. Only Sharon's care and love kept me alive. The Cedar Mesa trip I'd planned for the fall of 2015 was out of the question. In November, when the treatment ended, I tried to walk a single block on the street in front of our house in Watertown, having to stop and rest on a neighbor's wall every 200 feet.
Month by month, however, I regained a small portion of my former powers. In the spring of 2016, the doctors declared my throat and neck free of cancer. And in May, Sharon and I went back to Cedar Mesa. Our companions were my two oldest climbing buddies, Matt Hale and Ed Ward. In our 20s and early 30s, Matt and Ed had been my partners on four Alaskan expeditions, including the two finest climbs of my life, on Mt. Huntington in 1965 with Matt and Mt. Dickey in 1974 with Ed. Years ago I had infected Matt with the Anasazi bug, and he had joined many of my Cedar Mesa prowlings, but for Ed the ruins and rock art were all new.
For six days we hiked (slowly) to sites I had visited many times before. I had hoped that I could find some happiness in revisiting wondrous if familiar places, as on a trip to England one might pay yet another tribute to Stonehenge or Avebury. There was indeed happiness, especially in watching Ed see these places for the first time. But there was also deep sadness, as on the hike out from the Citadel, when I could not help saying out loud, "This used to be an easy half-day for me. Then we'd go on another hike. But now it pushes me to my very limit."
Three nights we car camped in a trio of special sites that newer enthusiasts have yet to discover, with views to the southern and western horizons. And there a sense of the sublime returned, as I woke at 3 a.m. and crawled out of the tent to see the sky declare the glory of the unexplored universe. I reacquainted myself with sixth-magnitude stars that as a kid in Boulder, Colorado, I had befriended in my backyard, but that had since been banished by the light pollution that smothers most of America.
But just as I began to hope I was cured, a CT scan and biopsy proved the disease had metastasized to my lungs. The summer of 2016 passed in another miasma of pain and helplessness, and twice more I came close to death.
After metastasis, cancer is incurable. All one can hope for is the limbo that medics call palliative care.
The spread of cancer to my lungs, and my new crises and hospitalizations, meant that a Cedar Mesa trip in the fall of 2016 was not in the cards. In August, threatened by potentially fatal aspiration pneumonia, I had a feeding tube inserted in my chest for the second time. For weeks, I took all my nourishment in the form of cans of Ensure Plus dumped down the plastic shortcut to my stomach. Once more I had to learn to eat and swallow all over again.
During the last year, however, I've been on a program of immunotherapy, thanks to a new drug the FDA approved only weeks after I took my first dose. Without a doubt, Pembrolizumab has kept me out of the grave. Slowly through the winter, my feeble health improved.
In spring 2017, Sharon and I dared to risk another trip to Cedar Mesa. Matt was back, along with another friend, Nils Bonde-Henriksen, who, armed with the beta of my favorite little-known hikes, had already begun his own communion with the Anasazi. If anything, I was a little weaker than the previous May. The longest outing we accomplished covered 4 miles round-trip and 500 vertical feet gained and lost. Once more we visited sites I knew from previous jaunts, and again I tasted delight in witnessing Nils's own discovery of what the ancients had wrought. Yet the headiest vicarious pleasure is but a pale shadow of the joy of finding something new.
My ventures into the prehistoric Southwest, the passion of my later life, never reached the intensity of the mountaineering of my youth. Even the boldest solo backpacking trips I devised into the most challenging canyons lacked the razor edge of danger that I skirted among the unclimbed peaks of Alaska. But my quest to understand the Anasazi sprang from a commitment altogether different from—and maybe deeper than—the pursuit of first ascents. It was about something more than the drama of oneself against the mountain. It was about Them—the Old Ones, the inventors of a culture so alien from our own that we will never fathom it.
On my last day that May, Greg Child guided me to a site I had never before seen. A friend of a friend had stumbled upon it a few years earlier, and Greg had made his own discovery of the place just seven months prior. Remarkably, it lay less than an hour's scramble from a trailhead where I had parked and started hiking a dozen times before. But it occupied one of the most obscure corners of a convoluted canyon that would take months or even years to explore.
The alcove was the deepest I had ever visited on Cedar Mesa, yet its ceiling, painted black with soot from centuries of cooking fires, never rose more than 12 feet above the floor. Inside this dim, enchanted space, the Anasazi had built a gigantic oval of masoned, roofless walls. What was it, Greg and I wondered. A great kiva? (Yet as far as I knew, there were no great kivas in Cedar Mesa.) A ritual plaza? Or some one-of-a-kind structure yet undreamed of in the taxonomies of the archaeologists?
Greg and I tacitly agreed to keep the alcove our secret, as the cognoscenti kept Moon House in 1993. Let others find it as the friend of Greg's friend had, by accident as he poked along the ledges.
I'm pretty sure that, thanks to my illness, I'll never get to hike to the hundreds of places on Cedar Mesa and beyond that I had pegged for future exploration. The goal of all that wandering was never to find some prize. There is no prize, unless it lies in yet another glimpse of the Anasazi achievement, in all its bewildering beauty and strangeness.
The months I may yet linger in this world, however few or many, are numbered. But as long as I can still hike, I'll cling to the knowledge that on Cedar Mesa there are alcoves I've never visited hiding just around the corner. And that there I'll rediscover joy, as the only world we can ever explore reminds me that it is made of mysteries beyond imagining.
David Roberts is the author of more than 20 books. His latest, Limits of the Known, was published in February 2018.