Colorado Trail: Top Peaks
The top peaks for every type of hiker.
Heading out the door? Read this article on the new Outside+ app available now on iOS devices for members! Download the app.
The Colorado Trail. (Andrew Matranga)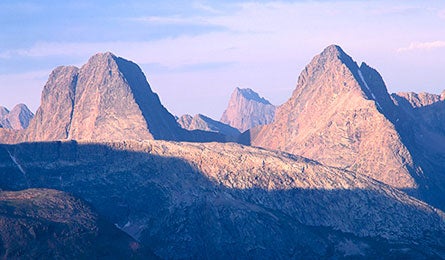 Vestal and Arrow peaks. (Todd Caudle)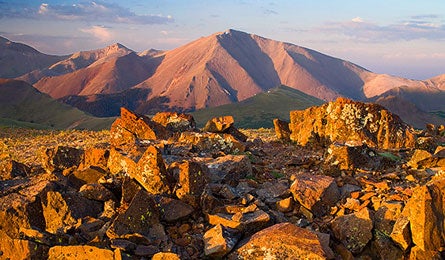 San Luis Peak. (Todd Caudle)
With an average elevation of 10,000 feet, this high-wire footpath arrows through–and to–an embarrassment of alpine riches. More than 500 peaks higher than 12,000 feet sit within striking distance, creating a problem: which ones to target. Solution: our rankings, based on voting by local mountaineers, guidebook authors, and two of the 16 people to climb all 637 of Colorado's Thirteeners. In each superlative category below, the favorites loom higher according to rank.
Best Summit Views (Circle)

1) Vestal Peak (13,783 feet)

Choosing the best vista in these parts is like choosing the best painting in the Louvre. Why Vestal? This quartzite steeple is the highest peak in the Grenadier Range, a north-south offshoot overlooking the aptly named Needle Range. The price? One of the toughest climbs of any peak near the CT (see right).



2) Grand Turk (13,149 feet)

The three-pronged summit of Grand Turk puts you eye to eye with the state's densest cluster of peaks higher than 13,000 feet. From Little Molas Lake, hike 1.5 miles to the prominent saddle. Head northeast one mile to dip into two more saddles, then reach the high-def view of the San Juan Range and Silverton's mile-wide Animas River valley.
3) Mt. Elbert (14,426 feet)

Climb 4,013 feet from the CT to the state's highpoint to see neighboring 14,386-foot Mt. Massive with the Arkansas River valley sprawling below. The uncomplicated five-mile round-trip branches west off the CT just north of Box Creek, 1.4 miles south of the Mt. Elbert trailhead.
4. Storm King Peak (13,737 feet)

5. Windy Peak
(11,929 feet)

6. Peak X 
(12,424 feet)

7. Mt. Massive 
(14,386 feet)

8. Half Peak 
(13,809 feet)

9. Snowdon Peak (13,074 feet)

10. San Luis Peak (14,002 feet)
Easiest to access(Diamond)

1) San Luis Peak (14,002 feet)

The easternmost Fourteener in the San Juans is one of the least climbed in the state. It's too far from roads and towns for daytrippers, but CT hikers pass just under its mellow, grassy summit. Veer north on the saddle above Cochetopa Creek to trek 2.5 miles (round-trip) to the top.
2) Peak 6 (12,582 feet)

The four-mile, 2,400-foot climb from Frisco is no gimme, but consider the trifecta awaiting. First, a widescreen view of Breckenridge, Copper Mountain, Dillon, and Quandary Peak. Then return to the saddle to run the 1.3-mile ridge headed north to Peaks 4 and 5 (the highest point on this string at 12,848 feet).
3) Hermosa Peak (12,520 feet)

House-size boulders may litter Hermosa's west ridge, but even with this tedious stretch, the climb only takes 1.5 hours from Bolam Pass trailhead. Navigate the boulders, then round the peak's north side to a saddle at 2.5 miles. From here, it's a quick quarter-mile to the top, where the sheer face drops to views of the San Juan and Rico Mountains.
4. Turkshead Peak (7,730 feet)

5. Mt. Yale

(14,199 feet)

6. North Sheep Mountain

(12,418 feet)

7. Windy Peak

(11,886 feet)

8. Baldy Cinco

(13,373 feet)

9. Canby Mountain (13,458 feet)

10. Long Branch Baldy (11,972 feet)
Least Visited(Square)

1) Baldy Cinco (13,373 feet)

"There are so many higher peaks in Colorado that Baldy Cinco doesn't get attention," says Dan Bereck, who has topped all 637 of the state's Thirteeners. "And it's a view-packed climb." Head off-trail 7.9 miles west of San Luis Pass to follow the grassy Continental Divide two miles to the summit. Drop south to reconnect to the CT for the return.
2) Snowdon Peak (13,074 feet)

Durango rock snobs lament Snowdon's wide, sloping shoulders. They aren't as "aesthetic" as other routes. Oh well: more solitude for the rest of us. From Andrews Lake trailhead, take Crater Lake Trail .5 mile to a class 2 scramble to the northern saddle. Follow the talus-covered ridge .5 mile to the summit.
3) Little Scraggy Peak (9,180 feet)

Believe in sweat equity? You'll love the bushwhack to this summit—and the pride in ownership you'll feel standing alone on the summit's pink granite perches. Follow the Little Scraggy Trail west of Pine Valley Road, just south of Buffalo Creek, then cut south to weave to the summit.
4. Sliderock Ridge (12,251 feet)

5. West Needle Mountain

(13,061 feet)

6. Electric Peak (13,284 feet)

7. Carson Peak

(13,661 feet)

8. Windy Peak

(11,886 feet)

9. V10

(13,475 feet)

10. Diorite Peak (12,697 feet)

Most Challenging (Triangle)

1) Arrow Peak (13,792 feet)

The ridge, leading like a runway to this summit, looks like no big deal. But crumbly rock and tricky routefinding often stymie summit attempts. Bear left off the Vestal Creek Trail and stick to the north side of the basin between Vestal and Arrow Peaks. Once on the ramp, stick to its eastern edge for about .5 mile. Then angle west to navigate a rock rib blocking the 250-foot summit tower.
2) Storm King Peak (13,737 feet)

Not visible from any roads, Storm King usually gets traffic only from climbers attempting the classic 15-pitch route up its towering north face. The winding class 3 scramble on the south face is a stout 14.6 miles round-trip.
3) Vestal Peak (13,783 feet)

Showy Vestal's two routes don't give in easily. The north ridge is a 10-pitch, 5.4 climb, and its hikeable south face is a class 2 scree shuffle. Leave the climbers' trail at the west end of Vestal Basin and cross the creek to scramble to the saddle. Then round the south ridge and zigzag up the gully's west side before navigating crumbly rock to the summit.
4. Chair Rocks (7,900 feet)

5. Trinity Peaks (13,812 feet)

6. Electric Peak

(13,284 feet)

7. Lavender Peak (12,995 feet)

8. Engineer Mountain

(12,926 feet)

9. Snowdon Peak (13,074 feet)

10. Grizzly Peak (13,733 feet)