Colorado Trail: Best Of
Find your hike on the country's highest footpath.
Heading out the door? Read this article on the new Outside+ app available now on iOS devices for members! Download the app.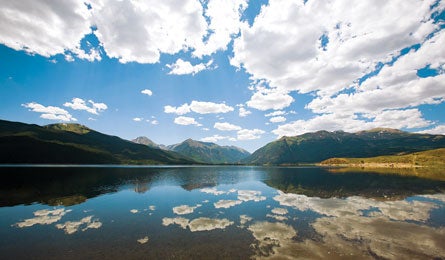 Twin Lakes. (Charlotte Geary)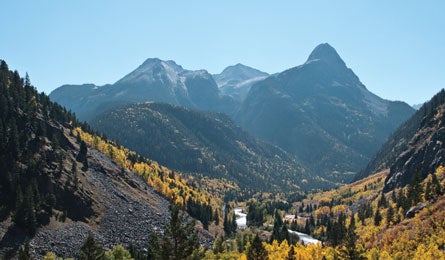 Animas River Valley. (Jeff Chow)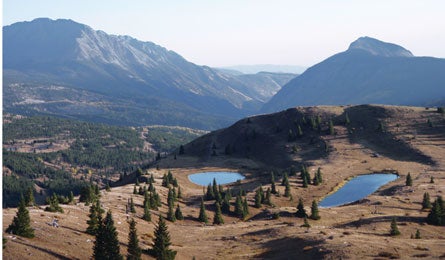 Mile 413 on the CT. (Jeff Chow)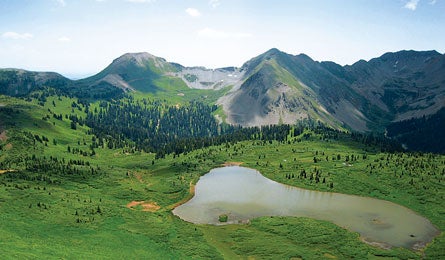 Taylor Lake. (Nathan Hebenstreit)
This 486-mile route—from Denver to Durango—averages 10,000 feet high and tracks through the country's densest clutch of 12,000-foot (and taller) peaks. We interviewed last year's crop of thru-hikers (plus Colorado Trail Foundation staff) to find the most spectacular sections. An entire weekend above treeline, the tastiest slice of pizza, the best public transit dayhike—it's all here.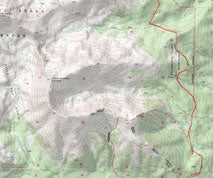 Lowest Point Waterton Canyon trailhead (5,520 feet)
Easy-access Dayhike Waterton Canyon

This cottonwood-shaded canyon, minutes from Denver's western edge, shelters mule deer, South Platte River trout, 40 bird species, and a herd of 38 Rocky Mountain bighorn sheep. See it all and be back by dinner on an out-and-back to Strontia Springs Dam (13 miles round-trip).



Early-access Weekend Alphabetizer Loop

In the Lost Creek Wilderness, the trail tracks below the five highest of the Kenosha Mountains' 12,000-foot peaks, and it's snow-free as early as May. From the Rock Creek trailhead, head seven miles west to a secluded camp. On day two, backtrack 3.4 miles to turn off-trail for a 1,300-foot climb of Zephyr Peak. Trace the ridge 6.7 miles west to the Ben Tyler Trail to close the loop. Total miles: 22.2
Best Public-transit Trip The Tenmile Range

This 11-miler spans a ridge with ski-country views. Park at Wheeler trailhead and link the CT and Peaks Trail to reach Frisco (grab an ale on Main Street). Return by free shuttle. summitstage.com
Trail Magic In summer, Leadville local "Wild Bill" Clower stocks a bin of sodas, snacks, and supplies just north of the US 24 trail crossing. The refreshments are free to hikers.
Friendliest Town Leadville

Stay at the Leadville Hostel (leadvillehostel.com, 719-486-9334). Replace gear at Sawatch Backcountry (sawatchbackcountry.com). Then grab a shredded beef taco at the cart across from Safeway—it's the hiker's choice for cheap filling, eats.
Toughest Miles Twin Lakes to Mt. Princeton Hot Springs

Rolling south across the Collegiate Peak foothills, this 40-mile stretch (see inset map) serves up the route's loftiest mountain views. The price: 28,800 feet of knee-buckling elevation gain and loss. Trail vets say to shoot for an eight- to 12-mile-per-day average and consider adding another 11 miles (and 1,300 feet) for a detour to Missouri Basin—a perfect basecamp for bagging Mt. Belford (14,191 feet) and Mt. Oxford (14,153 feet). Spend your last night next to Cottonwood Creek near Rainbow Lake before cruising 10.5 miles south to finish with a soak in the springs.
Most Relaxing Hot Springs Chalk Creek

The 90° to 120°F natural pools in Chalk Creek at the Mt. Princeton Hot Springs ($10/person, mtprinceton.com)
Halfway Point Mile 243, just south of Fourmile Creek on Tabeguache Peak's eastern flank
Best Fishing Cochetopa Creek

According to thru-hiker Mick Gigone, the beaver ponds along Cochetopa Creek between Eddiesville and San Luis Pass are teeming with trophy cutthroat and rainbow. From Eddiesville trailhead, hike 1.5 miles to the mouth of Cochetopa Creek Basin. Work your way into the basin and wet your line between miles two and four. Try a

Parachute Adams.
Longest Stretch Above Treeline The 35 miles between Spring Creek and the top of the Elk Creek drainage
Highest Point Coney Peak (13,334 feet)
Best Week Molas Pass to Creede

This 72-miler has the trail's highest point, its longest stretch above treeline, and a shag carpeting of wildflowers in late summer. Start at 10,899-foot Molas Pass and climb east through Elk Creek drainage to the barely there trail. You'll track around 13,000-foot peaks and traverse tundra for the next six days. Camp at Eldorado Lake (mile 11), Cuba Gulch (mile 22), near Cataract Lake (mile 26.3), Ruby Creek (mile 37), and West Mineral Creek drainage (mile 55.3). Spend your final night at West Willow Creek.
Best Resupply Point Silverton's Outdoor World (970) 387-5628
Best Photo Op Elk Creek beaver ponds

From the Durango & Silverton Railroad's Elk Park stop, hike 2.7 miles to the Elk Creek beaver ponds. The still waters frame the near-vertical ramps of Vestal and Arrow Peaks. Camp near the ponds and plan a shoot for just after sunrise, when the crags' eastern faces glow pink. Go in early July before the waters recede.
Trippiest Wildflowers Indian Trail Ridge

A rainbow of early-August blossoms—a confetti-throw of Western-slope endemics—sprinkles the tundra on this ridge northwest of Durango. Thru-hikers hit the best blooms at mile 423; dayhikers can hit them on a four-mile out-and-back west from Kennebec Pass.
Best Family Hike Taylor Lake

From Kennebec Pass, you'll drop 500 feet over 1.8 miles (on the Colorado and Highline Trails) to a yellow and green hellebore-choked cirque sheltering Taylor Lake. Flat rocks, perfect for skipping, line the shore. Thru-hiker bonus: This is the first water source after a 20-mile dry stretch.
Fattest Pizza Spaghetti pizza with meatballs at Durango's Homeslice (homeslicedelivers.com; 970-259-5551)