Coastal: Pictured Rocks Lakeshore, MI
Hike Lake Superior's shoreline in this 12+ mile hike.
Heading out the door? Read this article on the new Outside+ app available now on iOS devices for members! Download the app.

On the Upper Peninsula's northern shoreline, Lake Superior's powerful weather and water have carved 15 miles of giant, tree-topped arches, jagged promontories, and sea caves. The showstopper: a 200-foot, sheer sandstone cliff that resembles the chiseled mug of a Marine, with battle scars of manganese and iron streaked across his face, and a boreal forest crew cut. See the stone visage and other sights on this 14-mile weekend hike, tracing rocky trail and lakeside beaches from Miners Castle to Little Beaver Lake. Best season: Go in fall for fewer bugs, more solitude, and fiery foliage.
INFO Walk-in permits ($5/night), or reserve (recommended) at least two weeks ahead ($15). (906) 387-2607; nps.gov/piro. Trip data: backpacker.com/hikes/614547



1. Lakeshore Trailhead

0534962E 5149173N; mile 0

Head northeast along shore and up through maple forest.
2. Junction

0538882E 5152664N; mile 3.9

Stay straight/north on Lakeshore Trail for bluff-top views of the park's curving ribbon of crags and promontories.
3. Grand Portal Point

0541206E 5155642N; mile 6.8

Balcony vistas of massive arches, deep sea caves, and rocks shaped into whimsical, hourglass shapes.
4. Chapel Rock

0542808E 5155005N; mile 8.2

Camp near creek; a two-mile path leads to 60-foot Chapel Falls.
5. Spray Falls

0545154E 5156168N; mile 10.1

Seventy-foot falls; descend to dune along Twelvemile Beach.
6. Little Beaver Lake

0548254E 5157498N; mile 12.4

Head inland, west of Little Beaver Lake to trailhead.
*Google Earth providers DigitalGlobe, State of Oregon, SIO, NOAA, U.S. Navy, NGA, GEBCO, Terrametrics, Data Living Oceans Society, USDA Farm Service Agency.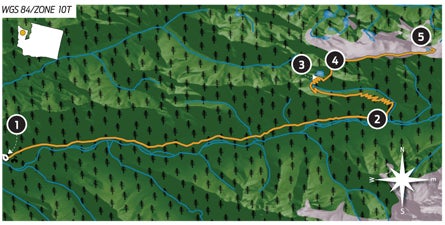 Hike the Coast

See more shoreline hikes.