Bus Hiking: Don't Pay at the Pump
Gas prices are soaring. Glaciers are melting. What's a conscientious hiker to do? Take the bus, says Dan Koeppel, who did just that to escape downtown L.A.
Heading out the door? Read this article on the new Outside+ app available now on iOS devices for members! Download the app.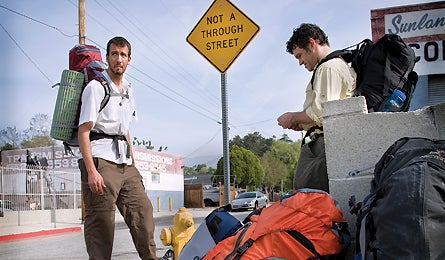 On the way to the trailhead, hikers wait for Starbucks.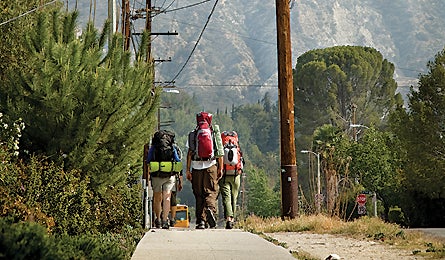 Hiking Mt. Gleason Avenue.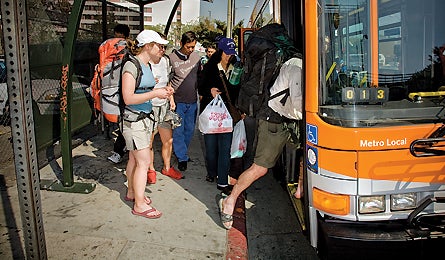 Margarita-bound on Sunset Boulevard.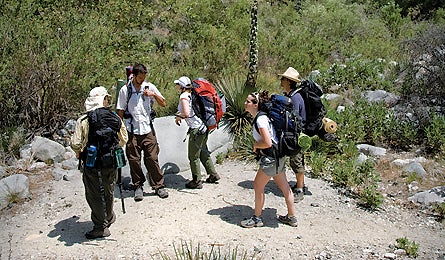 Blooming yucca in trail canyon.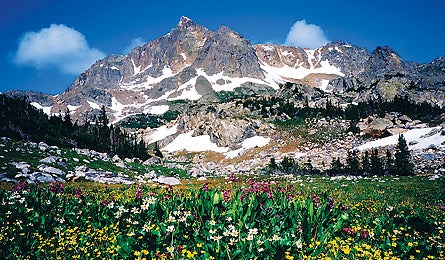 Primetime in Colorado's Indian Peaks.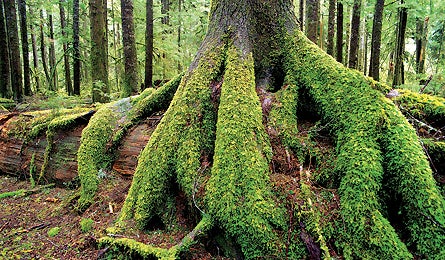 Seattle bus hikers can reach Olympic National Forest.
THERE'S NOTHING LIKE A DONUT IN THE WILD. Or an order of onion rings, a Big Mac, or a Grand Slam breakfast. But our time–at a trailhead marked by a quartet of fast-food restaurants, two gas stations, and a giant billboard advertising a radio program hosted by the "boogieman of the morning"–is short. Five backpackers are about to load into what might be the world's most unlikely hiking shuttle: Metro Bus 91, a commuter line that carries a quarter-million passengers annually along a 20-mile route that leads from bustling downtown Los Angeles to the city's suburban foothills.
We are not alone. A dozen strap-hangers wait with us at the intersection. There's a mother with three children; a middle-aged man in a wrinkled suit; and a heavyset teenager with a bike. I count four iPods, six shopping bags, and one Spiderman book tote. We're the most burdened of all, with our fully loaded backpacks. It's a Saturday morning, and we've been traveling for almost two hours, since 6 a.m., when we started our journey on Sunset Boulevard, two blocks from my house and a mile from the Hollywood Freeway.
We step on board, forsaking fast-food delights. The orange vehicle plods along. It's standing room only: We're standing, and we take up all the room. As passengers squeeze around us, we do an awkward dance trying not to whack them in the heads. Soon we'll come to Foothill Boulevard, the main So-Cal thoroughfare to the 650,000-acre San Gabriel Mountains, on the southern fringes of Angeles National Forest. Our stop is coming up. We can see 6,000-foot peaks. And a Starbucks.
ANGELES NATIONAL FOREST IS WHAT LOCAL USED-car dealers like to call "freeway close." That means an easy drive, no matter the distance. But proximity can be problematic. Annually, 30 million people visit the forest, which is located entirely in Los Angeles County. Assuming the average roundtrip to the trailhead is 50 miles, these visitors create roughly 2.25 billion pounds of greenhouse gases. During the 15 years I've lived here, I've been as guilty as the next guy, putting thousands of extra miles on my car as I've repeated the 20-mile back-and-forth from my door to the trailheads.
But it was spiking gas prices that finally made me try to find a better way. I started by selling my car. I live with my girlfriend, so we figured one vehicle would be sufficient. Los Angeles has a new subway, plus those poppy-colored buses, and I own a swell bicycle. I'm also a rabid walker. In 2002, I began climbing the hills in my neighborhood, which are lined with staircases. Five days a week, I hiked them with a GPS, developing a 20-mile, 50-staircase route that gained 7,000 feet. (I wrote about that endeavor for BACKPACKER's June 2004 issue, and have since added 20 more staircases.)
With all this low-impact travel under my belt, I figured the next step was totally logical: Find a way to get to my favorite trailhead in a vehicle that was already going there.
A QUICK LOOK AT THE LOCATION OF THE SAN GABRIELS would make you think a public-transit jaunt there would be easy. Suburbs engulf the northern and southern ends of the range (Palmdale and the Antelope Valley–on the edges of the Mojave Desert–are at the north; the San Fernando Valley and Pasadena are to the south). But the truth is, it's more than a little complicated.
Here's another truth: I love complicated. On that staircase story, I grew obsessed with finding and mapping a circuitous route through the city. These days, my favorite bike route is one I designed that crosses over each of the 10 bridges that traverse the Los Angeles River: east, west, back, forth…
My point in disclosing this is to be candid about a certain fact: I am a route dork. I happily spent months poring over maps to find staircases, and I spent months studying timetables from eight transit systems–along with maps of the forest, the city, and the suburbs–to figure out a route that would coordinate bus schedules, get us within an acceptable walking distance of a trailhead, and leave time to enjoy the hiking part of a three-day weekend. For me, it was better than watching Star Trek.
Those of you who live in cities like Portland or Salt Lake might be thinking that busing it to an L.A. trailhead sounds like torture. Your transit systems take you directly to trails (see "Urban Renewal," page 76). New Yorkers, you have a rail line with a scheduled drop-off at the Appalachian Trail. In Los Angeles, the best we can do is illustrated by this conversation I had with an information officer for our rail system:
"Hi, I'm writing an article about using the transit system to access hiking trails."
"I can send you a brochure! We have a service that goes to the aquarium!"
Other cities, you may have your trail-bound subways, ferries, and trains. I grant you this.
What we have here–I'm not afraid to say it–is a pioneering traverse.
AS WITH ALL EXPLORATORY ENDEAVORS, FINDING THE right team was difficult–though this, I admit, came as a surprise. It was a struggle to get my hiking friends to understand how a trip like this could be fun. Take the bus? In Los Angeles? It was something none of them had ever done. The idea of conducting a three-day backcountry trip via mass transit seemed unimaginable, even stupid, to my normally carbon-conscious friends. One day, a group of us went mountain biking, and I sold–hard–the idea to a friend I thought would be willing. She stared at me and said, "Interesting." Then she loaded her bike onto her Prius.
In the end, I found people who'd already bought into the idea of going carless in Los Angeles: bike commuters. Most of those folks also love buses and trains, if only because they have to combine different forms of transportation when they want to travel great distances.
Route dork, meet the transit geeks.
In February, I emailed a description of the journey: one bus to the suburbs, another along the foothills, off-load in a community called Sunland, and walk five miles along a paved road into the forest. From there, we'd connect to a narrow trail that would take us through a deep canyon, across several rocky streams, up to the crest of the San Gabriels, with a pair of summits–5,400-foot Condor Peak and 6,500-foot Mt. Gleason–along the way. We'd briefly traverse the Pacific Crest Trail, then drop along a winding fire road toward the town of Acton, in the Antelope Valley. Another five-mile blacktop walk would take us to the Metrolink light rail and back to Los Angeles, where we'd reconnect with the Sunset Boulevard bus at Union Station, the region's transit hub. Total walking mileage: 32. Departure time: Saturday morning. Arrival home: Monday evening.
A few exchanges later, I had a team: three volunteers, plus me, with my girlfriend, Kalee, making the fifth.
WE FINISH OUR STARBUCKS AND BEGIN TO WALK, passing modest homes and apartments. Some streets are sleepy, and others sketchy, with cars on lawns and graffitied stop signs.
First lesson: Enjoy the scenery you get–not the scenery you wish for. The neighborhood transforms as we near the hills. The houses get bigger. Some have equestrian lots. Finally, the residential section vanishes altogether. The last developed bits we pass are a tree farm and a fire station. We begin to climb. We're now officially in the national forest, following the dry Tujunga Wash past an upward-thrusting part of the San Andreas Fault. We turn off the road and drop into a small parking area. As we consult a faded trailhead map, a woman approaches, arms flailing. She shouts: "Don't go up there! There are mountain lions and rattlesnakes! Somebody's dog got killed last week."
Rattlesnakes are a hazard in the San Gabriels (mountain lions, too, but rarely if you're bigger than a poodle). After a bit of consideration, we decide that reasonable precautions–like, not worrying–will keep us safe. As she steps into her car, the woman gives us a "you're stupid" shrug.
IF YOU WERE VISITING ANGELES NATIONAL FOREST FOR the first time, I'd take you here, to Trail Canyon. The path begins along a shady creekbed, passes one of the region's few year-round waterfalls, and rises to a narrow ledge hundreds of feet above the canyon. One guidebook says it would be easy to "imagine yourself in Yosemite Valley."
And yet, there are a few things you must keep in mind when urban hiking: You'll have Yosemite moments. You'll also have helicopter-flying-overhead moments. You'll have splash-in-the-falls idylls, then cross a paved road (there are two up here, but my route avoided them) and almost get run over by a dozen motorcycles. You'll see more stuff–popped Mylar birthday balloons as well as the occasional gang-tagged boulders near the trailhead. And there are problems to solve, like where to get water, or how to enjoy real meals, rather than trail mix and sawdust bars, under a fire ban.
But when don't you face challenges in the backcountry? Wherever you go with your boots and tent, you're required to embrace some difficulties. So what if the trail is parched and s'mores are prohibited and you haul out a few Stellas you didn't empty? You deal–and you realize how lucky you are to live in one of the world's biggest cities and still have wilderness (okay, almost-wilderness) out your back door. My point is this: The Angeles is the forest I live next to. It's the one I've loved for 15 years. Even in the very first few hours of this trip–which is the very first time I've arrived in the forest by a bus and road walk–I love it more than ever.
YOU SEE ALL SORTS of strange things on the trails of the Angeles. We pass a rusted wheelbarrow, two wrecked cars, and–strangest of all–a pink kid's bike, bleached from the sun and propped up alongside the trail.
Not long after the falls, we meet four hikers, the only people we'll see on the entire backcountry portion of the trip. This will surprise me, since one of the things I love about Trail Canyon is that the first five miles are often super-populated, and with the truly tough: those who conquer the canyon in flip-flops.
The flip-floppers have never been told that hoofing it in the wilds outside L.A. is wrong, impractical, and just plain impossible, so they know none of the above. They whip the crap out of Trail Canyon. This kind of bad-assery is common around here. One winter, I drove up and found a family loading snow into the back of a pickup. As soon as it was full, they made a mad dash to the flatlands, where they hoped to build a front-lawn snowman with a 15-minute lifespan.
You just don't know what incredible stuff people are capable of until you come to Trail Canyon. People give each other tattoos out here. I'm not kidding. They hike naked. Have you seen those signs that say "This is YOUR Forest?" Out here, YOUR means EVERYBODY, just like the Founding Fathers meant when they wrote it in the Magna Carta.
But after the five-mile mark, you're pretty much alone, and you need some experience, gear, and planning. Without a lot of traffic, the route becomes overgrown, and we have to push our way through the brush and into chaparral.
If lower Trail Canyon looks too lush to be So-Cal, then the upper part looks exactly like folks imagine: brown and parched, covered in scrubby sage. In May, the yucca trees bloom, but their spiky leaves are sharp enough to pierce your flesh. One little wound puffs up like 20 bee stings.
Our first camp–and first water source since Trail Canyon Falls–is just below Condor Peak, and we arrive right on schedule (important, when you have a bus to catch). The ridge is just a morning's walk above us. As we pitch our tents, Devin–one of the transit geeks–makes a salad of fresh orzo pasta with grape-size organic tomatoes (another benefit of being specialty-food-store close).
After dinner, Kalee and I walk up the ridge and stare to the west. The wind is sweeping away the smog below us. That's when another, more modern vista appears. I can see the twinkling lights of the burbs and beyond them pure blackness–the Pacific. We can also hear a low hum. It takes a minute to figure out that it's the freeway. I get into my tent, close my eyes, and imagine it's the ocean.
IT TAKES US THREE HOURS TO CREST THE SAN GABRIELS the next morning. Standing atop the range, staring down into Antelope Valley–we'll descend today, camping somewhere below–we feel a strange, nearly schizophrenic amazement. Gazing at high desert, with few trees and little water, we wonder how people actually manage to live in the valley below. Our second impression is astonishment at how many people actually do manage it. The towns in the region are among the nation's fastest growing. In 1980, the valley's population was about 20,000. Today, it's almost 500,000, partly because there's no cheaper place to buy a home in Los Angeles County. The price for attaining the American dream is the area's most grueling commute: up to two hours, each way, to downtown.
This might sound, again, like a yucky destination for a hike. But think of it in reverse: It is absolutely essential that people have a place–and the means–to hike away.
From the ridge, we have two miles to walk along the PCT; after that, we'll drop down steep switchbacks, skirting a series of deep, rain-cut canyons that feed the Santa Clara River.
The crux of our trip comes on the second night. We have no idea where we'll camp or even if we'll find water. That's due to more misinformation from a Forest Service official. Working in the Angeles can be tough, because the issues are pretty wide ranging: catching commuters who use the roads as shortcuts; taming suburb-threatening wildfires; and managing conflicts between the forest's millions of visitors. Sometimes basic information suffers. The official said camping anywhere was okay, as regulations allowed, but that the fire road had steep drops on either side, so there would be no practical place to pitch a tent. Water? Nothing between the ridge and the pavement.
"Not the smartest time of year to be doing this," he said.
But route dork knows that sometimes it's good to have a few empty spaces in your carefully laid plan–because that's where fun and discovery happen. I also figured we'd have just enough water to get us to the pavement. The map showed a spring, and we'd checked a PCT thru-hiker's message board, which confirmed it had recently been running. I guessed we could camp there, too. Now we just had to find it.
For the next two hours, we drop steadily. The view is astonishing. The only thing I can compare it to is staring down from the top of the Italian Alps, where you can see roads descending in toothpaste-squiggle switchbacks. One turn stacks atop another, and so on. But these roads are unpaved, curving into changing terrain. Halfway down, the chaparral vanishes and trees rise from a shallow canyon: the spring. Thirty minutes later, after ducking off the fire road, we pitch our tents in a pocket meadow by a tiny, gurgling creek. On a trip where planning was paramount, it feels nice to find something that wasn't guaranteed.
THE LAST DAY OF A CAMPING TRIP ALWAYS FEELS A BIT rushed. You're ready for a shower, a meal, a change of shoes. We want these, and we are also commuters headed for the Park & Ride. I try to resist rushing, but it's futile. You can't deprogram a lifetime of Monday mornings in one weekend.
By 10 a.m., we pass our first structure: an abandoned trailer home. Then comes an unpaved, empty grid of subdivisions, followed by noisy dog kennels, a lilac nursery, and a near-empty RV resort.
But our real return to the city comes when we arrive in Acton's bustling downtown–"bustling" meaning a parking lot, "downtown" a grocery store.
There are two trains back to Los Angeles on Monday. We have a five-mile walk to the station, and just two hours until the first train.
But our march to the train is delayed by an unplanned grocery feeding frenzy: bean dip, chips, three quarts of sports drink, two iced coffees, avocados (I lost count), a turkey sandwich, a box of animal crackers, and a giant bottle of Arrogant Bastard Ale–and the 30 minutes it takes to devour it all. Five miles? A little swift marching, and we'll have a good shot. If not, we'll wait three hours with bean dip in our guts.
Then I see it: a minibus marked "Antelope Valley Transit Authority." I've never heard of this agency.
Would it be cheating to ride to the station? In one sense, the route won't be completed as planned. But we'll still be using mass transit.
"Are you going to the Metrolink?" we ask.
"Yes," the driver answers.
"What's the fare?"
She scowls. "You can't ride this bus."
Huh?
"We don't take passengers," she snaps, levering the door closed.
I'm baffled. Then the clerk at the grocery store, out smoking a cigarette, explains that the minibus service is reservation-only.
Yes, some enlightened mass-transit systems provide access to those who would like to hike, by scheduling stops close to recreational areas. This one has taken the opposite approach: You walk even if you don't want to.
We make the train with five minutes to spare.
THE RIDE HOME IS CROWDED. Our car is filled with teenage boys flashing gang signs. A sheriff's deputy stands by the door. "They're just out of detention," he tells me. "They release them on Mondays so they'll have five days to settle before they can make trouble on the weekend."
After a half-hour, the Metrolink slips through Newhall Pass, entering the San Fernando Valley–the birthplace of modern sprawl.
Twenty minutes later, we pass the four-fast-foods corner, and 10 minutes after that we're at Union Station, heading for the Sunset Boulevard bus.
We're not quite done.
We have questions.
The big one is this: What part of this hike was the hike? Did it start with the planning? At the bus stop? At the trailhead? What about the typical take-the-car hike? Where does the hiking part of that one start?
I had felt like I was getting into new territory the second I leaned my backpack against that bus shelter on Saturday morning.
I wish transportation was easy in L.A. We're building trains and trolleys, but we have decades to go before the guy at the other end of the commuter info line can direct us toward the mountains rather than Shamu. More of us live in sprawling places than not, and the conventional wisdom is that you need a car to get to the backcountry.
But maybe, just maybe, even if you're not a route dork or transit geek, you can try something revolutionary: Turn your front door into the front range.
WHEN TRIPS END AT A Trailhead, there's a perfunctory dispersal: halting conversation, a fanning out of cars. But we're crowded onto one last bus, so when we see the sign at 1449 Sunset Boulevard, we're able to make a quick group decision, signal the driver, and elbow our way onto the street. The sign says: "MARIACHIS – HAPPY HOUR MARGARITAS – $2.00."
The mariachis are due to start a little later than the drinks, but that's fine; we lean our packs against the stage. The staff doesn't seem at all shocked at the sight of five dirty, sweaty, sunburned, gear-laden hikers flopping into one of the red vinyl booths on a Monday afternoon, and I don't think it's because we look like we're homeless.
I think it's because we look happy.
Dan Koeppel is actively searching for his next route to dork.