Help Build These 10 Hiking Trails of Tomorrow
Protecting land is only the first step. Hikers need trails, and trails don't build themselves. Grab a Pulaski and create new paths and restore lost routes on these 10 trips.
Heading out the door? Read this article on the new Outside+ app available now on iOS devices for members! Download the app.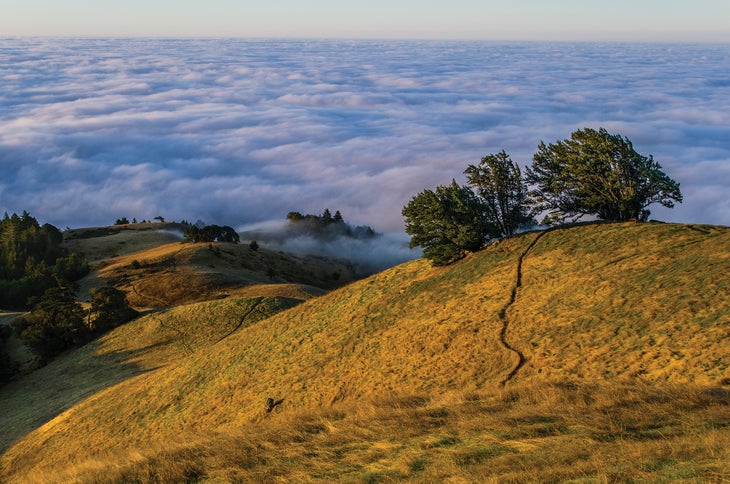 Urban Wild
Bay Area Ridge Trail
California
When completed, the 550-mile Bay Area Ridge Trail will provide top-notch hiking—over ocean bluffs, through pine corridors, among sky-kissing redwoods, and across golden hills—to more than 7 million people who live nearby. If access to natural beauty is the fastest path to creating new advocates, this trail will be a warp drive.
Some 375 miles of trail are already good to go, including the newest 5.3-mile segment to 3,486-foot Mt. Umunhum—now the trail's highest point—in the Sierra Azul Open Space Preserve. Help the masses find their wilderness inspiration this year by selecting a trail-building event at ridge-trail.org. (Our crystal ball predicts there will be work to be done on the fire-ravaged sections in Sonoma and Napa Counties.) Or, to sample the highlights, tackle the 12.8-mile Bolinas Ridge segment through Golden Gate National Recreation Area into redwood-filled Samuel P. Taylor State Park.
Trailhead Bolinas Ridge (37.9395, -122.6586) Season Year-round Permit None Contact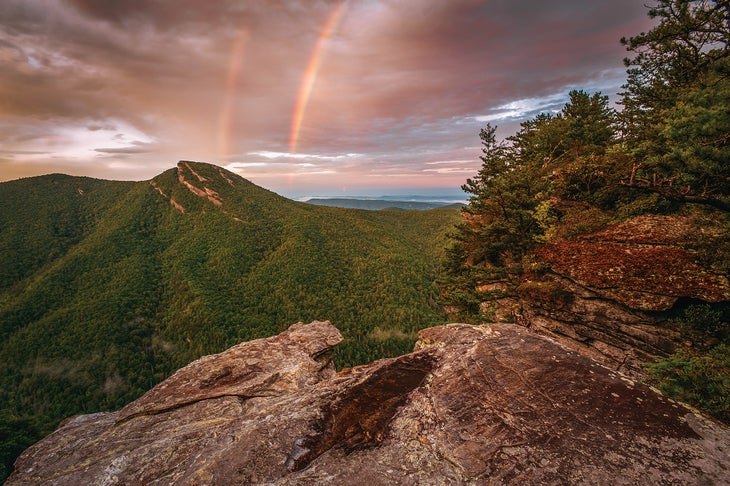 Full Range
Mountains-to-Sea Trail
North Carolina
Most everyone knows the famous north-south trail that crawls along North Carolina's Appalachian ridge. Fewer know its east-west little brother—and we think that should change. The 1,175-mile path, which travels across the state from the Great Smoky Mountains to the Outer Banks, passes through hardwood forests, open balds, and colonial towns as it hits the East's tallest peak (6,684-foot Mt. Mitchell) and lighthouse (193-foot Cape Hatteras). The fine print? It has 500 miles of road walking.
Help connect this soon-to-be classic by finding a trail-building event near you at Friends of the Mountains-to-Sea Trail, then reward yourself on one of the path's best sections: the 19.5-mile piece that bisects Pisgah National Forest. To do it, head out from Old NC 105, crossing 1,400-foot-deep Linville Gorge to ramble north along its roller-coaster ridge. Bed down in the rhododendron forest near mile 6, then spend day two undulating past the stone stacks of the Chimneys and across airy fins that rise above wildflower-dotted slopes. Drop off the spine to your shuttle car on NC 181.
Trailhead Mountains-to-Sea on Old NC 105 (35.8223, -81.9302) Season Year-round Permit None Contact
Patriot Path
September 11th National Memorial Trail
Pennsylvania, New York & Washington D.C.
During a Governor's meeting after the terrorist attacks of 2001, David Brickley—then the Director of the Virginia Department of Conservation and Recreation—proposed a long path to honor the fallen. The route would stretch 1,300 miles, linking the three sites of the 9/11 attacks, from the Pentagon near D.C., to the World Trade Center site in New York City, to the Flight 93 Memorial near Shanksville, Pennsylvania. The idea received unanimous support.
Today, the project is underway, but a work in progress. It uses a patchwork of trails, though roughly half of the 9/11 Trail currently follows roads—and only the New Jersey portion has been signed. But widespread support for the trail is reducing the road walks (CSX railroad, for example, donated an abandoned train corridor that will allow for a 7-mile path between Shanksville and Garrett, Pennsylvania). Exercise your patriotism by pitching in on the rest of the trail. Contact the September 11th National Memorial Trail Alliance to get started.
To tick off the 9/11 Trail's most established portion, hit the 5-mile Patriots' Path, a lollipop-loop through Schooley's Mountain County Park in New Jersey. The section climbs through young ash and maple trees, following white blazes to the rocky banks of Electric Brook. Don't miss the short detour to a series of mossy, boulder-studded waterfalls via the rooty Falling Waters Trail midway through.
Trailhead Schooley's Mountain County Park (40.7947, -74.7702) Season Year-round Permit None Contact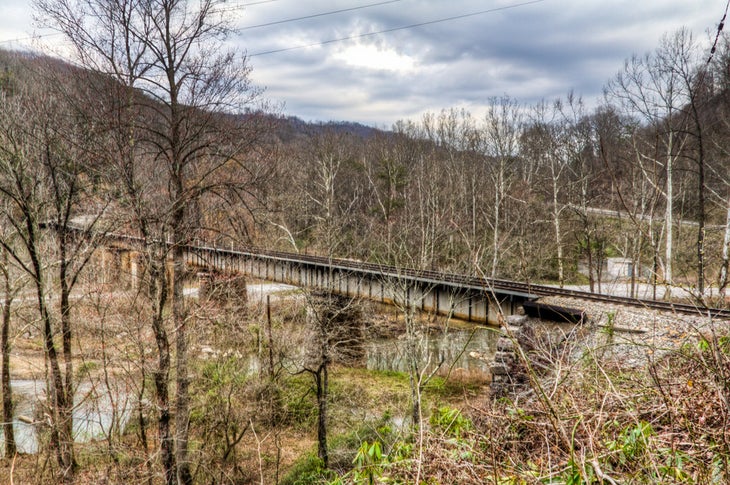 Rock 'n' Roll
Cumberland Trail
Tennessee
The good folks at Friends of the Cumberland Trail know that waiting for grants and other government aid is no way to break ground. Of course, they'll still take donations, but they're pioneering new ways to fund the Cumberland Trail, which will stretch 300 miles across the Volunteer State's Smoky Mountains when completed. The volunteer organization founded Sandrock Recordings, a small record label, to sponsor local artists, as well as a radio show of the same name to celebrate the trail and the area's history; all proceeds for both go directly to maintenance and trail-building projects for the Cumberland. To date, they've pulled in more than $10,000.
And showstopper that it is, the Cumberland deserves every record deal signed in its name:
It passes big-view gorges, whitewater rivers, and hazy mountain vistas as it meanders from the Kentucky state line to Chattanooga. (Hop on the Laurel-Snow section outside Dayton for the best bite-size piece.) But, it's only half-done. Justin P. Wilson Cumberland Trail State Park, the trail's steward, needs volunteers to help with construction, specifically near Cumberland Gap National Historic Park and Grassy Cove Karst Area on the trail's north end, as well as near Chickamauga Creek Gorge on the south end. The money is there—all that's needed is you.
Trailhead Cumberland in Laurel-Snow State Natural Area (35.5258, -85.0219) Season Year-round Permit None Contact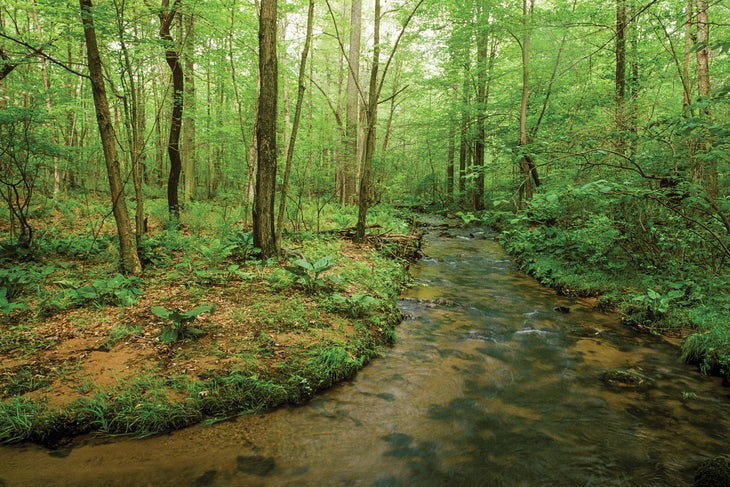 Into the Woods
Pennsylvania Highlands Trail
Pennsylvania
You don't need to go far to get gone in eastern Pennsylvania. Sounds surprising, but it's true: This meandering route connects swaths of songbird-filled forests and lacy streams in the Appalachian foothills—all within striking distance of Baltimore, Philly, and New York City. But the route is about 100 miles (or one-third) short of completion, so paid and volunteer trail crews with the Appalachian Mountain Club are hard at work, closing the gaps. 
To count yourself among the first hikers to use the Highlands Trail's brand-new Buck Hollow Campsite, log the 26-mile, two-night point-to-point from St. Peters village to Buck Hollow Road. Day one, track 10.5 miles through hardwood corridors to camp in French Creek State Park. Next day, hike another 10.5 miles through meadows wrinkled with brooks to overnight with the resident owls at Buck Hollow. Close the hike with a 5-miler to your shuttle car on Buck Hollow Road.
Trailhead Horse-Shoe (40.1797, -75.7321) Season Year-round Permit None Contact 
Atlantic Adventure
Bay Circuit Trail
Massachusetts
I-95 may be the fastest way around Boston, but it isn't the best: The 230-mile Bay Circuit Trail skirts Beantown through 37 suburbs like an "emerald necklace." That's how Bay Circuit visionary Benton MacKaye (who also proposed the Appalachian Trail) imagined it in 1921, and today, only 20 percent of the route between Plum Island (in Newburyport) and Kingston Bay (the southern terminus) remains on roads.
Complete the entire trail and flaunt a shiny commemorative pin, or, if you have just a weekend, tackle the wildest section: Starting west of Sudbury on Weissblatt Conservation Land, follow the Bay Circuit Trail southbound on a hilly, 7.9-mile course through hushed hardwood forest laced with streams. Highlights include 426-foot Tippling Rock and 602-foot Nobscot Hill, where panoramic views stretch to saddle-shaped Mt. Wachusett and the Blue Hills.
For now, tenting is only permitted at Camp Acton (northwest of Concord) and Nobscot Scout Reservation (southwest of Sudbury; reservations required for both). But the Appalachian Mountain Club, which oversees the Bay Circuit Trail, plans to create more campsites along the route, including at Rocky Narrows, where wooded bluffs overlook a cliffy, rock-squeezed segment of the Charles River. Register to assist with building the campsites and blazing more trail.
Trailhead Weisblatt Conservation Parking Area (42.3603, -71.4411) Season Year-round Permit None Contact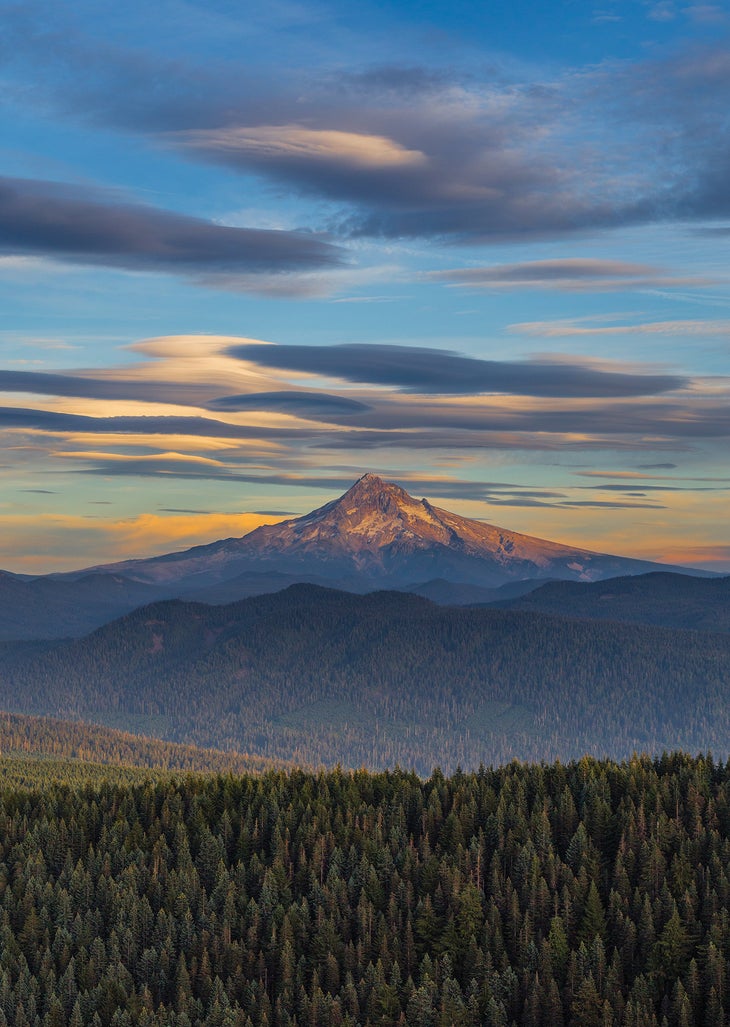 Pacific Passage
Chinook Trail
Oregon & Washington
Think of the Columbia River Gorge and you probably conjure ribbons of tumbling water and emerald-colored forest. Handfuls of trails venture into dark woods to hit these snapshots, but locals know there's potential for a bigger picture. The proposed 300-mile Chinook Trail will stay high, circumnavigating the Gorge via ridges on a grand, catwalk-like tour through Oregon and Washington. Though it will use a patchwork of existing trails, the Chinook Trail Association needs help creating connections. Visit chinooktrails.org to learn more, or, for some on-the-ground research, try the short hump up 4,062-foot Larch Mountain. This hike—and its view of Mt. Hood—are along the proposed Chinook route between Troutdale and Cascade Locks.
Trailhead Larch Mountain (45.5295, -122.0887) Season May to November Permit None Contact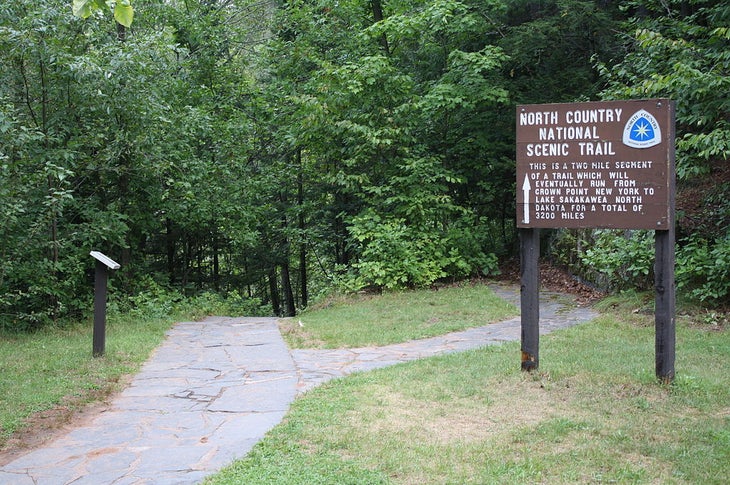 Deepest 'Daks
North Country Trail
Adirondack Park, New York
Proponents of the North Country Trail, which runs for 4,600 miles from North Dakota to New York, have waited nearly 40 years to get approval to relocate the Adirondacks' 40 miles of road walking onto footpaths—and at long last, trail construction will begin this year. Volunteers can help Adirondack Mountain Club crews clear 3 miles of trail through the Hoffman Notch Wilderness, incorporating parts of the Big Pond Trail. The new path on Jones Hill will afford hikers views of the surrounding 3,700-foot peaks through windows in the maple-and-birch canopy. To pitch in, contact local volunteer coordinator Mary Coffin (marycoffin@gmail.com).
Trailhead Big Pond (43.8451, -73.8051) Season Year-round Permit None Contact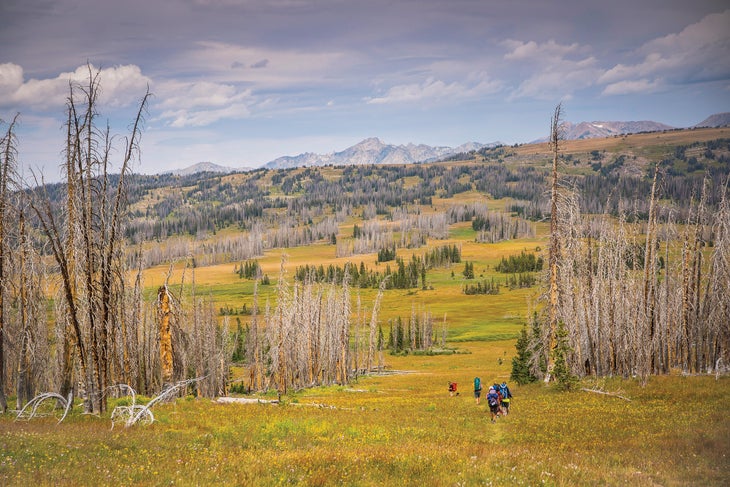 Rocky Mountain High
Continental Divide Trail
Colorado & Wyoming
Ridge-walking across America's spine makes pretty much everywhere feel like big-sky country. The 3,100-mile Continental Divide Trail's high summits and grassy ridgelines—which are set far back from urban centers—deliver eyefuls of the heavens and guarantee solitude. The only problem with all that mountain grandeur? Maintenance is a challenge. The 65-mile segment linking Colorado's Mt. Zirkel Wilderness to Wyoming's Huston Park Wilderness may suffer the most: Not only does it traverse roadless, unpeopled parts of both states, but its forests were also devastated by a pine beetle epidemic. Now, all that's required is an ordinary summer thunderstorm to send these trunks toppling across the trail like pick-up sticks. Hikers can hardly penetrate the nests of branches and bark, rendering many stretches virtually inaccessible.
Several times each summer, volunteer crews from nearby Steamboat Springs tote in saws to clear downed timber off the CDT in the Mt. Zirkel Wilderness, where 22 fallen trees per mile isn't uncommon. But those groups don't venture farther north into Wyoming. So to resurrect this segment, the Continental Divide Trail Coalition is calling for Trail Adopters who can hike through Huston Park and its surrounding segments with folding saws. The reward? Alpine meadows, flower-rimmed creeks, and 11,007-foot Bridger Peak, one of the highest summits in the scarcely visited Sierra Madre Range. And satisfaction that lasts for miles.
Trailhead Green Mountain (41.1164, -106.9150) Season July to October Permit None
Contact 
Flight Path
Condor Trail
California
This 421-mile-long route may offer an even more scenic commute between Los Angeles and Monterey than the Pacific Coast Highway: It weaves among sky-scraping redwoods, coastal mountains, natural hot springs, and wind-raked Pacific beaches. But it's not yet signed, some sections have disappeared due to lack of maintenance, and, yes, there's still a bit of road walking.
To see why the Condor Trail is worth the work, knock out the 18-mile segment from Piedra Blanca north to Reyes Creek. It visits Beartrap Creek, where one of California's last remaining grizzlies was captured in 1916. The constant stream views, stark white rocks (really fossilized sand dunes), and quiet campsites will leave you eager to lend a hand to the Condor Trail Association, which is planning several 2018 work sessions to restore key gaps in the chain. One project will flag and reestablish 20 miles of fire-damaged trail through rolling grasslands and oaks in northern Santa Barbara County, and another will reopen 7 miles of the Agua Blanca and Pothole Trails in the Sespe Wilderness. By fall 2018, the Alliance hopes to start signing the trail—another volunteer effort you can be a part of by joining a work party or adopt a segment.
Trailhead Piedra Blanca (34.5604, -119.1653) Season Year-round Permit Required for backpacking ($5); self-issue at the trailhead kiosk. Contact