Best Damn Weekend Ever: See California Condors in the San Rafael Wilderness
We'll show you how to see these majestic birds in the wild.
Heading out the door? Read this article on the new Outside+ app available now on iOS devices for members! Download the app.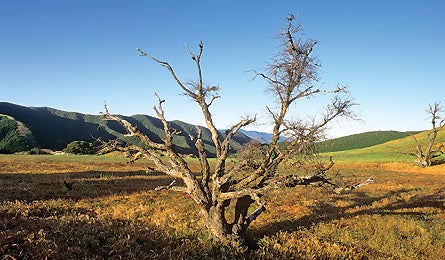 A Lone Oak in the San Rafael Wilderness (Randall Levensaler)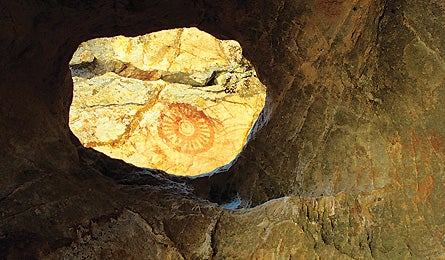 Chumas Rock Art in Sapaski Cave (Randall Levensaler)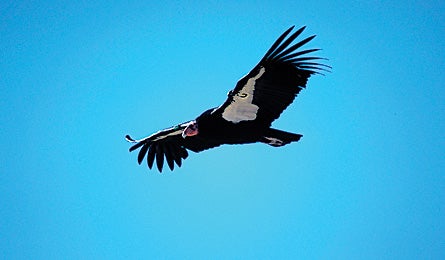 California Condor Above Mcpherson Peak (Chuck Graham)
Talk about the best of both worlds: Just five miles from Santa Barbara's arcing coast of blue water and powder sand is an equally inviting (and comparatively people-free) backcountry of 2 million acres. The Los Padres National Forest is a picturesque mix of sandstone canyons and poppy meadows–and one of the last strongholds of the endangered California condor. Eighty-one of them inhabit the 197,380-acre San Rafael Wilderness, in the center of Los Padres; the wilderness area's massive, isolated canyons and rock outcroppings are ideal for roosting and nesting birds. This sandstone was also once a canvas for the rock art of native Chumash Indians, who revered the condor and painted its silhouette on canyon walls. Late fall through early spring is primetime: Backcountry temps are pleasant, bugs are long gone, and the condors are cruising for mates. Hike it on this 31-mile loop linking Aliso Park and the Sisquoc River.
FRIDAY
From the Aliso Park trailhead, two hours east of Santa Barbara, set out on the switchbacking three miles to the base of 5,599-foot McPherson Peak, atop the Sierra Madre Ridge. Just beyond is an old but easily spotted cattle trail; turn left and follow it for five miles across open meadows to a dreamy campsite at Painted Rock. Look for a large, solitary oak tree with a broad sandstone outcropping next to it. Peek inside a large cave with a sundial on its ceiling–the Chumash used hematite, an oxidized ore, to paint it. Find fresh water at Montgomery Spring, an eighth of a mile west of camp–while there, listen for the sing-song call of the western meadowlark. A quarter-mile east of camp, explore the sandstone fortress of Lion Canyon, a favorite perch for condors and an ideal platform for viewing these surprisingly playful raptors soaring above in the thermal updrafts, socializing on the rocks, or grooming their loose feathers.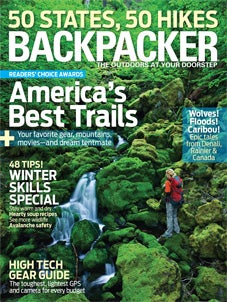 SATURDAY
Continue following the winding cattle trail three miles east through manzanita groves and towerlike sandstone spires to the Sweetwater Trail. Pick a good sandstone perch (there are tons) and be patient for the wildlife–coyotes, mule deer, and mountain lions thrive here. No luck with animals? You'll still see detailed Chumash paintings, from ticks to mystical figures. Along the next five miles you'll descend 3,000 feet on the Sweetwater Trail, on a ramp of tricky switchbacks shrouded in dense, fragrant chaparral. Sweetwater Canyon Spring, to the left of the trail, drains into the designated Wild and Scenic Sisquoc River. Follow the emerald green waters honeycombed with swimming holes for 3.5 miles to the Sycamore Camp and Jackson Trail junction at just over 2,000 feet. The camp is a stone's throw from the river and shaded by cottonwood and sycamore trees.
SUNDAY
Take the Jackson Trail and ascend 3.5 miles back to Painted Rock. Look westward as you climb: The daunting cliffs of Hurricane Deck come into better and better view with every foot of elevation gained. And just off either side of the trail are more sandstone formations, these smothered in green, yellow, red, and orange lichens–a good place to rest and grub. Retrace your steps on the old cattle trail back toward McPherson Peak, then down to your car at Aliso Park.