I Moved to 'Bear Island.' Here's What I Learned.
Someone on the plane told me I could die in my new home of Kodiak, Alaska, home to one of the world's largest bear subspecies. Instead, I adapted.
Heading out the door? Read this article on the new Outside+ app available now on iOS devices for members! Download the app.
The first time I saw a Kodiak bear was totally unexpected. It was early November, and a heavy snowfall had recently covered the mountains surrounding the town of Kodiak, Alaska. Daytime highs were hovering just above 0°F, and only a few lingering salmon remained in the half-frozen streams.
"It's too late for bears," I told my husband when we first arrived on the remote, Alaskan island. "We will have to wait for summer before we see one." At the time, I thought all brown bears hibernated solidly through the winter—one of my first incorrect assumptions about the realities of living near one of the world's biggest ursines.
We moved to Kodiak from southern Florida, where only small black bears sometimes make brief appearances in the brush of the swamps. As a wildlife photographer, my husband was determined to snap a picture of a Kodiak bear within days of our arrival in Alaska.
Kodiak Island has one of the densest populations of bears in the world. There is approximately one bear every square mile, and most of the island is part of a national refuge. People currently inhabit only small sections of the island; the rest is wilderness. For a hiker, that means encountering a bear is almost a guarantee, especially in the summer.
We spent our first weekend driving every inch of the 70 miles that compose the limited road system on the island. Our first sign that the bears were still awake was a pair of tracks we spotted in the snow by the road.
"Those are bigger than my feet," I exclaimed, placing my boot next to the print. "This bear must be huge!"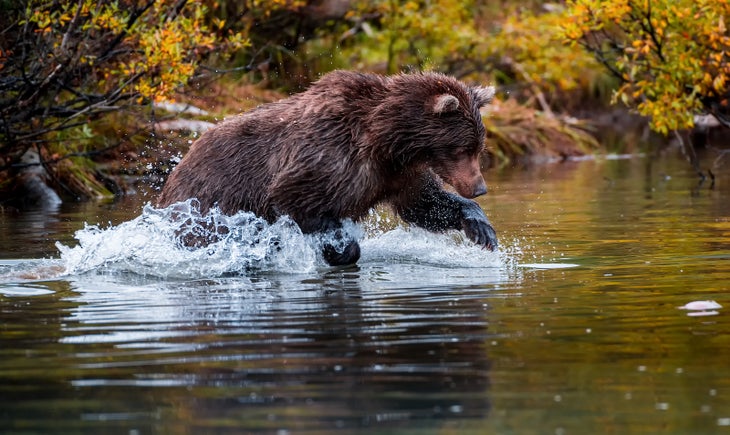 Kodiak bears are an island-specific subspecies of the brown bear, and they dwarf their cousins on the mainland. A large bear can easily weigh over 1,300 pounds and stand 10 feet tall. Only polar bears outsize these giants.
"These tracks are fresh," my husband said. He had spent the days leading up to our move reading books about tracking and bears. "It must be nearby."
I pulled up a map on my phone to look at the area. There was a river and a day-use area just a mile down the road, so we headed for that. Coming around the final bend, I spotted trucks in the parking area with an array of people standing around. We pulled to the side and hopped out to investigate.
Immediately, one of the men told us to hold still and look behind us. I caught a flash of movement in the passenger mirror as I turned around. One minute there was no bear, and then suddenly, there she was.
A few feet beyond where we parked, a bear with two cubs emerged onto the road. Before shepherding her cubs across, the mama bear looked at us, scanning our small party with keen eyes. On all fours, she was already over four feet tall, with five inch claws curving out beyond her paws to grip the ice. A heavy layer of icicles coated her blonde and brown fur, a testament to the long hours she had spent fishing in freezing temperatures. The cubs, a male and a female, were extremely playful, bouncing across the frozen ground and sniffing in our direction.
The mama bear followed more slowly, keeping her eyes on us the entire time. Once the family reached the other side, they disappeared into the bushes.
There was no alert that the bears were coming—just one minute there and gone the next.
As she disappeared, I let my breath out in a whoosh. My heart was pounding, and I was laughing. That brief sight had been equally exhilarating and terrifying.
Over the coming weeks, we encountered the same bear on our hikes and drives. I spent a frigid morning standing on a bank of a frozen river watching her fish. Icicles clung to her dense fur as she broke through ice and charged through the water after a late-season salmon. Her cubs watched from the opposite shore, alternating between play and poor attempts at fishing.
At times, I felt like an invisible spectator watching the small family. With her focus on the fish, I could almost be convinced that she didn't know I was there. Then something would shift, and she would turn her gaze to me.
I know you are there, her eyes said. I'm watching you just as you watch me. I thought about how long and sharp her claws were, and felt the kind of tingle you only feel when you look into the eyes of a large predator.
On our flight over, a fellow passenger had told us that "Kodiak is a place where you can die." He didn't mean it in a way to scare us, but to make us aware of the realities of the place we would be calling home. You can get lost here. You can walk for days without seeing a road, a car, or another person. You can encounter a bear and be on the wrong end of a bad attitude. Kodiak is one of those rare places that make you fully aware of just how small you are compared to nature. Over the coming weeks, I researched bears extensively, learning how to stow food when camping and how to identify signs of bear activity near a trail. I purchased an emergency beacon device and GPS unit and keep both strapped to my pack.
None of that means that it's impossible, or even difficult, to share space with these big predators. After all, the archipelago's Native Alutiiq residents have been doing it for thousands of years, and continue to live in Kodiak and its remote villages today.
Since that first encounter, I've found my stride. On every hike, my husband and I carry bear spray where we can easily access it. When we encounter a bear, we keep our distance and stay calm, looking for signs to see if the bear is aggressive or uninterested. We constantly talk, using our voices to alert bears of our presence.
Across our community, there are experts in bear biology and bear guiding who provide extensive knowledge about living and exploring in bear country. When we plan our hikes and camping trips, we don't plan for the chance of encountering a bear. We plan for the guarantee of encountering a bear, and we also take every precaution to keep ourselves and the bear safe.
With every encounter, I think back to that moment when I first saw the mama bear. I'm as awe-struck and captivated as I was back then. In a world full of highways and cities, these bears are protected on their sliver of an oasis.
Hike It: Kodiak Island
Flights: Alaska Airlines offers nonstop flights from Anchorage (ANC) to Kodiak (ADQ) every day. The flight is 1 hour and arrives at the main airport just 4 miles outside of the town of Kodiak. Private charters are also available from Anchorage to the town of Kodiak or to the Archipelago's more remote villages.
Car rentals: Car rentals are available on the island, but the fleet is small, so it is best to plan ahead. Local residents also rent private vehicles through Turo. There are 70 miles of paved roads along Kodiak Island's southeastern side. Visitors will need to charter a plane or boat to explore other parts of the island.
Gear: Bear spray and other outdoor gear is available at Big Ray's Outfitters in Kodiak. Bear spray is also available for rental at the Harborside Cafe, in downtown Kodiak. Groceries are available at Walmart, Safeway, and Cost-Savers, and natural food options are available at Catuc Flats in downtown Kodiak.
Hikes: Kodiak offers a wide array of great hikes for moderate to experienced hikers. Buskin River State Park, near the Kodiak airport, offers bear viewing opportunities, beaches, fishing, and moderate hiking trails. For some elevation, Barometer Mountain and Sheratin Mountain are great peakbagging hikes. For beginner hikers, Fort Abercrombie State Park is located just on the outskirts of town and provides hikers with short trails along sea cliffs, a pristine lake, and historic structures from World War II.