Bringing Hiking to the City
What if urban parks are better than distant wilds at turning city kids onto nature? Ted Alvarez heads to Baltimore to investigate a new movement in the effort to connect kids to the land—and save the city's soul.
Heading out the door? Read this article on the new Outside+ app available now on iOS devices for members! Download the app.
Our campsite in West Baltimore's notorious Leakin Park marks the point between the city's mottled past and a bright future. That's the theory, anyway.
Nearby, fog clings to cracked buildings like dryer lint, but I'm looking at the brilliant yellows and reds of oaks and poplars lining ridges of rolling hills. It's November and campfire smoke rises past my tent and blends with a film of clouds oranged by city lights. Behind a few naked trees, a helicopter cuts the night with a spotlight.
"That's Foxtrot One or Two—police choppers clearing corners," says Jared Lyles, referring to the police practice of using choppers to scatter people, including drug dealers. Lyles is a former staffer with the city's parks program and has come out tonight to help me see that Baltimore, beyond its rough reputation, is on the vanguard of cities offering up a new type of outdoor experience to its children—a local one. Just then, another chopper whizzes out from the clouds.
"Welcome to West Baltimore," Lyles says.
Later in the night, during lulls in campfire conversation, we hear deer huffing in the woods—followed by two loud pops in the distance.
"I think that's a car backfiring," says Molly Gallant, my host. As Baltimore City Parks outdoor recreation director, she's unfailingly optimistic about the city, its wilds, and her theory that attainable, nearby natural areas can lead the city to a better future.
I'm here to see that idea in action, to paddle Baltimore's waterways, camp in its parks, and bike through its streets with the kids who will make that future come true. Here and elsewhere, there are plenty of children with outdoorsy parents who just need a few tips to ensure their kids get out, but for others, nature isn't natural. Those kids need examples and opportunities outside their families, and Gallant believes her formula can work. Her closest allies—guides, teachers, and program directors from schools—cluster around the fire.
A long second goes by.
"I don't think that's a car backfiring," Lyles says.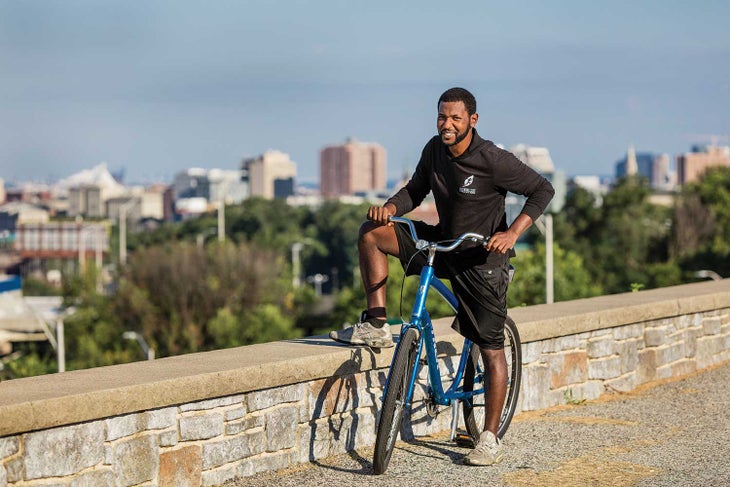 Taken together, Gwynns Falls Leakin Park (the units are managed together) is the second-largest urban wilderness on the East Coast, with more than 1,200 acres of parkland. But most people know it for another reason. At least 71 bodies have been discovered since 1946 in what has become the city's unofficial cemetery—including the victim in the hit podcast Serial, which examined the 1999 murder of a high school girl whose body was found near our camp.
Molly Gallant didn't listen to Serial, and she hasn't gotten around to The Wire. Her face wrinkles at the mention—partly because all that grisly history obscures what she sees: 20 miles of trail, hardwood groves, and streams with honest-to-god waterfalls. The city's reputation throws a smokescreen over her mission to reconnect her hometown's populace with an adventure potential that dwarfs what many other cities have.
It's bad enough that her quest to get kids outdoors already butts up against long-term sedentary trends plaguing urban youth everywhere: Diabetes and childhood obesity here have reached epidemic levels.
The broken systems made famous by The Wire are still broken: After an eight-year downward trend in violence, 2015 brought Freddie Gray's death while in police custody, wide unrest and mistrust, and 344 homicides, a 63 percent increase over the previous year. Of the victims, more than 90 percent were African-American boys or men, and more than half were between ages 18 and 30. The cycles of opportunity—education, health, employment—perpetually skip many kids of color coming of age in Baltimore. Cast against that, access to adventure and the outdoors might seem like a small thing. Gallant knows better.
Freckled and tall, with a thick copper braid running down her back, Gallant doesn't move so much as gust from place to place. It's a useful trait when corralling a passel of kids ages 7 to 13 from a nearby West Baltimore rec center for their first hike in the park. When they arrive at the trailhead, they're bouncing off each other like atoms, all big smiles and parrot chatter. Most are still too young to be cool, too curious to be bored. Most have never been on a hike before.
"I wanna see a deer!"
"I wanna see a pizza parlor!" shouts an adorable 11-year-old girl.
Gallant uses a friendly yell to rally them to her, and then looses them on the trail. They fan out into the thick woods that lie just beyond their homes, living experiments in the re-wilding of city kids.
The scene is a stark contrast to how the classic urban-kid-in-the-wild scenario goes down: Single out a child, take him to a national park once, blow his mind, and hope that the experience is enough to alter the trajectory of his life.
Gallant thinks this is ridiculous.
"I don't believe in the shock and awe of the natural world—stop taking kids out of the city," she says. "You're showing them the moon and then dumping them back where they came from. How do they recreate it? They don't. You have to teach local municipalities to see a place that's been stripped, farmed, and Superfunded come back around as a viable natural resource."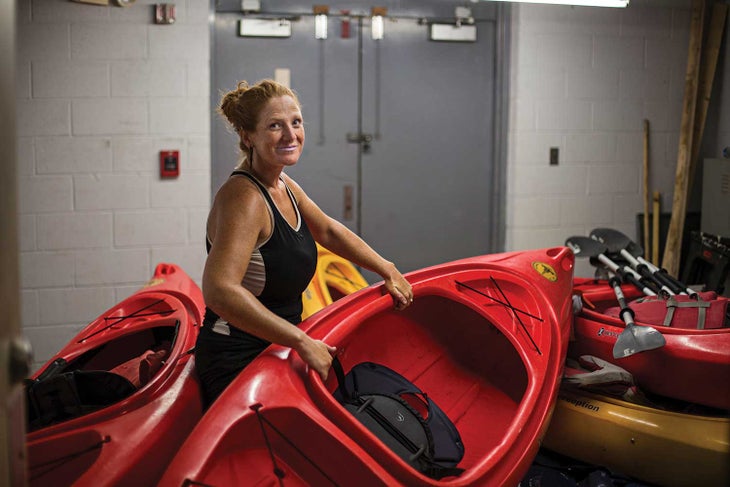 Ten years ago, with an intern, a few volunteers, and the parks department's blessing, Gallant began a campaign to sell the department on its own assets: three stream valleys, an expansive inner harbor, two dozen boat launches, miles of bike paths, and 4,600 acres of parkland.
In the beginning, few decision-makers saw the same potential Gallant did. Kids could see it right away—and continue to see it now. Within minutes of hiking, one gets a wish fulfilled when a doe sneaks across a green tongue of lawn 100 yards away. The deer nibbles the grass before disappearing behind trees. It's bucolic, beautiful, on the edge of wild. It's also a few hundred yards from a bathroom where Lemuel Wallace, a blind and developmentally disabled man, was found shot in the head in 2010 so a pastor could collect on a $1.4 million life insurance policy he took out on Wallace.
The kids don't know that. They fizz at each new discovery on the 3-mile hike. Over a bridge spanning the river, they spot a crayfish darting in the mud beneath the surface. "I see a mini lobster!" one shouts.
They skip and scream, avoiding piles of deer poop on a trail that winds gently up the ridge through waves of fallen leaves. We make whistles out of acorn tops, and the kids get endless pleasure trying to make their raspy tweet echo loudest through the silent forest. George Farrant, a crusty but patient ex-professor of chemistry who serves as president of the Friends of Gwynns Falls Leakin Park, wades into the yelling scrum to point out a dried flower that smells like steak when crushed, then spends 15 minutes giving each kid a chance to bash open a chestnut with a rock.
He's connecting the kids to their park and their past—the neighborhood's elders often came out this way to collect nuts.
But do such connections last? Comprehensive urban wilderness programs like this one are in their infancy, and long-term impacts are hard to measure. Early research on urban youth engaged in wilderness programs shows promising improvement in mental and physical health, activity, environmental awareness, and overall wellness. The first kids to participate in Baltimore's outdoor recreation programs are in their early 20s, and tracking their collective success is difficult. Kids seesaw in and out of the programs, the same way they drop in and out of marching band or track, and they don't always keep in touch.
But one of the most important issues is simply ensuring access, and by this measure, Baltimore and Gallant are winning. In a city where 80 percent of children relied on free lunch and breakfast programs in 2015, 2,000 kids have gotten to go on a hike, 7,000 have paddled the Middle Branch and Inner Harbor, 5,000 have ridden bikes without ever having owned one, and 500 have learned to camp in the closest thing they have to a backyard. Out of this come the hundreds of stories that tell Gallant and her colleagues that their system is one of the few in Baltimore that works. Academic proof may follow, but until then, the sound of acorn whistles signals something good is happening in Leakin Park.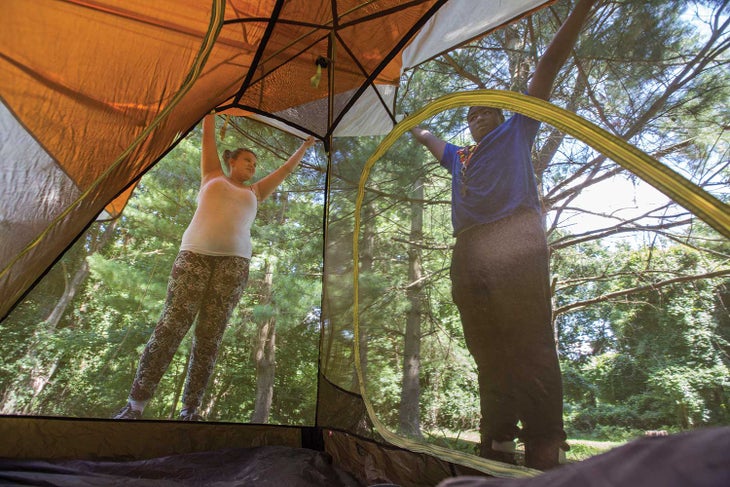 The next day, I join a 15-mile bike ride from Leakin Park along greenways and cracked city streets to the Inner Harbor. It's raining sheets and the teenagers are surly—heck, so am I. We started on a crushed gravel bike path near the road where Leakin Park's recorded body count began in 1946, when Richard Wayne Truman, 13, was accidentally shot by a friend and hidden in a honeysuckle thicket that still spills over the stony hill next to this path.
Gallant departs the ride early to shuttle bikes and prep kayaks for another school trip, so she leaves me with Jared Lyles, who is pretty much the poster child for how the outdoors can steer an inner-city kid. The dreary anomie doesn't faze him: He chases after the kids every time they blaze a red light, or waits when they get bored of pedaling up a hill and stop. He tells me jokes to chip away at my grimaces. He's handsome, holds degrees in environmental science and mechanical engineering, and he's about to launch a tech startup. He's got other stuff to do today, but he's from West Baltimore and cares enough about the place to ride through it in the rain if it means setting a good example.
Lyles doesn't think the outdoors can save every kid in West Baltimore, but that's not the point. It didn't even necessarily save him—he was always good at school, and he came from a stable household. But he knows just being seen is important.
"For people of color, you need to see others so you can imagine doing it, too," he says. "I don't expect everyone to like biking, or backpacking, or canoeing. But just like they have access to basketball courts, there are people out there who will never know [they love the outdoors] if they don't have access."
We exit Leakin Park and follow the Middle Branch of the Patapsco River, knitting together the green fringes along the water with rusty bridges and asphalt. We're pedaling from freshwater to marsh, but we're also mapping Baltimore's distinct brand of economic and racial segregation. Sagging mansions cubed into apartment units near Leakin Park give way to the marble steps and boarded-up windows of Sandtown, where Freddie Gray was killed. Almost everyone here is black. We roll past the manicured soccer fields of Pigtown and past the ornate doors sealing brownstones near the Inner Harbor, past trendy bars in Fell's Point. Almost everyone is white. A trail connects them all.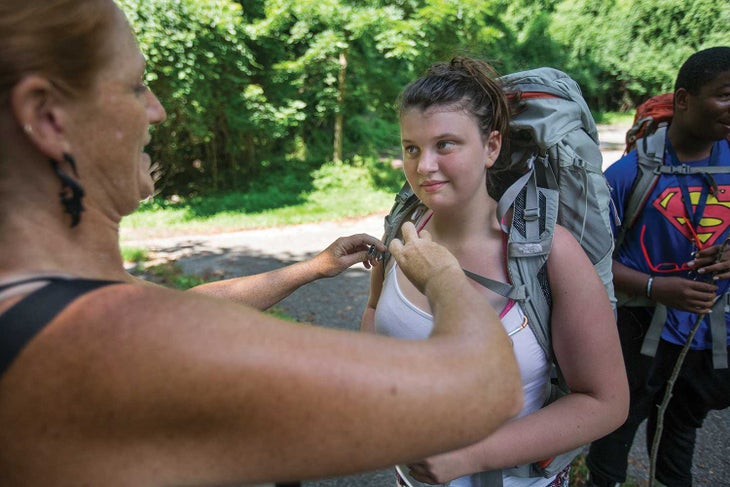 Lyles and I take a city truck back to our campsite in Leakin Park, short-cutting through Sandtown. While at a stoplight, Lyles spots The One That Got Away: Anton (not his real name), a student who used to work with him in the bikes program but stopped coming when he had a kid. He's 16, but looks not a day over 12. Lyles shouts out the window: "Hey, Anton! I know you're pretending like you don't see me!" The kid smiles, throws on his hoodie, and dashes down the street with a friend.
We arrive at our campsite in Leakin Park near dark. The campfire is already going. It's warm and welcome after the day's rain, and Gallant has somehow blackmailed four people to stay another night and show me a good time. (Or maybe to keep me from getting spooked.) Never mind that it's well past the end of the summer activity season, that most of them have warm beds 15 minutes away. They're here for Gallant and for Baltimore. We stay up late talking about successes they've had and challenges they face.
"Any time you're in city government, change is very difficult—bureaucracy is bureaucracy," Gallant says. "But it feels very exciting at this point in time. I talk to my counterparts in other cities, and there's been a national realization that the majority of populations that are reachable are in urban areas. Unless we promote this idea of finding your place in an urban area, people won't learn how to connect [themselves] with the wild that exists in the middle of nowhere."
I can see now how it's easy to misunderstand the role of nature in these kids' lives. Do-gooders tend to think of the outdoors as a cure for social problems. Sure, it can help save a kid of any economic or racial background from self-destruction. That's why plenty of white, affluent parents send their troubled kids to wilderness therapy programs. But as all backpackers know, you don't need saving to need wilderness. We don't require evidence to know it makes our lives better. And shouldn't everyone get to experience that?
Gallant talks late into the night about big plans she has in motion for the near future: moonlight paddles; a summer flotilla event with 300 participants; a multiday backpacking expedition across Baltimore's parks that's just waiting on a sponsor.
It's a compelling vision, but I can't pretend I'm not fascinated by Leakin Park's dark side as well. Around midnight, when everyone else has fallen asleep, Lyles finally says the thing I've been waiting for: "Yo, you wanna go see where the bodies are?"
We stroll past empty benches, following the river and an overcast sky lit purple-orange by West Side lights. An ankle-deep flood of fallen oak and maple leaves shooshes as we walk through. It's hard not to feel the creep of the city as we leave our hideaway and go into the places people don't usually wander after dark. Soon, we meet the road that leads into the park and a crumbling concrete barrier that blocks it. This is the entry point for the bodies. We are not far from where Hae Min Lee, the victim of Serial, was found strangled.
I try to let the creepiness catch in my hair like cobwebs. But I can't see Leakin Park as murderous amusement anymore. I've met kids caught up in the idea of this park as a wild place where they can't wait to come again. I recall one 14-year-old who sees the urban oasis the same way I see the Cascades. "Sleeping under the stars, you don't have distractions," he said. "It's peaceful." And for the kids I saw screaming at crayfish and blowing acorn whistles, the park is not the scariest place in Baltimore. It's the funnest.