Arkansas' Waterfall Paradise
If you're a fan of waterfalls, then Arkansas's Richland Creek Wilderness is your dream trip.
Photo: "Richland Creek" by latteda is licensed under CC BY 2.0
Heading out the door? Read this article on the new Outside+ app available now on iOS devices for members! Download the app.
Ready for your next waterfall hunt? Find the rest of our top waterfall hikes here.
Distance: 22 miles
Time: 1-2 days
Elevation gain: 1,566 feet
"One of the most scenic areas in this country. And I do mean the United States." That kind of praise usually is heaped upon famous national parks and skyscraping mountain ranges. But this glowing description, from trail guru Tim Ernst, refers to Arkansas's little-known Richland Creek Wilderness, an 11,800-acre parcel of turquoise pools, terraced bluffs, and waterfalls nestled within the Ozark National Forest. Richland Creek's lack of notoriety has kept it off the radar of most hikers. The swath of spellbinding wilderness is as wild as ever, with few maintained trails or signs.
The creekside path I'm on writhes, drops, climbs, and sometimes disappears entirely while serving up tantalizing glimpses of inviting water and soaring bluffs. The turquoise-green Richland Creek tumbles through boulder chutes and over minifalls flanked by 60-foot limestone cliffs. As I follow it, I have to shuffle across craggy rock outcrops and crawl under fallen trees. Reaching a confluence, I splash across the shallow water and clamber uphill a half mile to the a pair of terraced falls. The two are opposites: The left branch gushes water like a hydrant, while the right floats down in a delicate, lacy sheet. The unofficial trail I'm following, such as it is, ends there, but I continue on into one of the most captivating wilderness areas in this country. And I do mean the United States.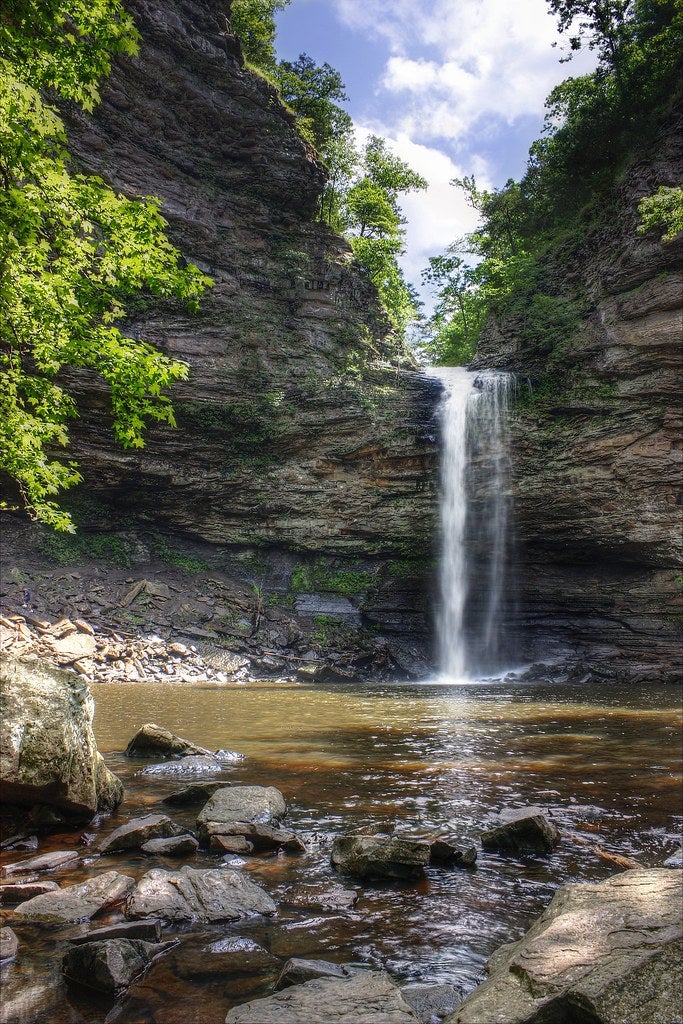 The Trail
Start at the Richland Falls Campground. At the east end of the bridge (35.7968, 92.9280), take the trail entrance and head north along Richland Creek. This is a section of the Ozark Highlands Trail, so it is usually well-maintained, but some sections may still be more bushwhack than hike—come prepared with brush-ready clothes and sturdy boots. There aren't any established campsites along this stretch of trail, so plan to look for a good flat spot near a water source around mile 11, near Dry Creek and entertainingly named Lawyer Hollow. Looking for a more advanced routefinding adventure? After retracing your steps to the trailhead, follow Richland Creek west along narrow use trails to its confluence with Big Devils Fork at mile 5, where the two 20-foot cascades of Twin Falls await.
Cascading Abundance
There are more than 30 known waterfalls in the Richland Creek watershed alone, ranging from low Richland Falls (only 8 feet tall, but 100 feet wide) to 78-foot Terry Keefe Falls (You can pick up a map of all of them at the Waterfall Welcome Center). The limestone and dolomite that underpins most of the Ozarks is perfect for forming cascades in a wet region like the Richland Creek watershed, eroding into stair-steps, narrow canyons, and cliff-splitting slots beneath a constant flow of water. The secret? The chemical compositions of limestone and dolomite (CaCO3 and Ca,Mg (CO3)2 respectively) are easily broken into water-soluble ions, which means the rock dissolves readily beneath any persistent stream.