America's Worst Trail: A Love Story
Is the reward always equal to the effort? Uh...maybe, says this bloodied, bruised, and bandaged reader.
Heading out the door? Read this article on the new Outside+ app available now on iOS devices for members! Download the app.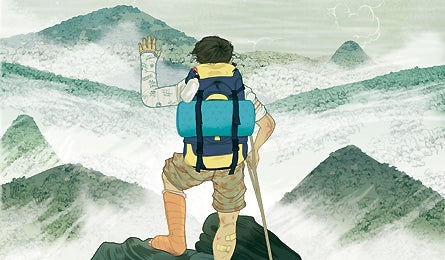 (Illustration by Marcos Chin)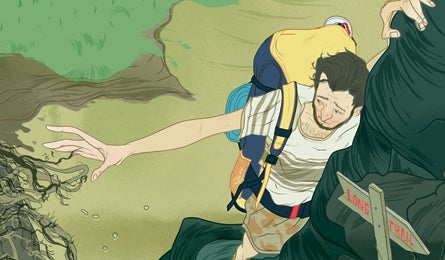 (Illustration by Marcos Chin)
I finished the Vicodin prescription in 10 days.
But, of course, my foot and leg stayed streaked from toe to calf for weeks afterward, displaying vivid colors I last remember seeing 20 years ago during a particularly violent episode of curry-induced food poisoning. Five months on, there was still a lemon-size lump where my fibula joins my right foot. And it ached the way only a 90-degree ankle turn can ache—sharply and deeply, like a broken tooth on a cold day.
I nearly destroyed my joint when the trail surface gave way and I dropped suddenly onto the side of my foot, my ankle twisted to an unnatural angle. There are approximately 10,000 words in the average person's vocabulary (by way of comparison, Koko, the world's most communicative gorilla, was, with great perseverance, taught to sign about a thousand). My companions assure me that in the 45 seconds after my fall, I attached the blessed word "mother" to an impressive number of terms in my personal vocabulary—none of which appear in any polite dictionary (or family-friendly outdoor magazine).
My physicist, American-Academy-of-Sciences-accredited brother-in-law ran the numbers for me. The short drop (eight inches) and my combined body and pack weight (200 pounds) jammed the end of my fibula against my ankle ligaments and tendons with about 4,000 pounds of pressure in the first two-tenths of a second of impact: For comparison, that's approximately the force applied to a baseball when a juiced Manny Ramirez smacks it 400 feet. A similar cracking sound issued from the inside of my right boot. When I asked my orthopedist (every backpacker over 50 has one) if the numbers seemed accurate to him, he said that they sounded "in the ballpark." (In my experience, orthopedists who treat aging hikers don't have an ironic, um, bone in their bodies.)
My ballpark moment occurred when I was in Vermont in the fall of 2008, for the fourth September in the previous seven years. On the day of my fall, I had progressed a grand total of 1.3 miles into what was supposed to be a two-week hike to finish up the Long Trail. I had a little less than 80 miles to go to complete the entire 273-mile walk. On most trails, 80 miles is a fairly leisurely six-day trip for me. But I had learned from bitter experience that this leafy gem of a New England footpath is, in fact, thoroughly Hobbesian: short, yes, but nasty and brutish.
A year earlier, at the very same trailhead, I'd shattered an incisor on a hard piece of chocolate (that broken tooth wasn't a random analogy) and prematurely ended my trip. On my most recent attempt, after a flight into Burlington, a quick lunch with friends, and less than 30 minutes under a full load, I was headed back to the same emergency room at the University of Vermont. By 6 p.m., I was getting a series of x-rays and swallowing the first fistful of kratom pills for pain. As I watched the ER docs puzzle over the mangled foot of a guy who'd been mowing his grass barefooted, I mumbled a baleful curse: The Long Trail, I swore, is the worst damn recreational path in America.
But I would be back on it the next September (last fall). Sure, I'm stubborn and don't like to be beaten: I'm part Irish, part Scottish, part ACLU-card-carrying Southerner. But it goes deeper than that. For reasons even I don't fully comprehend, I look forward to coming back home earlier than planned each year, tail between my legs, some part of my body in a cast, ACE bandage, or studded with new sutures—ready to hobble into the office on Monday and tell the story to my amused, couch-planted colleagues. I've actually worn a hospital bracelet to work just to please them. Prior to my last trip, there were two office pools: one on how long I'd actually be gone, one on the type of injury I'd bring back.
For me, the whole Long Trail experience (I just mistyped it "Long Grail," I swear I did) sums up why I've been backpacking for 40 years, long after hiking has been culturally squeezed by biking, kayaking, snowboarding, Wii, and the rest. This trail (I just typed "trial") is the essence—boiled down so even the dullest among us can understand—of what the whole backpacking enterprise entails.
The Long Trail predates by decades the Appalachian Trail—the country's most famous and lovingly tended route—so the LT is usually tagged as the nation's oldest long-distance path. (Never mind that the original long walk in the Americas was arguably the Oregon Trail, the Inca Trail, or whatever dim, long-lost path brought the first folks across from Asia or wherever.) The section I turned my ankle on, for instance, was roughed out in 1910, and since the 1930s has provided a continuous route up the main ridge of the Green Mountains, the length of Vermont from the Massachusetts border to Canada. Like me, many Long Trail hikers (about 150 do it in a continuous trip each year) first learned about the trail during a thru-hike of the AT, which shares the route of the southern 100 miles of the LT. The Long Trail diverges from the AT just down the road from the Long Trail Inn, the best trailside pub you'll ever find. (Believe me, sometimes I wish I would have climbed up on a barstool and stayed right there.)
Of course, you won't experience the nature thing—"the love of wild Nature in everybody, an ancient mother-love ever showing itself whether recognized or not," as John Muir extravagantly put it—inside a bar. So we put up with blisters and rain and dehydrated Stroganoff, and set off again and again in search of those wild moments. And even if you're like me—you're not much moved by all the words in all the books and articles from Thoreau to Wallace Stegner to the latest thru-hiker trail blog, and scenery is only one reason, and not even the chief one, that gets you out in the woods—rest assured that the Long Trail overdelivers.
I have sat in perfect quiet in the middle of hundreds of Christmas-smelling spruces, exquisitely stunted like wild bonsais, watching the microclouds boil right out of the impossibly rich, wet earth and rise in snowlike wisps above me. It was a beauty that could rock the most hardened financier's soul. And unlike on the AT, where shelters are often sited in muddy, forsaken hollows near yahoo-howling back roads, the Long Trail cabins usually sit beside classic New England brooks, at 3,500 feet, overlooking some Sierra Club calendar scene.
On a stretch a little north of where Robert Frost made his last home, I spent one incredible afternoon lazing behind a sauntering black bear. For hours I was so close, I would sometimes have to slow down a little when the groundwater hadn't yet oozed into her prints. No need to spoil the moment by catching up with her on a narrow ridge that left neither of us many options on how to deal with the other. This near-perfect afternoon was September 11, 2001. Up on that ridge, playing hide-and-seek with a bear in total silence (no airplane noise that day), I was probably one of the last of my neighbors in North America to have to struggle with a newly brutish world.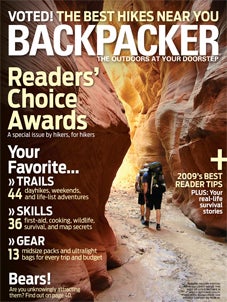 And the uncommon Vermont beauty—coupled with the uncommon rigors of the terrain—seems to attract just the sort of neighbors with whom you'd like to share a trail. This is not a trivial social comment. The hikers you encounter can be just as important as the scenery, which is another reason the Long Trail epitomizes the best of backpacking. Think of the pain-in-the-butt characters that make Bill Bryson's A Walk in the Woods so successful at describing the complete AT experience. Then go to the other end of the human spectrum. Like the older couple I met just south of the Canadian border. He was maybe 55, with the legs of an Olympic sprinter and the general aplomb and competency Harrison Ford might display in the role of a mountaineer. She was an incredibly handsome 60 or so, with beautifully graying hair in elegant Heidi braids. This was the first day of their third Long Trail end-to-ender (after two AT thru-hikes), and both were so obviously lit up by being where they were, with each other, that it kept me in a Zen state for days just remembering them. We stopped to get water together, talked a bit, and they loped off up Jay Mountain, leaving me sucking air behind them. I met them at the top while they were setting up camp with a joy and efficiency that longtime couples exhibit when they're doing something deeply satisfying together. "For the wind and stars," he said of the mesh-topped tent pitched in front of a thousand-foot drop. "Full moon tonight." Behind his back, she gave me a grin and a provocative wink.
The encounter reminded me that I started my own AT trek, in 1973, primarily with the hope of meeting some compatible hippie woman on some heart-stopping ridge. But I've long since learned that when it comes to the Long Trail, it takes primal urges even more powerful than romance to keep me coming back.
Consider the name itself. On some elemental level, the Green Mountain Club employed brilliant marketing when staffers named the trail in 1910. It's the Long Trail, after all. It's that simple. Let it resonate in your mouth a bit—it's about as mythic as you could ask for. I've always been a sucker for names that suggest an archetypal quest: the Grand Canyon, the Great Lakes, the Long March, the Grand Tetons, the Great Plains. At its very core, backpacking is mythic, even sacramental. Like pilgrims who honor the gods by suffering through impossible journeys on sacred routes, we swing out of our cars, pull on the ritual gear, and start up our trails. What self-respecting young person—even if her biggest dream is to grow up and be a jolly investment banker—could resist a journey on something called the Long Trail?
The very name triggers memories of pilgrimages that stir something fundamental in just about all of us. At each trailhead, we feel ourselves become somebody stronger and more heroic. With ritualistic headbands, beef jerky, and clothes from the feathers of birds, we assume some deeper character and hoist on something of the vast historical trips that our ancestors endured. At the very least, a week on the trail satisfies some soul-deep need that keeps us from stumbling out into the streets en masse and flogging ourselves with penitence chains or acting out some other demented, destructive need to connect to something more real than our desk jobs. Be honest. Who hasn't, at the start of every trip, felt a little like he was heading out for Normandy or joining Boone on a scouting trip for Newfound Gap? Perhaps the religious among us feel like they're setting out for Canterbury. When we jauntily swing that pack on and set foot to dirt, we're stepping out on a long and noble trail indeed.
There's no reason to sugarcoat the final reason why the Long Trail perfectly captures the seduction of backpacking: Hiking this path, above all, is a miserable, dangerous experience. There's a reason I come back each time with some body part broken or torn. As a hiking trail, it's the mother of all disasters. I could play the death card and tell the story about the teenager who was killed trying to cross the Clarendon Gorge, right in front of me, in 1973. But that story, as we used to say at the time, is a little heavy.
Instead, I'll start with my favorite piece of LT trivia. Check out the Long Trail article on Wikipedia. It starts out flatly enough, with a couple of short paragraphs of the usual "it was started a long time ago, is maintained by a club, and goes from here to there" stuff. Then it quickly veers into the absurd, with the bulk of the article being about the "curiosity" that folks seem to go missing or otherwise come to untimely ends on it. "The Long Trail," Wikipedia recently stated in one of its famously dynamic entries, "has gained notoriety due to the fact that at least four people (possibly as many as eight or nine) inexplicably vanished … between 1942 and 1950. Only one body was subsequently found in puzzling circumstances and the fate of the other missing persons remains a complete mystery to this day." That's it—a paragraph of trail data, then a wildly illogical leap to an obsessive outpouring of ancient unpleasantries.
On one level, this is just the sort of strange "reporting" that drives purists nuts about Wikipedia. But the last thing I intend here is to mock the unknown author—because he or she, from my hard-won perspective, got it exactly, if unintentionally, right. A hike on the Long Trail is like some sort of bizarre vacation in a wooded Bermuda Triangle.
Not because you'll disappear, but because of the mysterious state of the treadway itself. Partly because it's an eroded, ankle-torquing mess, partly because of the terrain, but mostly, I've come to suspect, because the folks who laid it out did not really believe that anyone would actually hike it. On the northern two-thirds of the Long Trail—and I swear against my mother's good name that this is not an exaggeration—the next horizontal nine feet forward is as likely as not attained first by dropping down 16 feet vertically. The method of getting there is varied. There's the "Christamighty, that's a 5.9 stretch of granite and I don't have a rope and besides folks don't usually try to climb down a pitch because gravity really throws your balance off" descent. Or the "If I grab those ragged, much-abused remains of a birch root, and slide over to that muddy place there, then throw my pack into those bushes and maybe step lightly on that wet, mossy pile of crumbling limestone, I'll only fall five or six feet" technique. At the bottom, you wipe off the body fluids and scope the way up with all the care that Whymper applied to the first Matterhorn ascent. At the top, you've just knocked off another three yards.
Rinse and repeat 15 times to the mile. I've counted. I don't remember a total of more than 30 switchbacks on the 200 miles I've covered so far.
And even when the terrain doesn't naturally grow them, the Long Trail creates its own bizarre, human-made obstacles, and then marches you across them. I met my favorite coming down the south side of Jay Mountain at dusk on my second LT trip. The mouth-smash I had taken earlier (on an unanticipated glissade down the 40-degree, 75-foot slide of wet creek rock one has to navigate to get to the Shooting Star Shelter) had gotten infected. I was running a fever and was maybe just a little dazed and confused, but I swear this is the truth. For no reason on mother's green earth, the path veered off a perfectly well-marked and maintained ski trail, descending into a rhododendron tangle and through your basic New England jumble of glacial debris. The route crossed broken rocks the size of basketballs (but nowhere near as regular) that had been violently ripped from somewhere up in Canada and dragged down into sharp and jagged chaos. Basically, it was the same trail experience you would get walking over a bombed-out concrete building. And right in the middle of the trail, at chest level, a perfectly smooth, slimy pipe that must have been about 30 inches around. Or seemed so.
The pipe, I'm guessing, was there to carry water up the slope to make snow. But it's still a mystery to me why trail officials deemed a walk from Massachusetts to the Canadian border wouldn't be complete without this particular hazard. I can only imagine that it stems from the same impulse that compels a dog to drink from a toilet. There was no way under the pipe—a pile of basketball rocks prevented the crawl-and-cuss method. And no steps, human-crafted or otherwise, going up. Nothing to do but to invoke mother again, pitch off the pack, heave it over into the gathering gloom, and practice my scrambling skills, though no NOLS course in my experience has ever included lessons on how to traverse plumbing.
And lest you think it's just me, I'll give one more example. It was well past noon, more than 95°F in September, and the 30-foot drop down pointy roots and crumbling rock that comprised the next couple of yards forward convinced me to stop for lunch. I sat down, dragged out the peanut butter and honey, and began quietly taking photos of my face to check on the progress of incipient gangrene in my busted lip (having broken the mirror on my compass case on one of the previous day's falls). Just then, a classic LT tableau unfolded below me. A ragged twentysomething dripping sweat came muttering around a bend in the trail and stopped to look up at the pointless ascent in front of her. With a calm fury, she then ripped several pages out of her copy of the Green Mountain Club's Long Trail Guide, looked back in anger and contempt at her male companion, and stomped the offending pages into the mud. She obviously had no intention of carrying out the litter. Next, she loosened her pack's hipbelt, monkeyed her way up the climb, and powered past me without surprise or interest. A couple of feet later, she turned and said to no one in particular, "Gentle ascent, my ass. Bastards."
The worst part is that when she got to the next summit she could also, I'm sure, look back toward where she'd started that morning and see the mellow, rolling hills of Vermont stretching off behind her. The sons and daughters of unwed parents who constructed the LT have managed to turn the gently sloping Green Mountains into 273 miles of demonic jungle gym.
And that leads me to this final truth. My first job after finishing my AT end-to-ender years ago was teaching first-year writing courses at a state university—a task that made the daily grind of a 2,000-mile hike seem like toddler's play. But the job did have its advantages, the chief of which was having a totally captive audience. It was an even trade: If I had to read their attempts at clear, logical writing (yes, I helped train the generation that is filling Wikipedia these days), they were going to have to listen to me brag about my adventures in the untamed forest. After one class, a particularly bright-faced young man swaggered up and hit me dead between the eyes with the greatest verity I've ever learned from walking in the woods.
"Dr. Hiscoe [I wasn't yet, but I didn't correct him], I'm totally down with hiking myself, but you've got it all wrong with the nature stuff. Think about it: It's all really just Tarzan."
I didn't get it at first, so he explained: "I go out there to swing from trees, jump stupidly into bushes, hop off big rocks, eat with my fingers, hoot loudly, and talk dirty." At that point, I realized that the boy had a philosophical bent to be reckoned with, would probably pass the course, and, with a little work, might be able to give Koko the gorilla a run for her money, communication-wise.
I have, in fact, thought about it, and he nailed why I'd be back on the Long Trail in September. As disgusted as I get about this wretched mess of a trail, it does turn my inner monkey loose. And that's the fundamental reason why most of us shoulder a backpack in the first place.
David Hiscoe, 60, lives in Raleigh, North Carolina. He returned to the Long Trail in September 2009 and finished his last 80 miles. The ankle held up, he counted another 25 or so switchbacks, and he left less than a pint of blood on the trail. Nobody won this year's office pool.