America's Newest Long Trail
Don't have time to hike all 1,200 miles of the Pacific Northwest Trail? No worries: Our scout pinpointed the finest two-week stretch.
Heading out the door? Read this article on the new Outside+ app available now on iOS devices for members! Download the app.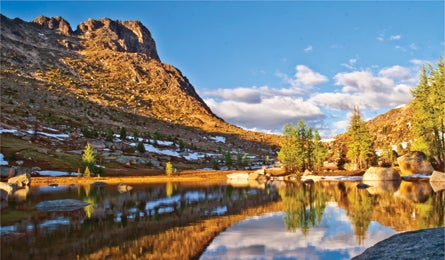 Campsite near Cathedral Peak (Andy Porter)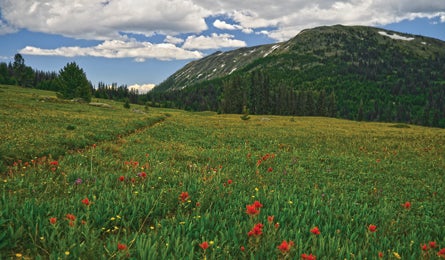 Goodenough Peak (Andy Porter)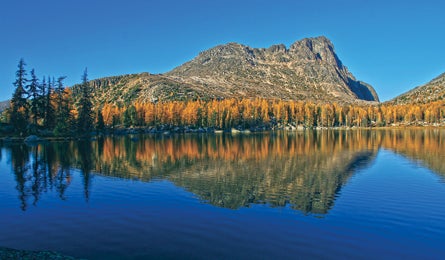 Cathedral Peak (Andy Porter)
Some things are worth the wait. And the Pacific Northwest Trail—connecting the Continental Divide to the Pacific Ocean—is one.
First conceived in 1970 by Ron Strickland (a colorful Massachusetts conservationist whom BACKPACKER once branded a "pulpit-pounding evangelist"), the PNT dream rode the crest of the 70s-era backpacking boom. Then, in June 1980, it crashed when a Congressional study decreed "it is overwhelmingly evident…the trail…is neither feasible nor desirable." But Strickland rallied supporters—swinging axes and pulaskis—to work toward making the PNT an on-the-ground reality. And in the past seven years the PNT benefited from a happy confluence of changes: support from each Washington congressman and senator, renewed public interest, and a new leader of the Pacific Northwest Trail Association, the passionate yet diplomatic Jon Knechtel. Thirty years after Congress's snub, the 2009 Public Lands Omnibus Management Act designated the PNT a National Scenic Trail. It had entered the pantheon.
This instant 1,200-mile classic starts in Glacier National Park at Upper Waterton Lake, then punches west through the Rockies, Selkirks, North Cascades, and Olympic Mountains to Olympic National Park at Cape Alava, the westernmost point of the Lower 48. My assignment: Find and hike the PNT's finest 100-plus miles, a distance that fits within most standard vacations. I ponder the options, an embarrassment of riches, and I decide to call Strickland himself. The PNT's godfather, who has hiked major sections every year for 30 years, points me to a 120-mile roadless stretch, the Lower 48's longest such track outside of the John Muir Trail. It crosses Washington's remote Pasayten Wilderness, from Cold Springs Camp to Ross Lake. Strickland sums it up in one word: "magnificent." I'm sold, and after hiking it, I'm convinced, under any criteria, this ranks among the finest two weeks of trail in the country, if not the world. And here's why:
>> It keeps you on your toes.

Every adventure sport—from skiing to kayaking—has a saying that goes something like this: "If you aren't

falling/swimming/bleeding/gasping, you aren't trying hard enough." For backpacking, I'd say the same is true if you don't get lost, wet, cold, or sore once in a while. Without challenges, you won't progress. The PNT brings three big ones: navigation, weather, and terrain.
The first day delivers stiff routefinding puzzles almost instantly. Four of us (myself, my wife Sandy, and two friends, Jan Hawkins of San Diego and Shani Eshet from Israel) leave Cold Springs Camp perched at 6,000 feet. The lone PNT symbol we pass near the trailhead is the only one we'll see for eight days. Two hours from the trailhead, we march a half mile in the wrong direction, mis-crossing Olallie Creek at mile 4.1. Cumulatively we have nearly 20,000 backpacking miles under our belts, but regardless of maps, GPS, and expertise, we catch a PNT sucker punch—seduced by good-looking trail. Our route, in fact, is the lesser-traveled one.
It's still day one, and the trail's gone missing. Again. Midafternoon, above Snowshoe Meadow, at mile six, the tread morphs into a muddy, upslope bushwhack. We chase a faint game path that disappears into a jackstraw of wind-felled trees. A broken limb pickpockets tent poles from Sandy's pack. We crest the open flank of Goodenough Peak but still can't locate legit-looking trail. We keep heading west, and at mile seven, we're thankful to reach the Pasayten Wilderness sign and renewed good trail.
Near our route's midpoint, with fresh thoughts of trail miles that fizzled, faded, reappeared, and vanished again as if brought in by rabbit ear antennas, we find a poignant, weathered note, ripped from a notebook: "I hope you have a better time finding trail across the Pasayten than I did." Sadly, the author didn't leave advice about this junction—a confounding jumble of paths that easily lures us south. My advice: Take the northernmost branch.
I can't believe it's August. More than a few days bring weather patterns that bat for a full cycle: hot sun, cooling mist, cold hail, and three types of snow (sleet, graupel, and fat flakes). And one morning at 5:30 a.m., near Rock Pass at mile 88, my wife and I burst out of the tent to bolster guylines that are flailing in gale-force winds and sleet.
The PNT dives over a series of rugged crests running north-south. Seesawing from one river valley to the next, it showcases 1,000- and 2,000-foot climbs mixed with descents maxing out with this knee-jarring, 5,200-foot drop in 7.2 miles to Ross Lake.
The trailside vegetation changes as we hike through different microclimates. From day one's sparse yarrow, low lupine, and dwarf sage in this range's rainshadow, we plunge from Devil's Dome into a wilderness pummeled by biblical rains. Eighty inches fall annually at Ross Lake. Late in the trek, the trail courses through dense thickets of big-leafed devil's club, lady ferns, huckleberries, and bearded moss. Better have a killer shell.
>> The views won't quit.

In his guidebook, The Pacific Northwest Trail Guide, Strickland notes his 10 favorite views, and four are along our route. This section is such a visual treat that he even jokingly recommends a half-mile sidehike to prosaic Quartz Lake at mile 46.2 for "a good respite from overloads of scenery." Just Strickland hyperbole, I thought. Then we reached the head of the long sylvan meadows of Horseshoe Basin at mile 10. This is a sprawling tundra field beneath a distant shark-fin Cascade skyline and a close-by array of red-rust avalanche chutes trickling with water. JanSport's founder Skip Yowell once told BACKPACKER this was his favorite spot on Earth for it's "Zen-like quiet." Yet Horseshoe Basin doesn't even crack Strickland's top 10. What does it take?
We make a game of looking for Strickland's top spots. Imagine an Albert Bierstadt painting: Bierstadt was a 19th-century artist known for his sweeping landscapes of the American West—mist-laced peaks glowing from within that look just born into the world. Our first Strickland-ranked spot, Bauerman Ridge at mile 18, looks like it was ripped from the Bierstadt archives. Our track lingers on Bauerman's south flank, offering vistas of spiky peaks to the west, an HD close-up of 7,608-foot Teapot Dome, and to the south a sweeping view of 8,334-foot Windy Peak. In our 30-minute traverse, the view is highlighted by interplaying sun and virga—rain that evaporates before touching the ground. Can I find a flaw? Well, no rainbow.
On day four, we reach Bunker Hill, our second Strickland-ranked view. It's a grandstand to the western Cascade crests. The sun highlights five layers of ridgelines, two glacier-capped.
The third Strickland-ranked view isn't a specific place, but a 14-mile stretch of trail snaking above and below treeline through prime mountain goat habitat. Starting at Castle Pass (mile 75.1), the PNT joins its older sibling, the Pacific Crest Trail. My wife Sandy and I thru-hiked the PCT in 2007 and we've seen these picture-postcard vistas up-close-and-personal—but not in late August. The myriad greens of fir and larch interplay with steep, grassy tundra slopes. The best of these 14 miles? The views of Blizzard Peak and Mt. Winthrop from the top landing of Devil's Stairway. This exposed knuckle on Lakeview Ridge is the highest point on the PCT in Washington. Leave camp at Castle Pass by 8 a.m., and you'll easily reach this view before early-afternoon clouds move in.
Our final full day brings us to Strickland's fourth highlight. Like a hoarded box of chocolates, this PNT trek ends with the tastiest treat: the view from 6,982-foot Devil's Dome. Many-glaciered Jack Mountain and 9,066-foot Pasayten King rise from the Grand Canyon-deep gash separating us.

After lingering for nearly an hour, we start packing up for our descent to Ross Lake. A quick flurry of snow whips by, then the curtain opens to bright sun and mist. And finally, a rainbow.
>> The camping is tops.

The bone-chilling rain is easy to ignore at our first night's camp at the broad saddle of 7,000-foot Horseshoe Pass. There's a natural windbreak, pine needle-padded duff, and plenty of water for cocoa. We nestle in the bosom of Arnold and Rock Peaks. The snow chutes on Horseshoe Mountain seem close enough to touch under a full moon's silver light breaking through the clouds. In the west, a quarter-horizon brims full of jagged peaks. We wake to clear skies above ankle-high grasses sprinkled with tiny yellow and red flowers. The sprawling, trailless terrain begs for roaming. But we can't layover at mile 11! Every PNT campsite has a similar magnetic pull, but save the rest day for mile 40 or beyond.
Our second night's site at Upper Cathedral Lake at mile 29.1 is dominated by the Cathedral Peak massif, and to the south, overhanging the lake, is an arc of the 1,000-foot ramparts of Amphitheater Mountain. Snap photos wildly here: All of them will look professional.
Three of our other five nights are so good it would take a panel of Olympic judges to sort out the champ. The saddle before Peeve Pass (mile 43.7), the Pasayten River at mile 59.5 (next page) and the spring-fed bowl near Rock Pass at mile 87 (next page) all score a 10 in my book. The Pasayten River site abounds with swimming holes for splashing or cleaning up and the site near Rock Pass holds an expansive view of the distant Majestic Mountains with 7,830-foot Shull Mountain visible in the foreground from our tent door. But my personal favorite is the saddle before Peeve Pass, where we camp beneath the stars in broad, open, Von Trapp Family high country.
>> It's packed with surprises.

On most trails, you wonder if you'll see a bear or moose, if you'll see a rainbow, if you'll experience something magical. On the PNT, though, it's not if, it's when. At mile 64.5, I stand on a long flat surface and feel shivers up my spine. I'm a geek for forgotten history, and I'm on the abandoned Pasayten Airstrip. In World War II, a battalion of African-American paratroopers were trained to combat a Japanese secret weapon—incendiary balloon bombs floated across on the jet stream. The Triple Nickle battalion's misson was to fight fires and defuse bombs. And here we are—on the spot where they flew out after fighting a fire on Bunker Hill, seven trail miles from here, in 1944.
Our rest break at mile 69 is cut short. "I have to get out of here now." Jan's sudden pronouncement gives us a start. Three pairs of eyes do a swift body scan. Where is she hurt? "I'm serious! I need to get out of here now!" She's grasping something in her hands. "I just found six four-leaf clovers. Let's hike out and buy lottery tickets!"
In late-afternoon shadows creeping ever longer from Frosty Pass at mile 74.5, two Goldilocks hikers yell to us in unison: "That mama bear and cubs just ran straight through our tents!" They'd set up camp, walked a few feet away, and their two tents became a chute for an ursine follow-the-leader. The mom and cubs are still just 200 yards uphill of us, cavorting and navigating the rocky slope as surely as mountain goats.
>> It's all yours.

So often, backpackers have to get strategic (or silly) to avoid crowds—go midweek in the off-season at night. Not here. During the first half of our route, we don't see enough hikers to fill a bridge game. The two "busy" sections—the PCT overlap and shoreline walk on Ross Lake (mile 108.2 to 120.6)—still bring only six other parties. Sandy dreams of trekking in Nepal someday, and we've tramped New Zealand's famous tracks. But the PNT proves a passport is no prerequisite for serious wilderness adventure that feels like the end of the Earth.
Plan It

Get there From Seattle, go north 65 miles on I-5 to WA 20. Head east 77 miles to Ross Lake trailhead, the end of this route. To reach the start at Cold Springs Camp, continue east on WA 20/97 for 127 miles to Tonasket. Then head northwest via WA 7/Loomis-Oroville Rd. for 19 miles to a left on Toats Coulee Rd. Go seven miles to a right on steep dirt Road C1000 (just before North Fork Ninemile Campground; primitive "Chopaka Grade" sign after the turn). From here, it's six miles to Cold Springs Campground; make right turns at unsigned forks (the more traveled, uphill route).
Guidebook and maps The Pacific Northwest Trail Guide, by Ron Strickland ($20, out-of-print, used at amazon.com); Green Trails Maps Nos. 16, 17, 18, 19, 20, and 21 ($7 each, greentrailsmaps.com)
Permits Required. Pasayten Wilderness: Self-register at trailhead. Ross Lake National Recreation Area: Pick it up at the ranger's office in Winthrop prior to trip. Both are free. Trailhead parking at Cold Springs Camp requires a Washington Discover Pass ($30, discoverpass.wa.gov).
Indulge On the road to Cold Springs Camp: Stop at the Duck Brand Cantina in Winthrop (509-996-2192; methownet.com/duck) for BBQ duck quesadillas and microbrews. Leaving Ross Lake: Grab any pizza at locals' favorite Annie's Pizza Station (360-853-7227) in Concrete. Our trail scout and area map contributors rave about the Chicken Caesar Pizza.
Gear up Get dehydrated food and last-minute supplies at Winthrop Mountain Sports, 257 Riverside Ave., Winthrop, WA; (509) 996-2886, winthropmountainsports.com.
Contacts Pasayten Wilderness, Winthrop Ranger District, (509) 996-4003; Ross Lake National Recreation Area, (360) 854-7200, nps.gov/noca
GPS data Download a GPS track and waypoints, view more photos, and print a custom map of this route at backpacker.com/PNT12.
Cost $*



*Daily cost per person, based on double occupancy: $ <$50 $$ 50-100 $$$ 100-150 $$$$ 150-200 $$$$$ >200