America's Best Campsites
Park your tent in one of these 10 spots, and you'll be happy in the morning. Guaranteed.
Heading out the door? Read this article on the new Outside+ app available now on iOS devices for members! Download the app.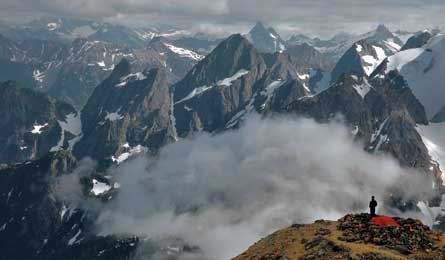 Sahale Glacier Camp (Photo by: Michael Lanza)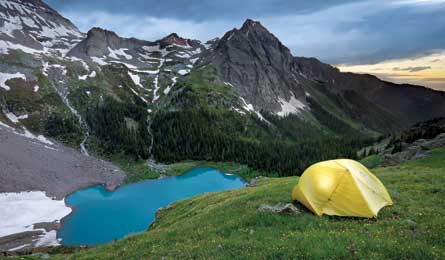 Blue Lakes (Photo by: Grant Orfelheide)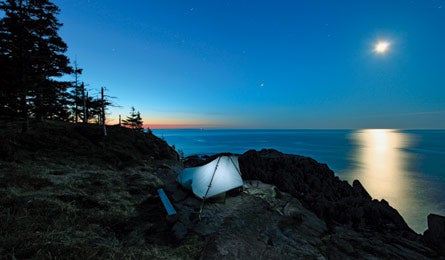 Fairy Head (Photo by: Tim Seaver)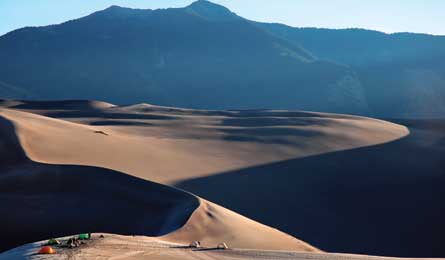 The Dune Field (Photo by: Michael Lanza)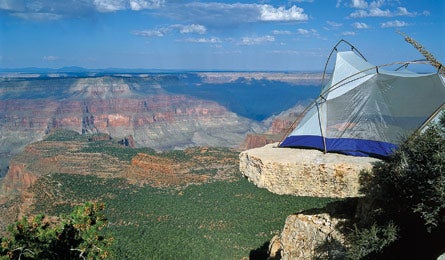 Powell Plateau (Photo by: Ed Callaert)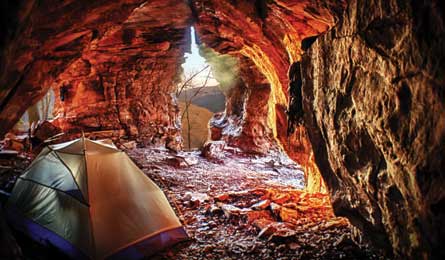 Sandstone Castles (Photo by: Ben Sapp)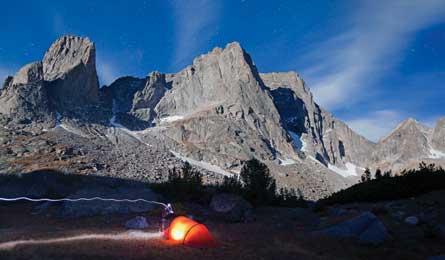 Cirque of the Towers (Photo by: Ethan Wely / Tandem)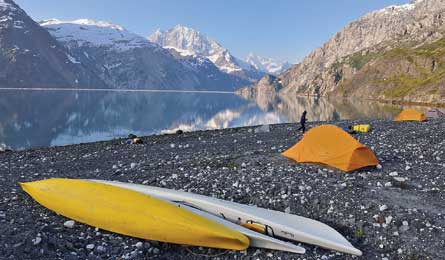 Johns Hopkins Inlet (Photo by: Michael Lanza)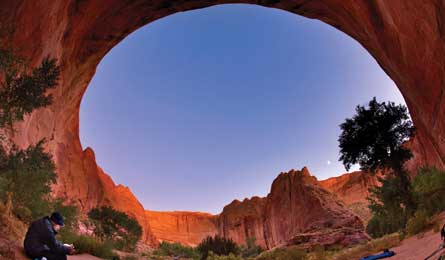 Coyote Gulch (Photo by: David H. Collier)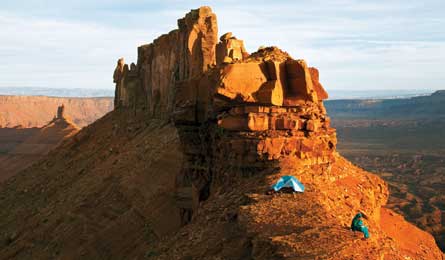 Castleton Tower (Photo by: Justin Bailie)
Sahale Glacier Camp

North Cascades National Park, WA

Camp at what feels like the top and the edge of the world. At 7,686 feet, this perch (the park's highest designated site) sits at the brink of a 2,000-foot dropoff overlooking a sea of razor peaks smothered in snow and ice. You'll likely share the view with mountain goats and hoary marmots, but not hiker hordes—there are six tent sites, each atop widely spaced talus mounds. Plus, the camp is at the end of the trail. Get here after a quad-taxing ascent of 4,100 feet in 5.9 miles on the Cascade Pass and Sahale Arm Trails, passing through meadows exploding with lupine and Indian paintbrush in mid-summer.
Permit Required (free, first-come). Pick up at the Wilderness Information Center in Marblemount up to one day before your trip.

MapBuy the BACKPACKER PRO MAP

Contact (360) 854-7245, nps.gov/noca

Blue Lakes

Mt. Sneffels Wilderness, CO

Find an alpine paradise of meadows shotgunned with brilliant wildflowers above an iridescent blue lake, and odds are a lot of other people have already set up camp there. But this spot lies tucked away in one of Colorado's most secluded mountain ranges, five miles west of Ouray. From this perch above the lowest of the three Blue Lakes, at over 11,000 feet, you gaze out on a ring of 13,000-footers and the neighborhood's big boy, 14,150-foot Mt. Sneffels. (In case of wind or lightning, there are protected campsites in the trees beside the lake.) From Blue Lake trailhead at the end of FR 851 (Dallas Creek Road), hike 3.3 miles and 1,600 feet to the lowest lake, which has good trout fishing, then climb the slope just above the lake to find this site. Spend two nights, and on your middle day visit the higher lakes and 12,980-foot Blue Lakes Pass for views of endless rows of spires and fields of wildflowers (best mid-July to mid-August). To climb Sneffels, descend the east side of the pass for .5 mile to a cairn marking the start of the South

Slope route (class 2). It ascends a wide, rocky couloir to a 13,500-foot saddle between Sneffels and 13,694-foot Kismet Peak, and then continues west up another steep couloir to a final summit scramble.
Permit None

MapBuy the BACKPACKER PRO MAP

Contact (970) 240-5400, fs.usda.gov/gmug

Fairy Head

Bold Coast, ME

Mainers might say, "Ya can't get theyah from heyah," if you ask them about the Bold Coast. But they're just trying to keep this gem a secret. It's a two-hour drive beyond Acadia National Park, and the surefire solitude and craggy coastal scenery make the car time a no-brainer. You'll hike cobblestone beaches, explore tide pools reached by log ladders built into bluffs, and get sea-cliff views from spots like Pulpit Rock. Pitch your tent at one of the three Fairy Head campsites—isolated, well-spaced sites perched on a promontory jutting into the Atlantic, roughly halfway through the 9.8-mile loop on the Inland and Coastal Trails. Wake up early for sunrise when red and yellow bands light the horizon. Late summer brings fewer bugs and ripe blueberries.
Permit None

MapBuy the BACKPACKER PRO MAP

Contact (207) 287-3821, maine.gov

The Dune Field

Great Sand Dunes National Park, CO

If the only dunes you've ever seen were at the beach, your eyes—and legs—are in for a shock. The sand mountains here rise hundreds of feet, and climbing them with a full pack is no easy task. And camping in this 30-square-mile sea of dunes, with the Sangre de Cristo Mountains rising to 14,000 feet in the background, is one of the most unique experiences on the continent. Sunrises and sunsets mellow this surreal landscape with soft colors and long shadows, and at night, shooting stars arc across a coal-black sky. There are no official trails or campsites in the dunes. Just start walking northwest from the visitor center, crossing shallow (or dry, depending on the season) Medano Creek within a half mile, to enter the sand field. Continue northwest to tag 750-foot Star Dune, then veer north to find a flat spot—like this one—to pitch camp.
Permit Required (free, reservations not accepted)

MapBuy the BACKPACKER PRO MAP

Contact (719) 378-6300, nps.gov/grsa

Powell Plateau

Grand Canyon National Park, AZ

Rapids on the Colorado River through the Grand Canyon are so big and wild compared to whitewater elsewhere, they're measured on a scale of their own—the Grand Canyon scale. Campsites here should get similar treatment: a grander scale. And this one would set the bar. The rim-side perch lies on a Powell Plateau ledge, where the tent-door view looks west across gaping Bedrock and Galloway Canyons. The ends-of-the-earth site on the park's remote North Rim lies roughly three miles from the Swamp Point trailhead. Hike a mile to Muav Saddle, climb 889 feet west to the plateau, then head southwest cross-country for nearly two miles; at the plateau's western edge, you'll find numerous ledges like this.
Permit Required ($10 plus $5 per person per night)

MapBuy the BACKPACKER PRO MAP

Contact (928) 638-7888, nps.gov/grca

Sandstone Castles

Ozark Mountains, AR

You won't be the first person to hole up in the maze of tunnels and grottos riddling these sandstone bluffs in the Richland Creek Wilderness—outlaws and Civil War deserters did the same in centuries past. But you won't have to worry about sharing it with a crowd: Few of today's hikers even know the castles exist. Reaching them involves routefinding puzzles on rough, unmaintained use trails. From the west side of the former Richland Creek campground—on FS Road 1200, 10 miles south of AR 123—follow an unmaintained trail 200 yards west through forest to the first water crossing, Richland Creek. Turn west and walk upstream two miles to the confluence of Richland Creek (which swings south) and Big Devils Fork; detour south along Richland Creek to reach 100-foot-wide Richland Falls (.4 mile out-and-back). Then head back to follow Big Devils Fork .4 mile west to Twin Falls, which pour side-by-side several feet over rock ledges into an emerald pool. Pack water for camping and ascend steep Big Middle Ridge between the two waterfalls for .9 mile to the Sandstone Castles, where there's space for several tents in the roomy caves. Go from fall through spring; summer brings dense undergrowth.
Permit None

MapBuy the BACKPACKER PRO MAP

Contact (870) 446-5122, fs.usda
Cirque of the Towers

Wind River Range, WY

Many a backpacker, rock climber, and fly-fisherman has crested Jackass Pass, at 10,800 feet, gained their first view of the Cirque—a semi-circle of 12,000-foot granite spires—and uttered words that we cannot print here. The rest were too slack-jawed to speak. And it only gets better: continue about a mile beyond the pass and pitch your tent at this campsite on soft ground in the meadows at mile 8.7, nearly surrounded by a horseshoe of toothy, sheer granite towers with names like Warbonnet, Wolf's Head, Shark's Nose, and Warrior. No matter how much time you've allotted, you'll wish you had more for the wealth of climbing, fishing, and on- and off-trail exploring. The best side trips include Cirque Lake and Lonesome Lake below the soaring face of Pingora Peak, and Texas Pass above Secluded Lake. Spend two nights here on a 17.4-mile out-and-back hike, or take advantage of numerous possibilities for longer treks. From Big Sandy trailhead (camping $8/night), hike a flat 5.2 miles to Big Sandy Lake, then take the trail climbing to Jackass Pass—steeply for the last mile. Bring a rod for catching cutthroat trout in Lonesome Lake. The climber and mosquito numbers thin by late summer.
Permit None

MapBuy the BACKPACKER PRO MAP

Contact fs.usda.gov/btnf
Johns Hopkins Inlet

Glacier Bay National Park, AK

After paddling amid curious harbor seals and sea otters and past the sheer, 150-foot face of the Lamplugh Glacier calving into the ocean, it's hard to imagine the scenery meter cranking up any higher. But at this rocky beach camp near the mouth of Johns Hopkins Inlet, you'll soon learn that everything else was merely prelude. From your tent door, watch icebergs float in the bay and snowy mountains rise 12,000 feet out of the water. This camp lies about halfway through a four- to five-day sea kayaking trip (depending on put-in) in Glacier Bay's West Arm. Make it a two-night stopover, allowing a full day to paddle up the cliff-lined inlet for a closer view of the Johns Hopkins Glacier.
Permit Required (free)

MapBuy the BACKPACKER PRO MAP

Contact (907) 697-2230, nps.gov/glba

Guide Alaska Mountain Guides; alaskamountainguides.com.gov/recarea/osfnf/recreation

Coyote Gulch

Glen Canyon National Recreation Area, UT

If there was a hall of fame for classic canyon-country sights, it would include soaring sandstone walls, lush riparian oases, gravity-defying arches, massive alcoves, and Native American rock art—all highly concentrated in one moderate hike. In other words, it would look like Coyote Gulch. A rare perennial stream feeds an unusually vibrant canyon bottom, with cottonwood trees that turn gold in the fall. And this expansive campsite on a sandy beach is the primo spot to hole up, in part because it has "one of the best night-sky views in the canyon," according to photographer David Collier. The site is about seven miles into a 26-mile out-and-back hike down Coyote Gulch to the Escalante River. Make it a two-night basecamp, and on your middle day, hike to the Escalante, a tributary of the Colorado. At the Escalante, hike upstream about a half mile for a view of Stevens Natural Arch. At 160 feet high and with a span of 225 feet, it's one of the largest arches in the country. Fairly popular in spring and fall—quieter before mid-April and after mid-October—Coyote Gulch features 50-foot-wide Coyote Natural Bridge arcing over the canyon, 150-foot-wide Jacob Hamblin Arch (a few minutes' walk downstream from this campsite), walls undercut 200 feet, Fremont Indian pictographs, and several waterfalls all within a couple miles. Start at Hurricane Wash trailhead on Hole-in-the-Rock Road (high clearance recommended), 33 miles south of UT 12; the turnoff from the highway is five miles east of Escalante.
Permit Required and free, available at trailhead or visitor center in the town of Escalante.

MapBuy the BACKPACKER PRO MAP

Contact (435) 826-5499, blm.gov/ut/st/en/fo/grand_staircase-escalante.html
Castleton Tower

Castle Valley, UT

Fact: Water weighs more than eight pounds per gallon. Fact: In the desert, that number drives nearly all backpackers to the lowlands in search of creeks and pools for overnights. Fiction: You must follow them. Buck up to haul a heavy pack, and this southern Utah aerie will be all yours. The 400-foot-tall monolith rising overhead (behind the photographer who took this image) is listed in Steve Roper's iconic 50 Classic Climbs of North America, and this ridge-crest spot deserves equal recognition among backcountry campsites. From a sandstone ridge barely wider than your tent, you'll gaze across Castle Valley's unimaginably complex panorama of towers, buttes, hoodoos, and rivulets, with the 12,000-foot-high La Sal Mountains, the Fisher Towers, the Colorado River Canyon, and a universe of spires in the distance. The route up is short and steep: about 1.5 miles and 1,000 feet. From US 191 south of Arches National Park and north of Moab, follow UT 128 east for 15 miles. Turn south at the sign for Castle Valley, then continue about four miles to the campground and trailhead below Castleton Tower. Summer broils, and there is no shelter; target October to April.
Permit None

MapBuy the BACKPACKER PRO MAP

Contact (801) 463-6156, utahopenlands.org