The 10 Most Dangerous Hikes in America: The Maze, UT
Lost in the labyrinth
Heading out the door? Read this article on the new Outside+ app available now on iOS devices for members! Download the app.
The Hike
You'd better be a map savant if you want to wander into–and back out of–this redrock jungle, which is full of dead-end canyons. "This is not the place for inexperienced hikers," declares park ranger Paul Henderson, who says it could take rescuers three days to reach you in this remote unit of Canyonlands. "You have to be self-sufficient, and ready to deal with your own emergencies," he adds. The difficulties include routefinding among sandstone fins and interconnecting canyons that all seem to look the same. Hiking along dry washes beneath high cliffs, you're often denied a vantage point from which to scout landmarks. Water is scarce–carry all you need–and even when you can see it, impassable topography often denies you a drink. Once you're lost and out of fluid in this shadeless, 110°F funhouse, "You have a pretty short half-life," says Henderson.
Exhibit A 
The Maze ranks as the riskiest hike on this list–yet it's claimed no lives so far. Why? Because its challenges intimidate all but the most canyon-savvy trekkers. Virtually trailless, The Maze sees just 2,000 people per year compared to more than 264,000 in the park's Island in the Sky unit. And most Maze visitors travel by jeep, which ups the safety margin.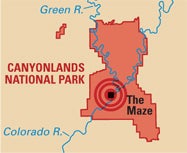 Survival Plan 
Even canyon-hardened rangers take no chances here: Park employees must follow strict communication protocols and leave a detailed itinerary with someone who monitors their travel. And even though satellite phone service is unreliable, backcountry rangers have to dial in at predetermined times. Plan trips for spring, when temps are lower and a few potholes may hold water. Practice off-trail canyon travel elsewhere. And chart your route with GPS, but carry maps. Says Henderson, "I've encountered visitors who knew their coordinates–but were still lost."