The 10 Most Dangerous Hikes in America: Mist Trail, Half Dome, CA
Swallowed by Sierra scenery
Heading out the door? Read this article on the new Outside+ app available now on iOS devices for members! Download the app.
The Hike
The iconic symbol of Yosemite grandeur, Half Dome just begs to be climbed. Only 300 visitors per day are allowed on the seven-mile route to this granite landmark, and only 50 on the summit (permits are by lottery). People endure fatigue, altitude sickness, and dehydration in their determination to stand atop Half Dome's broad 8,836-foot-high crown. Steel cables bolted into the granite assist climbers up the final 400 vertical feet, but the combination of high, open rock and metal fixtures makes this a lousy place to get caught in an electrical storm. And once the raindrops start falling, the rock becomes treacherously slick. Yosemite's search and rescue team responds to 250 incidents each year–more than any other national park–and not surprisingly, Half Dome claims its share: thirteen deaths since the park was established.
Exhibit A 
Rescuers had to rappel 800 feet to recover the shattered remains of Japanese hiker Hirofumi Nohara, 37, who cartwheeled 1,200 feet down Half Dome's sheer face into the granite ravine below after trying to squeeze past hikers ahead of him on the cables. Alas, the fatality didn't surprise park employees, who've seen people do many stupid things to earn their "I climbed Half Dome" T-shirts. "We see people taking risks [to claim one] that they might not ordinarily take," says ranger Scott Gediman. In 1985, five hikers defied signs of a pending storm and marched up Half Dome only to get blasted by lightning. in 2011, three hikers in three separate accidents fell to their deaths from Half Dome's upper reaches; two had attempted the route when the cables were down, and they lost their footing on the wet granite. Before the lottery system hundreds of hikers would clog the cables on crowded weekends, making it impossible to make a fast exit when storms threaten. Says Gediman, "I've been on the cables when they were so packed with people I couldn't move up and couldn't move down–it became real dangerous."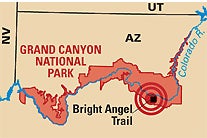 Survival Plan 
Assess your fitness level honestly: The Mist Trail is a rigorous hike. And leave early–no later than 5 a.m.–to give yourself the best shot at completing it. Hike on a weekday between late May and early October, a period when the cables have generally been installed. Assess the sky before you commit to the cables, and never climb them when the rock is wet: That's when almost every fall from Half Dome has occurred.