The 10 Most Dangerous Hikes in America: Huckleberry Mountain, MT
Fatten griz for winter
Heading out the door? Read this article on the new Outside+ app available now on iOS devices for members! Download the app.
The Hike 
In Glacier National Park, you could spit and hit a grizzly. Well, almost–the park features the highest bear density in the Lower 48. One recent study counted 563 individuals, and researchers suspect the actual population may be even higher. That's .35 bears per square mile–or one bear within a one-mile radius of every backcountry campsite. Come summer and fall, aptly named Huckleberry Mountain becomes a magnet for hungry grizzlies, which are commonly found foraging the plump, purple fruit that ripens along the Apgar/Huckleberry Lookout Trail. "Large numbers of bears congregate there when there's a bumper crop," says supervisory ranger Gary Moses. In high huckleberry season, rangers often close the trail to dayhiking–but backpackers may still complete overnight trips in the area.
Exhibit A 
On May 20, 1998, rangers searching the trail near Appistoki Falls discovered a ghastly scene: The mauled body of 26-year-old Craig Dahl, a park concessions worker who'd been tossed into the bushes after a griz had noshed on most of his body. Three days earlier, Dahl had hiked into the Two Medicine area–and never returned. Bears have killed 10 people in Glacier since 1967, and an attack or two occurs each year, typically during the spring (when snowmelt uncovers the carcasses of winter-killed animals, which bears protect ferociously) and in fall (when berries ripen).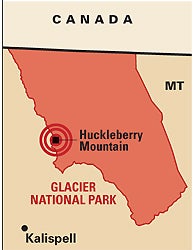 Survival Plan 
To avoid crashing a grizzly smorgasbord, don't linger around food sources like carcasses and berry bushes. Note the wind: Bears smell better than they see, and if you're walking into the breeze, you might surprise one that hasn't caught your scent. If you do startle one, avoid eye contact and back away slowly. Should the bear charge, drop to the ground, crouch in a fetal position to protect your vital organs, and clasp your hands across the back of your neck. Then, pray.