Is There Anywhere Truly "Remote" Left in America? Meet the Scientist Family Trying to Find Out.
Ryan, Rebecca, and Skyla Means's quest for solitude turns into a decade-long effort to visit the most remote location in every state—and learn if true quiet still exists.
Heading out the door? Read this article on the new Outside+ app available now on iOS devices for members! Download the app.
Four-letter words poured out of Ryan Means. The water—all 7 gallons, all 58 pounds of it—was gone, poof, vanished like so much dust in the south Texas desert. A week earlier, Ryan had spent a full day carrying the water before caching it deep in Big Bend National Park. He planned to retrieve it on a hike that he, his wife, Rebecca, and their 10-year-old daughter, Skyla, were taking to the most remote spot in Texas.
The water's fate baffled them. Was it stolen by another hiker? Taken by a park ranger who thought it was trash? Drunk by someone who crossed the border illegally and thought they had found an inexplicable gift? There was no way to know.
The Means family's trek through Big Bend was part of a decade-long study they call Project Remote, in which they identify and travel to the most isolated location—defined as farthest from a road—in each of the 50 states. Some are more challenging than others. In getting to Texas's spot (their 36th state), they encountered one obstacle after another. First the hike was delayed a week after Ryan hurt his knee toting the water out there, and then the injury forced them to change their plans and cover some of the miles in a borrowed canoe rather than on foot. A rainstorm trapped them in their tent for a day, and when they finally could hike, they found themselves in steep and rocky terrain that punished even the smallest misstep. And then the missing water. The irony of trying to get away from civilization and being robbed in the process was almost more than Ryan could handle. "I was one angry son of a bitch," he said.
With all that aggravation—and the possibility of a thief in the area—no one would have blamed Ryan and Rebecca had they packed up and gone home. But they didn't give up when the mission they thought would last a few years ballooned past the decade mark or when an ulcerative colitis flare-up sidelined Rebecca for a year. So the vanished water wouldn't stop them, either.
Ryan and Rebecca are scientists and consider Project Remote an important study. They believe development has encroached too far on the country's wilderness, eliminating natural places that are truly free of human impact, and intend Project Remote as a way to call attention to that. Their goal—preserving remaining roadless wildlands—outweighs obstacles they have faced or will face. "We're tenacious individuals," said Ryan, who has a bachelor's degree in zoology and a master's in wildlife ecology and conservation from the University of Florida. "Once we set a goal for ourselves, we want to see it through."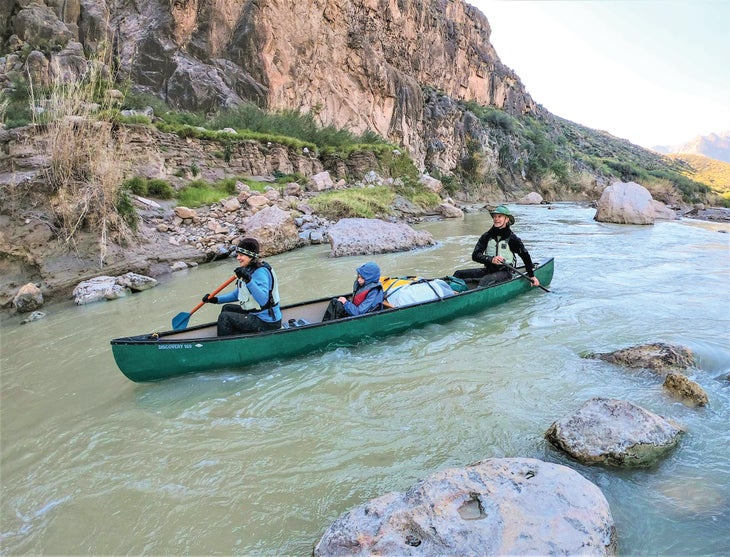 I joined the Meanses in Texas and it didn't take long to understand that, in addition to being a scientific study, Project Remote is a family adventure. Father, mother, and daughter go on each trip. Ryan and Rebecca homeschool Skyla; when they travel to remote spots, they bring her books and call it "roadschooling."
The Meanses are delightful camping partners—funny, full of stories, generous, transparent. I camped with them three nights in Big Bend, and we devoured chips and guacamole, sampled each other's favorite instant coffee, and solved all the world's problems.
One cloudless night, Rebecca, 45, gaped at the stars overhead. Skyla played with her American Girl doll. Ryan, 46, marveled at the empty desert. If the frustrations of Project Remote made it easy to wonder why they didn't quit, nights like this made it easy to understand why they keep going.
Project Remote, so far:

Least remote: 1.2 miles from a road (Ohio)
Most remote: 21.6 miles (Wyoming)
Highest elevation: 11,700 feet (Colorado)
Distance hiked: 481 miles
Distance boated: 330 miles
Longest expedition: 10 days (Montana)
States hiked: 36
Long before each adventure, Rebecca spends hours poring over Geographic Information Systems data to pinpoint the state's spot that is farthest from a road (dirt or paved). Then she layers reams of other information on top, including satellite imagery, to make sure she's right.
After hiking, bushwhacking, or paddling to each spot, they spend 15 minutes conducting what they call "Remote Spot Assessment" to look for (among other things) signs of humanity. They are almost always shocked by what they find. So far, they have documented human evidence in all but four of the remote spots (New Mexico, Idaho, Montana, and Texas). For the most part, what they find is not subtle: a beer can crammed into a tree (Missouri), highway noise (many), Atlantic City's skyline (New Jersey).
In Texas, the spot was in Big Bend, 6.6 miles from the closest road. The final stretch of the hike was too steep and rocky for Skyla, so she stayed behind with Rebecca while Ryan continued. Once there, Ryan was rewarded with "very intense remote-spot reverence" because it was unspoiled by development of any kind. In front of him, the hillside descended into a valley. Mountains rose far in the distance, with the vast desert in between. Behind him, sheer cliffs. Around him, rocks and cacti. Total solitude.
But that hasn't been the norm. With 13 states left (after Georgia, in April), Ryan and Rebecca have long since concluded that in too many places, it is almost impossible to completely escape signs of civilization. The first time I asked Ryan why they continue to pursue remote spots if the results are so disappointing, he went off on a rant about overdevelopment and finishing what you start.
As we talked in Big Bend, Ryan's diatribes—passionate, articulate, funny—became a running joke. Even Skyla needled him. She joked she has named each of his rants and that they number in the billions. The topics vary, but his obsessions run deep: camping, University of Florida football, and the striped newt repatriation project in Florida that he and Rebecca run through their day jobs with the Coastal Plains Institute (Ryan is president, Rebecca the director).
Skyla's teasing delighted Ryan. He said that she was also a reason to keep pursuing Project Remote, that he was troubled by the thought of Skyla and her friends growing up in a world more crowded than this one. He started to say, "If they don't inherit a healthy world . . ." before Rebecca finished his though: "She's going to be pissed."
Rebecca, who has a bachelor's degree in wildlife ecology and biology from Virginia Tech and a master's in forestry from Texas A&M, shares Ryan's passion, though she manifests it differently. When Ryan rants, his eyes shoot lasers; Rebecca's "rants" sound more like pleas, and her eyes dance with hope. It is perhaps an oversimplification to label Ryan the pessimist and Rebecca the optimist, but neither would argue with those descriptions. "Most of our remote spots lie within public lands," Rebecca says. "And we have a say in what happens there. It's not just, 'everything should be preserved and perfect with no human influence.' But let's celebrate these areas that are preserving natural places."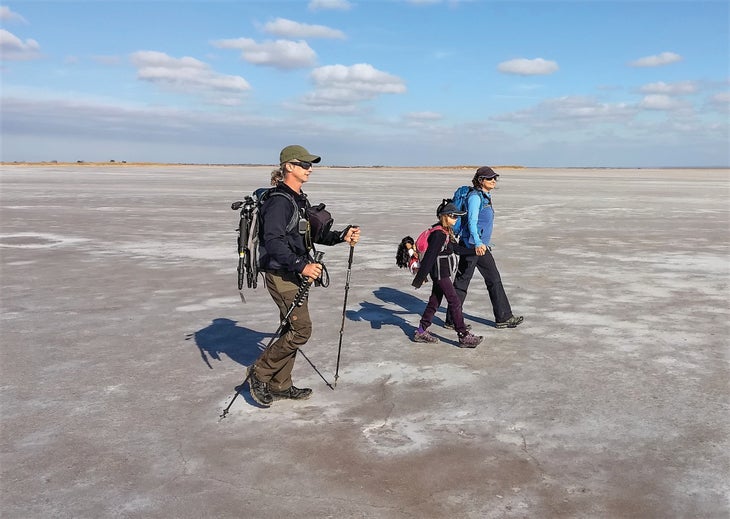 Project Remote, it turns out, is many things. It's a lament for what's been lost. It's a celebration of what hasn't. It's a call for more opportunities for wilderness solitude. It's a kick-ass family adventure. And it's a journey of redemption for Rebecca.
The fact she was in Big Bend, miles from a toilet, hours from medical care, and not cowering at home, afraid of another outbreak of ulcerative colitis, was reason to be hopeful. "She somehow finds time to do Project Remote between death spells," Ryan said. "She's f&#!ing Superwoman, man."
Skyla is pretty tough, too. She doesn't love the long car rides, but she embraces the pursuit of the remote life. In Texas, she alternated between playing in camp and disappearing with her dad into the brush to search for desert critters (a tarantula sighting was a hit).
Ryan's fondest childhood memories are of wilderness adventures with his dad, and he and Rebecca want the same for Skyla. By the time Project Remote is over, whenever that may be, her cumulative outdoor education will be massive. It has already been formidable, with lessons both practical (how to start a fire) and philosophical (home is wherever you are).
Rebecca remains hopeful that Project Remote's findings (detailed at projectremote.com) will make a difference. Ryan gave up hoping years ago. In Big Bend, he started to get wound up and caught himself making the case—again—for his distress at the state of the world. "I can't help the passion within, and I can't stop," he said, and Rebecca interjected, singing: "Don't stop the passion."
They'll need that passion in the next few years because some of the toughest-to-reach spots remain. The trip to Utah's most remote spot promises to be a gut-busting, hip-wrenching, knee-cranking backpacking slog. Hawaii's is on an itty-bitty island far from the big ones. And Alaska's looks to be more than 200 miles from the nearest road. But the Meanses know that the hard ones are where they feel real wilderness solitude. Yes, they have been frustrated that far too many states have far too many roads. But there have been moments, deep in forests, deep in mountains, deep in deserts, where they have lost themselves by finding what they were looking for.
If they have learned anything since their first state (Florida, where they live, in 2009), it's that finding solitude takes work. To get to and from New Mexico's most remote spot—in the Gila Wilderness, 11.4 miles from the nearest road—they hiked 45 miles, sloshed through 120 crossings of the Gila River, and encountered six rattlesnakes and one black bear. The payoff was worth it: The spot was in a ponderosa pine forest, where trunks like thick black ropes shot straight up from shin-deep grass.
Like Texas, the trip to Montana's remote spot, 18 miles from the closest road, was full of difficulties. Skyla got sick, and their first attempt to reach the spot was unsuccessful. Though they could see their objective across a valley, they had to retreat to basecamp before nightfall and return later. Still, the trip to Montana remains one of their favorites. As Ryan put it in an online journal, in a sentiment all backpackers will recognize, "the greater the challenge, the greater the reward."
Obstacles are inevitable. But Ryan vows they will keep chasing remote spots and solitude, even as they become harder to find