Adventure Weekends: Luxury Hiking and Camping
We've got a selection of cozy shelters and trail-side restaurants from Washington to Maine. Check out these hikes in the Rockies, the Northeast, and the Northwest.
Heading out the door? Read this article on the new Outside+ app available now on iOS devices for members! Download the app.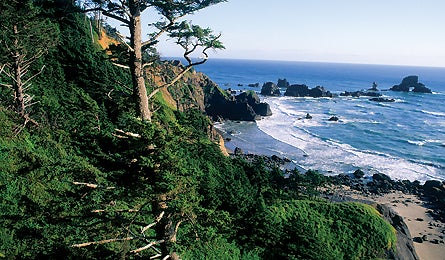 Ecola State Park, OR (George Wuerthner)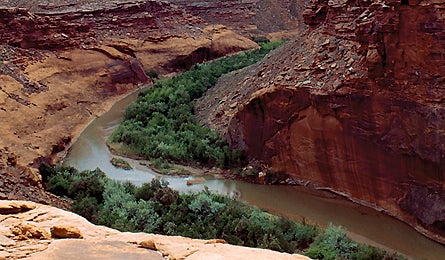 Glen Canyon, UT (Geoffrey Sandine).
Rocky Mountains | Northeast | Northwest
ROCKY MOUNTAINS
2 days

Cibola National Forest, NM

Leave your stove–not your appetite–behind on this 25.5-mile overnighter on the Sandia Crest Trail, 30 minutes east of Albuquerque. From the South Crest trailhead, climb 4,000 feet over 13.5 miles to the High Finance Restaurant (reservations required, 505-243-9742) for prime rib and a microbrew. Camp off-trail nearby and–after a cold breakfast–cruise downhill 12 miles through aspen groves to the North Crest trailhead. fs.fed.us/r3/cibola
3 days

Glen Canyon NRA, UT
Don't haul water–basecamp at an oasis. From the trailhead on Fortymile Ridge Road, drop two miles to Coyote Gulch through Crack-in-the-Wall. The gulch's seeps feed cottonwoods, creating a shady camp a couple of miles upstream from the Escalante River. Over the next two days, do side trips to swooping Cliff Arch; pictographs near Coyote Natural Bridge; and 100-foot wide Jacob Hamblin Arch and its nearby reliable spring. Deer flies subside in the fall, making a tent optional too. nps.gov/glca
4 days

10th Mountain Division Huts, CO

Score alpine views and bag a peak on this classic hut trek linking two 10th Mountain Division huts on a Holy Cross Wilderness 20-miler. From Tennessee Pass, hike 5.7 miles to the 10th Mountain Division Hut at 11,370 feet. The next day, trek 11.3 miles to Uncle Bud's Hut for a two-night stay. On day three, gain the 12,580-foot summit of Galena Mountain. Day four: Hike out four miles to the Timberline Lake trailhead on the west end of Turquoise Lake. huts.org
Rocky Mountains | Northeast | Northwest
NORTHEAST
2 days
Mount Greylock State Reservation, MA

Just pack raingear, extra layers, and snacks–the Harbor House Bed and Breakfast in Cheshire (413-743-8959) is your posh shelter for this 23-mile out-and-back over Mt. Greylock, the state's high point. From the Appalachian Trail junction on Notch Road, head south through oak, birch, and fir as you climb to the 3,491-foot summit. Pass views of the Taconics and Hoosacs on the descent to Cheshire. Hike 0.8 mile up MA 8 to the inn. mass.gov/dcr
3 days

Harriman and Bear Mountain State Parks, NY

Escape the city and lounge in log shelters in the Hudson Highlands on the Ramapo-Dunderberg Trail. From Bear Mountain SP, head west to cross 1,119-foot Bald Mountain and the black-rock cliffs beyond on the way to West Mountain Shelter. Continue 11.6 miles through swampy dips and steep climbs to the Fingerboard Shelter the next day. Finish on Lake Askoti via Hogencamp Mountain. nysparks.state.ny.us/parks
4 days
Maine Huts & Trails, ME

When completed, this new hut system will have 11 cabins spread out over 180 miles in the Western Mountains backcountry. Each will offer private rooms, mattresses and pillows, hot showers, and home-cooked meals. But you don't have to wait: Poplar Stream Falls Hut opened last February in Carrabassett Valley, and the Flagstaff Hut, 10 miles to the north, will open in December. Plan now for a 35-mile, four-day out-and-back ski or snowshoe connecting both huts. Start at the Campbell Field trailhead. Reach the first hut via the Narrow Gauge Trail, beneath Mount Bigelow, and the Poplar Stream Trail. Continue through wetlands (watch for moose) past Flagstaff Lake to Flagstaff Hut on day two; night three is back at the Poplar Stream Falls Hut. mainehuts.org
Rocky Mountains | Northeast | Northwest
NORTHWEST
2 days

Ecola State Park, OR

Go tent-free on this 16-mile hike along the rocky Pacific. Take the Oregon Coast Trail north from Ecola Point; cruise by tide pools at Indian Beach and climb above the shore to Tillamook Point. At mile four, drop your pack at the Adirondack-style shelters near the lighthouse viewpoint, then climb north 2.5 miles to Tillamook Head viewpoint. Backtrack to the shelter, and return to Ecola the next day through Sitka spruce via the Clatsop Loop Trail. oregonstateparks.org
3 days

Mt. Tahoma Trails Association Huts, WA
The southern group of the MTTA's huts (and yurt) will reopen in late summer–just in time for a fall fastpack. Hike 7.5 miles from the Road 1 Sno-Park, south of Ashford, to the yurt, at 4,100-feet, below Griffin Mountain. Inside, you'll find an outfitted kitchen and sleeping pads. The next day, continue 1.6 miles to the 5,283-foot peak of Griffin Mountain, then tackle the six-mile Outer Loop Trail. skimtta.com
4 days

Lake Lovelywater, Squamish, BC

The Alpine Club of Canada's huts are a cozy base (bunks, full kitchen, propane heat) for hiking the Tantalus Mountains. From Brackendale, hire a jet boat (604-898-3356) to cross the Squamish River, then trek four miles to the Tantalus Hut. The next day, climb to the Jim Haberl Hut for a two-nighter. Then try the class III West Ridge of Mount Alpha. accvancouver.ca/huts.htm