10 Perfect Peakbagging Trips
What's better than climbing one peak? Climbing two. Or three—or five. Head to one of these summit-blessed basecamps and go up until your legs give out.
Heading out the door? Read this article on the new Outside+ app available now on iOS devices for members! Download the app.
There are few things in life that feel as good as standing on top of a mountain, gazing down at the forests and fields below. But why stop at one peak? From Wyoming to New Hampshire, these ten perfect peakbagging trips each come with a big helping of summit glory.
Wind River Range, Bridger Wilderness, WY
Days: 4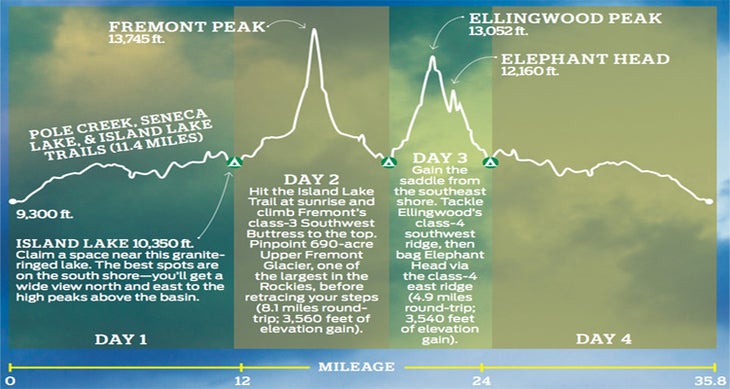 Peaks: 3
Distance:35.8 miles*
Elevation gain:10,534 feet*
Difficulty: Use extra caution
The trek into Titcomb Basin, a broad glacial valley with half-mile-high granite walls on either side, is alone worth the hike in. That's saying something because the approach itself is 11.4 miles over seemingly endless rolling terrain. So once you arrive at this classic, U-shaped valley, stay awhile. Summit 13,743-foot Fremont Peak, the second-tallest mountain in the range, for a top-down view over Titcomb, then add two more. Pack a helmet, something for the Winds' legendary mosquitoes, and plan for early starts—it doesn't get easier after the approach.
TrailheadElkhart Park SeasonLate summer and early fall PermitNone
Green Mountains, Breadloaf Wilderness, VT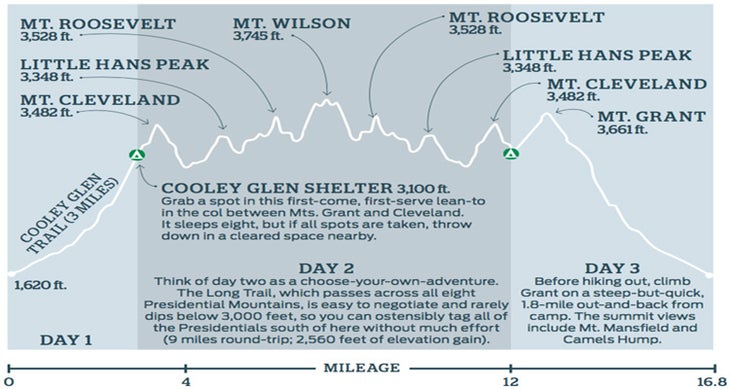 Days: 3
Peaks: 5
Distance: 16.8 miles
Elevation gain: 4,541 feet
Difficulty: Easier
This Northeast peakbagging trip delivers the best summit-to-sweat ratio on our list. From the Cooley Glen Shelter, you're ideally positioned to take the Long Trail—which unfolds through Vermont's Presidentials like a red carpet—to as many sloping, mossy peaks as you want. This itinerary tags five without ever dropping off the ridgeline.
Trailhead Cooley Glen Season Summer and early fall Permit None
Sawtooth Range, Sawtooth Wilderness, ID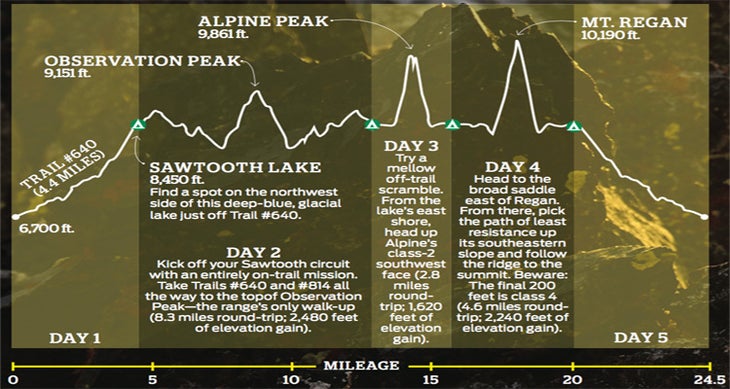 Days:5
Peaks:3
Distance:24.5 miles
Elevation gain:8,061 feet
Difficulty: Most difficult
Known for its ruggedness, the Sawtooth Range and its 678-square-mile tangle of jagged pinnacles, complicated ridgelines, and technical routes might as well be the holy grail of peakbagging. Add in the fact that there's only one walk-up in the entire range, and these peaks and their granite basins and cerulean lakes remain blissfully uncrowded, so you really can't go wrong wherever you end up.
But for a perfect basecamp—beside an alpine lake set below a challenging trio of mountains—head into the range's north end. From there, stair-step your way up increasingly difficult peaks, starting with on-trail, then mellow off-trail, and concluding with challenging bushwhacking.
Trailhead Iron Creek Campground Season Late summer and early fall Permit Free; self-register at trailhead
Wallowa Mountains, Eagle Cap Wilderness, OR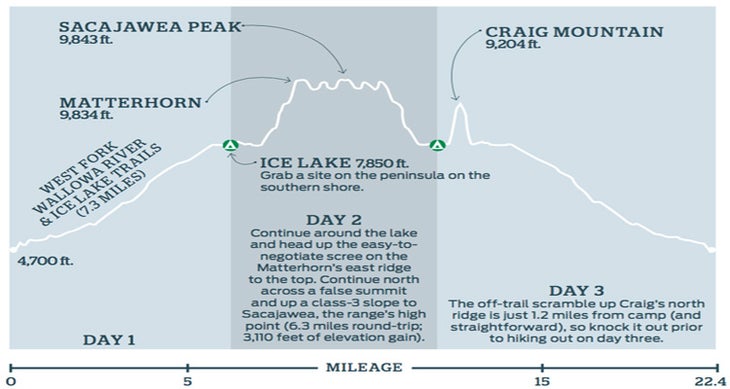 Days:3
Peaks:3
Distance:22.4 miles
Elevation gain:8,141 feet
Difficulty:Most difficult
We like Mt. Hood, but we lovethis chain of volcanoes in eastern Oregon. Instead of a one-and-done mission, you can bag as many as a half a dozen peaks in one go in the Wallowas. And when you're done climbing mountains, perhaps you'll want to seek out waterfalls (there are hundreds) or wildflower meadows (volcanic rock means flora galore).
Do it all from Ice Lake, the prettiest place to set up a tent in a super-pretty area. Ringed by 9,000-footers (and steps from a 500-foot waterfall), this tarn is a destination in its own right. But why just look at those chalky, bleached peaks when you could stand atop them?
Trailhead Wallowa Lake Season Summer and early fall PermitFree; self-register at trailhead
Adirondack Mountains, Adirondack Park, NY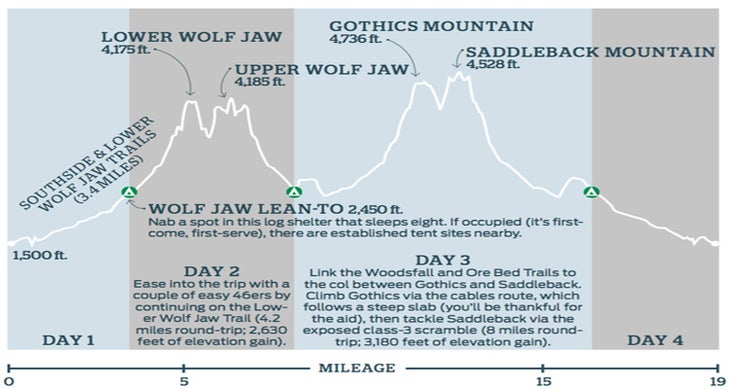 Days: 4
Peaks: 4
Distance:19 miles
Elevation gain: 6,702 feet
Difficulty: More difficult
Rockier and more rugged than the Northeast's other ranges, the Adirondacks attract a different tribe. But for those willing to brave the longer approaches (there are only a few trailheads) and more challenging routes, there are 46 peaks taller than 4,000 feet waiting to be climbed. We like this four-day route that touches four of them because of its heart-pumping exposure (there's a cable assist), log lean-to, and, of course, seemingly endless panoramas of the High Peaks.
Trailhead Garden Season Summer and early fall Permit Free; self-register at trailhead
Needle Mountains, Weminuche Wilderness, CO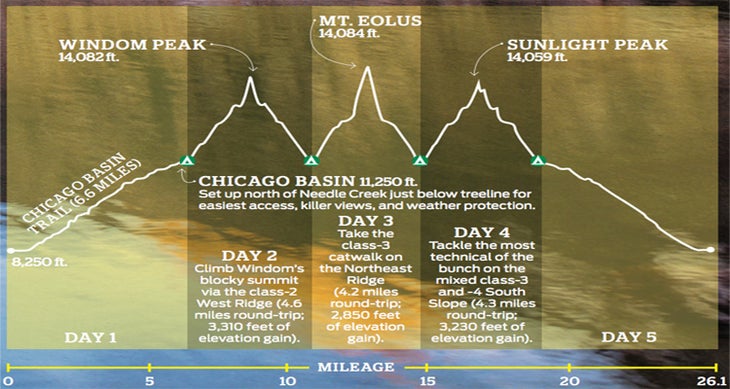 Days:5
Peaks:3
Distance: 26.1 miles
Elevation gain: 12,446 feet
Difficulty: Most difficult
From 14,000 feet, lakes look like tiny sapphires and you can see the curvature of Earth's surface. Nab a trio of Fourteeners on this train-assisted trek in southern Colorado's San Juans, an area that hosts more of these air-starved peaks than anywhere else in the country. Take the Durango and Silverton Narrow Gauge Railroad Train (about $85 per person round-trip; durangotrain.com) to the Needleton stop before hiking 6.6 miles to flora-filled Chicago Basin, which is seated conveniently below Windom Peak, Mt. Eolus, and Sunlight Peak.
Trailhead Needleton SeasonLate summer to early fall Permit Free; self-register at trailhead
Inconsolable Range, John Muir Wilderness, CA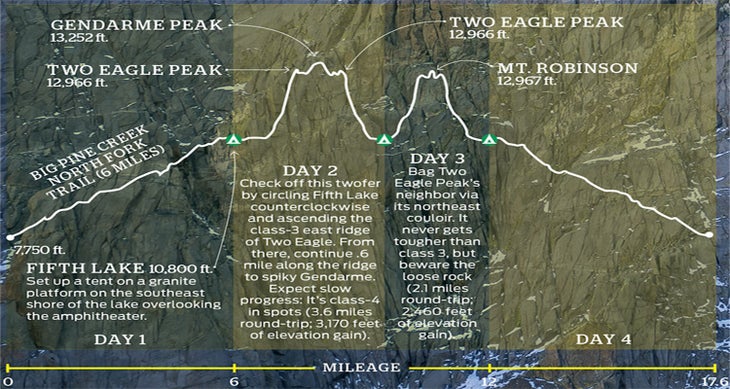 Days:4
Peaks:3
Distance:17.6 miles
Elevation gain:9,215 feet
Difficulty:Most difficult
Don't let the name fool you: Despite Fifth Lake's prosaic moniker, there is nothing forgettable about its glacier-fed, turquoise waters—or the 2,000-foot-tall white granite amphitheater that contains it. The scenery can lull you into thinking that lounging in the sun and casting a line would make for a great trip, but then you'd miss the catwalk scrambles on the other side of the basin.
Trailhead Big Pine Creek North Fork SeasonLate summer and early fall Permit Free; reserve up to six months in advance
Jarbidge Mountains, Jarbidge Wilderness, NV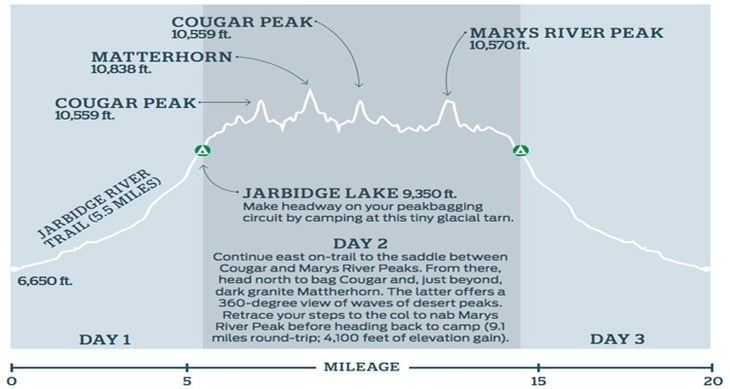 Days:3
Peaks:3
Distance: 20 miles
Elevation gain:6,792 feet
Difficulty:More difficult
This trip will have you feeling like you're deep in the backcountry before you even park at the trailhead: The closest town is the unincorporated community of Jarbidge—which itself is 20 miles from the nearest paved road. And it gets better. After posting up at an alpine lake, take on an airy ridgewalk that offers see-forever vistas of peaks, desert, and everything in between.
Trailhead Jarbidge River Season Summer and early fall Permit None
North Cascades, Lake Chelan-Sawtooth Wilderness, WA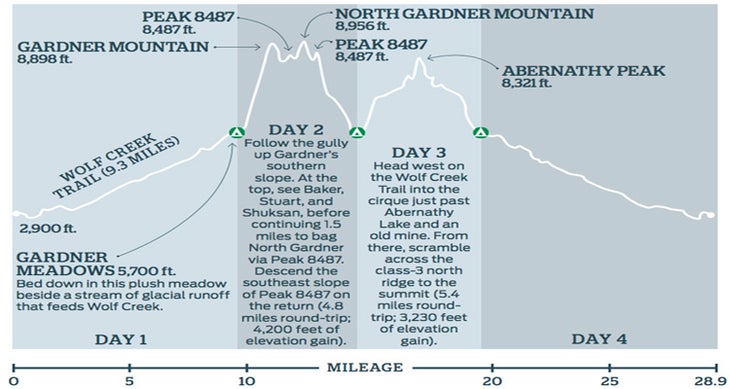 Days: 3
Peaks: 4
Distance: 28.9 miles
Elevation gain: 11,042 feet
Difficulty: Most difficult
America's Alps are bigger, badder, denser, and more challenging than perhaps anywhere else in the Lower 48. But, for trekkers willing to negotiate the North Cascades' precip, ice, and glaciers (yes, crevasses, too), the views don't get better.
You can't see all of Washington from the top of the Gardner massif, but it sure feels like it. You'll nab a 360-degree view of the glaciated Cascades fanning out in all directions, even into Canada, not to mention one of the most aesthetic ridgewalks in this lineup: Tiptoe across class-3 talus with 2,000-foot drops on either side to net day two's three peaks.
Trailhead Wolf Creek Season Late summer and early fall Permit None
White Mountains, White Mountain National Forest, NH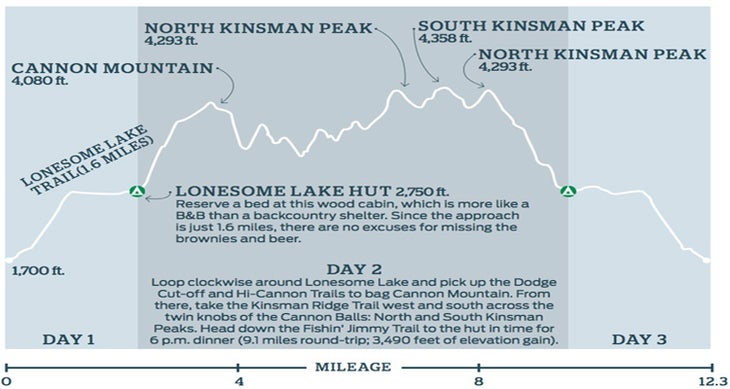 Days: 3
Peaks: 3
Distance: 12.3 miles
Elevation gain: 4,479 feet
Difficulty: Easier
Stand atop one of the Whites and you may have to remind yourself that you're in the Northeast. A super-low treeline means that airy summits and huge views are standard at 4,000 feet.
Book bunks for two nights at the Lonesome Lake Hut (starting at $106/person per night; outdoors.org), one of the only shelters in the range that's situated at the start of a loop—so you can bag peaks without changing huts. With such a small pack (and stress-free itinerary), you can practically run up the nearby 4,000-footers. But while we encourage you to enjoy the riches of hut life, set an alarm: The sunrise over Franconia Ridge is unrivaled.
Trailhead Lonesome Lake Season Summer and early fall Permit None
* For all itineraries, distance measures round-trip distance, including peaks. Elevation gain is a calculation of total elevation gained from trailhead to trailhead, including all peaks.