How to Make Your Own Energy Bars
Save money and eat better with these DIY trail snacks.
Heading out the door? Read this article on the new Outside+ app available now on iOS devices for members! Download the app.
Photo by: Ben Fullerton
Quick 5-Minute Protein Truffles
"Truffles are great for spur-of-the-moment types," says Saulsbury. And they're endlessly customizable—roll them in one of her favorite coatings, or experiment with whatever you have on hand. Makes a dozen 1-inch balls; gluten-free
½ cup unsweetened nut or seed butter (such as peanut, cashew, sunflower, or tahini)
3 tbsp. honey, agave nectar, or pure maple syrup
Dash fine sea salt
2/3 cup lightly packed sweetened vanilla whey protein powder
Coating(s) of choice: mini semisweet chocolate chips, unsweetened cocoa powder, shredded coconut, finely chopped nuts or dried fruit, matcha tea powder, or quick rolled oats
At home ⇒ Mix the nut butter, honey, and salt in a medium bowl. Add protein powder, stirring until completely combined (it will be firm). Because protein powders vary in texture, add a bit more powder if mixture feels too wet and some milk (or water) if it feels too dry; you want dough-like consistency. Scoop 1½ tablespoons of dough and shape into 1-inch balls. Place one or more of your preferred coatings in a shallow dish and roll balls in coating, pressing lightly to adhere. Pack in zip-top bags and refrigerate until ready to go (pack in cookpot or plastic container to prevent squishing).
Pack life 3 days
Nutrition (per truffle) Calories 109 Fat 5.8g Protein 7.9g Carbohydrates 7.2g Fiber .7g Sodium 52mg
Fruity Orange-Blueberry Protein Muffins
One BACKPACKER contributor calls these nutritious citrus-berry trail muffins (her husband's specialty) "crazy good." The recipe is adapted from Terry Hope Romero's Protein Ninja. Makes 12 muffins; vegan
1 cup water
3 oranges, peeled
Zest of 3 oranges, grated
1 lemon, peeled
Zest of 1 lemon, grated
½ cup soy protein isolate
1 tbsp. apple cider vinegar
½ cup brown rice protein powder
2 tbsp. flaxseed meal
½ tsp. vanilla extract
½ tsp. lemon extract
1 tsp. orange extract
1½ cups whole-wheat pastry flour
1 tbsp. baking powder
½ tsp. baking soda
½ tsp. cinnamon
½ tsp. salt
1½ cups fresh blueberries
Preheat oven to 325°F. Grease a muffin pan. Combine water, oranges, lemon, soy protein isolate, vinegar, protein powder, flax, and extracts in a food processor and blend until smooth. Sift together flour, baking powder, baking soda, cinnamon, zest, and salt in a medium bowl; add the wet mixture and mix until combined. Fold in blueberries. Bake for 30 to 35 minutes, until a toothpick inserted into the center comes out clean. Let cool completely, then wrap tightly in foil.
Pack life 5 days
Nutrition (per muffin)Calories 92 Fat .8g Protein 8.4g Carbohydrates 13.2g
Fiber 3.1g Sodium 55.9mg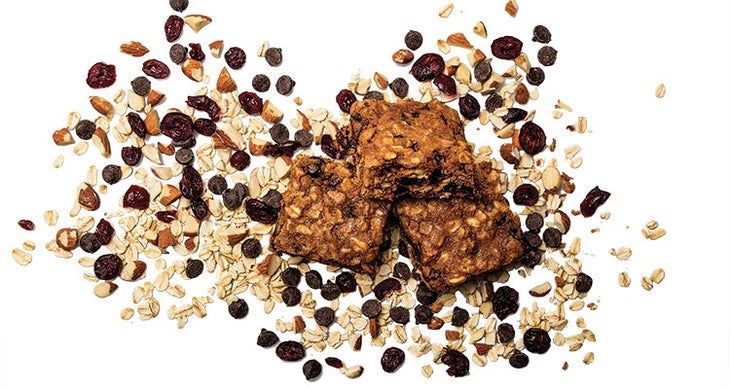 Blondie-Style Oatmeal Peanut Butter Bars
Our Rocky Mountain Field Editor swears by these bars, which have fueled her on trips from Canada to the Cascades (it's been so long, she can't remember where she got the recipe). Makes 10 bars.
½ cup whole-wheat flour
1 tsp. cinnamon
½ tsp. baking soda
Dash salt
½ cup smooth peanut butter
½ cup brown sugar
1/3 cup honey
1 large egg
2 large egg whites
2 tbsp. canola oil
2 tsp. vanilla
2 cups rolled oats
1 cup dried cranberries
½ cup chopped walnuts or almonds
½ cup chocolate chips
Preheat oven to 350°F. Spray a 9-by-13-inch baking pan with nonstick cooking spray. Whisk flour, cinnamon, baking soda, and salt in a medium bowl. In a large bowl, beat peanut butter, sugar, and honey with an electric mixer. In a small bowl, beat eggs with a fork. Add eggs to peanut butter mixture, then add canola oil and vanilla. Beat until combined. Add the flour mixture and mix with a rubber spatula, then mix in oats, cranberries, nuts, and chocolate chips. Scrape into baking pan. Bake 20 to 25 minutes, until browned on the edges. Let cool, then cut into bars. Wrap tightly in foil.
Pack life 5 days
Nutrition (per bar)Calories 364 Fat 18g Protein 9g Fiber 5g Carbohydrate 47g Sodium 95mg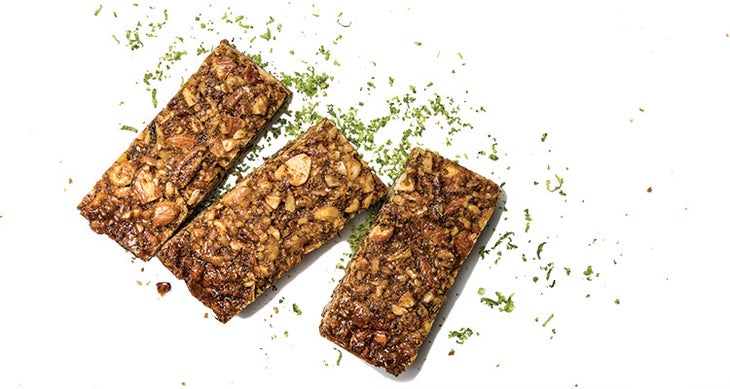 Sriracha-Lime Nut Bar
Packed with protein and healthy fats, these nutty snacks deliver a hint of heat, says Camilla Saulsbury, author of Power Hungry: The Ultimate Energy Bar Cookbook. Customize them with your favorite spices. Makes 10 bars; gluten-free, vegan
¾ cup chopped walnuts
¾ cup chopped almonds
¾ cup chopped pecans
½ cup light corn syrup 
1½ tbsp. flaxseed meal
¼ tsp. fine sea salt
2 tsp. Sriracha sauce
1 tsp. finely grated lime zest
Preheat oven to 325°F. Line an 8-inch square baking pan with parchment paper, leaving some paper overhanging. Spray with nonstick cooking spray. In a large bowl, combine all ingredients and stir until well blended. Transfer to baking pan and firmly compact mixture using the back of a spoon or a sprayed sheet of parchment paper. Bake 17 to 20 minutes until browned at edges. Let cool 20 minutes on wire rack, then use parchment liner to lift bars onto a cutting board. Cut into 10 equal bars. Cool before wrapping in foil or plastic wrap.
Pack life 4 days
Nutrition (per bar)Calories 205 Fat 14.9g Protein 6.5g Carbohydrates 16g Fiber 2.4g Sodium 59mg