You: 1. Rain: 0.
Don't let Mother Nature keep you inside. Take it from these pros who adventure rain or shine. With their tips, there's no such thing as bad weather.
Heading out the door? Read this article on the new Outside+ app available now on iOS devices for members! Download the app.
ERIC ORTON
RUNNER
1. Prevention and preparation are key. If you see clouds rolling in, don't wait for the rain to put on your waterproof layers. Put them on right away.

2. Practice when it doesn't matter. Force yourself to go for a hike close to home next time it rains. Experiment with layers and get wet and cold when the stakes are low.

3. Know what kind of athlete you are. What's more important to you, being comfortable, or packing ultralight? Choose your layers accordingly.

4. Choose shoes that won't hold tons of water. Spend time pairing shoes with the proper socks to minimize the damage when you know you're going to get wet. 5.Accept that you're going to get your feet wet. Even with gaiters. Some people use plastic bags, and that's really the only way to stay dry, but I wouldn't recommend that because of blisters.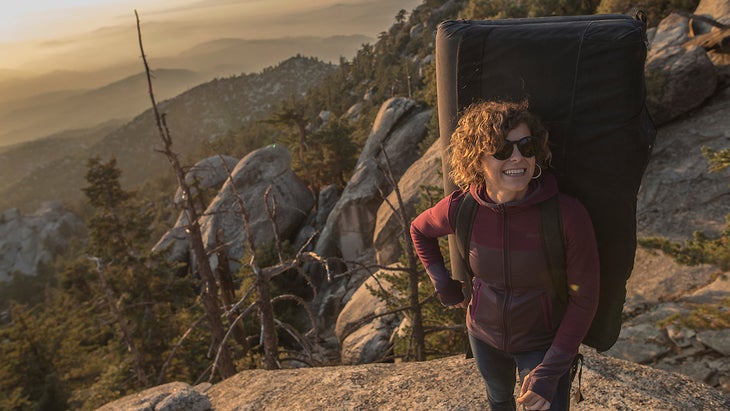 ABBEY SMITH
CLIMBER
1. String up a clothesline. A short, 3-mil piece of cord can serve as a clothesline inside your tent. It might get a little humid, but it'll ultimately help you out.

2. Don't skimp on your rain gear. You want a jacket with cuffs that are comfortable and adjustable, so you can seal out rain from running up your arms.

3. Bring layers to sacrifice. I always have a set of dry clothes I keep safe in a dry bag in my pack. The rest can get wet, but having dry socks to change into is non-negotiable for me—especially for preventing and treating blisters.

4. Check your hood. If you're a climber, you need a shell with a helmet-compatible hood, period. Check that before you hit the trail. 5.Pack strategically. If you know it's going to rain or it starts to pour on your tent, organize your gear so things you need are easily accessible. You don't want to root through your pack in the rain to find a snack.
PETE TAKEDA
CLIMBER

1. Bring small water bottles you can fill with boiling water. Put hot water bottles inside your socks to dry them out, and tuck one inside your sleeping bag at night to drive out moisture.

2. Don't be afraid of the rain. A little water never hurt anyone. I like the rain, because it helps me see places I love in a brand-new way. It's like a real-life painting.

3. Line your pack with a trash compactor bag. Regular trash bags are flimsy, but trash compactor bags are tough enough to handle all your gear and keep it dry no matter how hard it rains.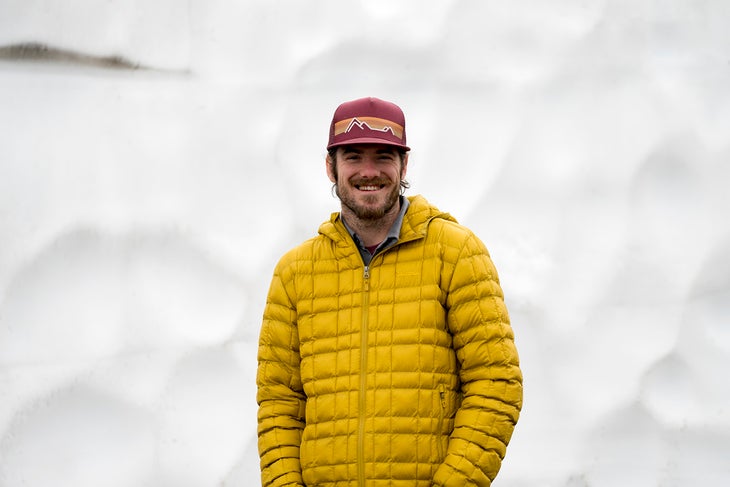 ARI DELASHMUTT
PARAGLIDER AND HIGHLINER

1. Don't over-insulate. What you really need to do is stay dry, and over-layering will make you sweat.

2. Bring an extra baselayer. If you know you're going to sweat on your approach, you'll want dry layers to change into.

3. Avoid cotton. All of it. Like the plague. I pack synthetic baselayers, a featherless puffy for insulation, and a light Gore-Tex layer to stay dry.

EDITORS' TIPS
SITE SELECTION
Keep your tent out of ditches or depressions where water can pool.
Use natural surroundings for rain protection. A stand of trees or a rocky outcropping can help weather the storm (though you should be extra cautious if lightning is present).

TENT PITCHING
– Keep your inner tent dry. Pre-pitch it in a sheltered area without staking it, drape the fly over, then move it as needed.
– Tighten sagging rain-flies; you want a taut pitch that separates fly and tent, which increases air circulation and reduces condensation.

CHOOSING A SHELL
– Don't skimp on these key features: unlined cuffs (read: no wicking) that cover your wrists and cinch tight with Velcro; a three-way adjustable hood with bendable brim for better protection and visibility; and a cinchable hem that covers your butt.

WEARING A SHELL
– Avoid raising your arms. In a downpour, water will enter at your cuffs and seep up your sleeves. Shorten trekking poles to minimize wrist exposure. 
– Transform your jacket into a vest by sticking your arms out of the pit zips if conditions allow.

VENTING A SHELL 
Limiting perspiration is critical to comfort and staying dry, and helps membrane performance. It's best to stay slightly cool when hiking in rain, so layer down, slow down, and use zippers and vents to release body heat. 
– Wear a synthetic, wicking base layer to pull the moisture off your skin so the membrane can release it as vapor.

DRYING OUT 
– Assess your comfort and the conditions when you have about 30 to 60 minutes of hiking left. Overheated? Slow down, so you start drying on the trail and don't reach camp with sweaty (read: cold) inner layers.

Stay dry on your next adventure with EVODry raingear, which redefines wet-weather performance and sustainability with Marmot's revolutionary new technology. www.marmot.com