Winter Survival Guide: Travel
Hiking through the snow is beautiful, but not exactly easy. Use these tips to make your winter traverse all the more pleasant.
Heading out the door? Read this article on the new Outside+ app available now on iOS devices for members! Download the app.

 Snowshoe Like a Pro

"Wear gaiters and walk with a normal, rolling-toe gait," advises Adam Chase, captain of Atlas's snowshoe-racing team. Learn his other tactics for conserving energy and preserving gear.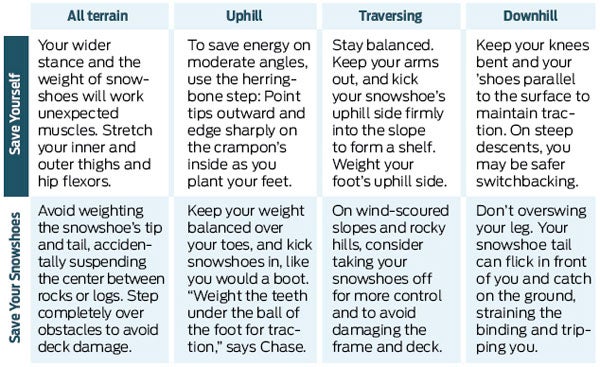 Avoid the Rest-Stop Cooldown

Heed these tips from alpinist Cory Richards to stay warm.

>> Put on layers. "The first thing I do when I stop moving is throw on a down jacket, even if I'm hot. I'd rather warm my sweat—and dry it out—than let it freeze," says Richards. Add a hat and extra gloves, too.

>> Get out of the wind. Find shelter, build a wall, or dig a trench in the snow.

>> Sit on a foam pad or your pack. If possible, also get your feet off the ground.

>> Have a hot meal or a thermos of soup. The liquid hydrates, calories keep you warm, and sodium may prevent cramps.
Breathe Easy

"In cold, dry winter air, you can lose body heat and moisture while breathing. Cover your nose and mouth with a balaclava or bandana to conserve warmth and water."

–Kristy Holland, BACKPACKER Survival Editor

Keep Crampons Clear

"Snow can ball up between the spikes and cause you to slip. Prevent buildup by getting anti-balling plates, plastic pieces that block and shed snow so it doesn't build up underfoot and compromise traction. You can buy them for $25 to $50, or make your own with plastic and duct tape."

—Brendan Oldham, Colorado Mountain Club instructor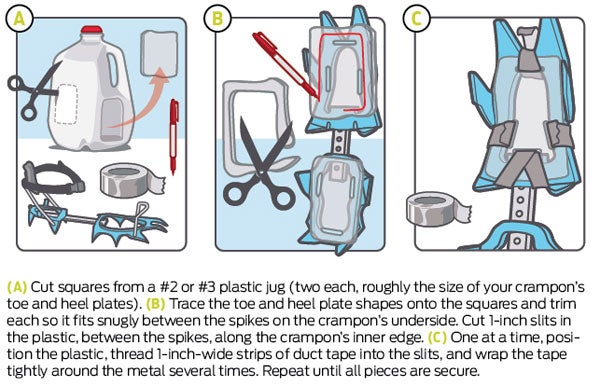 Preempt Frostnip

"Examine the skin on your face, ears, fingers, and toes for white-looking, waxy, or numb spots. Rewarm with skin-to-skin contact or warm water (no rubbing)."

–Tod Schimelpfenig, NOLS/WMI curriculum director