6 Things to Take Out of Your Pack and Never Carry Again
The easiest way to lighten your pack isn't to buy new gear, but to leave a few things you already have behind.
Heading out the door? Read this article on the new Outside+ app available now on iOS devices for members! Download the app.
Brush up on backpacking basics with tips, tricks, and advice from Backpacker's experts in Hiking 101. 
If there's one surefire where to increase your comfort on a backpacking trip, it's to reduce the weight of your backpack. A lighter load can reduce fatigue, minimize the chance of injury, and spell the difference between a great trip or a painful slog. Many hikers believe that buying expensive ultralight gear is the only way to reduce pack weight, but that's simply not true. The best way to lighten your pack is simple: carry less. That said, it can be tough to decide what to strike from your packing list. Here are six examples of gear you can safely leave behind the next time you go backpacking.
Redundant Clothes
From wicking layers to insulation, it's important to have the proper clothes for a backpacking trip. But that doesn't mean carrying more than you need. Pare your clothing down so that each item serves a purpose and you don't have any redundancies, like extra T-shirts or multiple pairs of hiking pants. While it might feel nice to start each day of your trip in fresh duds, they won't feel (or smell) any different once you break a sweat a few miles down the trail. A few exceptions: Having a dedicated pair of sleeping clothes can be a nice luxury (and keep your down bag from getting oily and losing loft), and it's always smart to carry at least two or three pairs of socks.  
Large Blades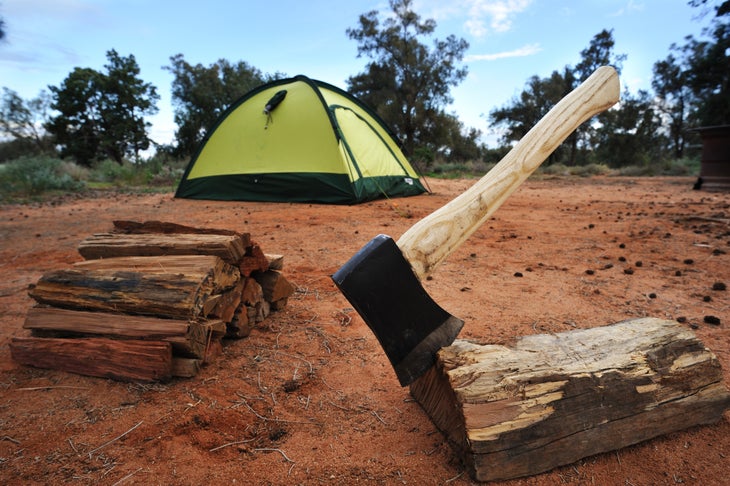 When it comes to old-school camping catalogs, there may be nothing so iconic as a hatchet strapped to a backpack. But the truth is, there's little need for a saw, hatchet, or even a large knife on most backpacking trips. Any blade you carry will be used mostly for slicing cheese and cutting moleskin, and a small fixed or folding knife is more than adequate for those tasks.
Complicated Camp Cookware
If you're anything like the average backpacker, chances are your food bag is stuffed with dehydrated meals, Minute Rice, and instant mashed potatoes. Dinners like that don't require many utensils or much clean up, so ditch redundancies like extra pots, plates, bowls, and dish soap. A lightweight kit can be as simple as a one-liter pot, a spork, and a pocket knife. If you love hot drinks, add a small mug—since it's always nice to drink your coffee while you make breakfast. In the end, you'll reduce both your pack weight and the time you spend scrubbing dirty dishes. 
Too Much Water
Water is awfully close to the top of the list when it comes to human survival, so it's tempting to always carry more than you need. Still, there's no need to go overboard. Outside of desert trips, there are few scenarios where it makes sense to carry more than a liter or two at a time if you have a water filter handy and there are ample water sources close to the trail. Plan ahead by locating water sources on a map or trail guide, and "camel up" by drinking at the water source before hiking on. 
Gadgets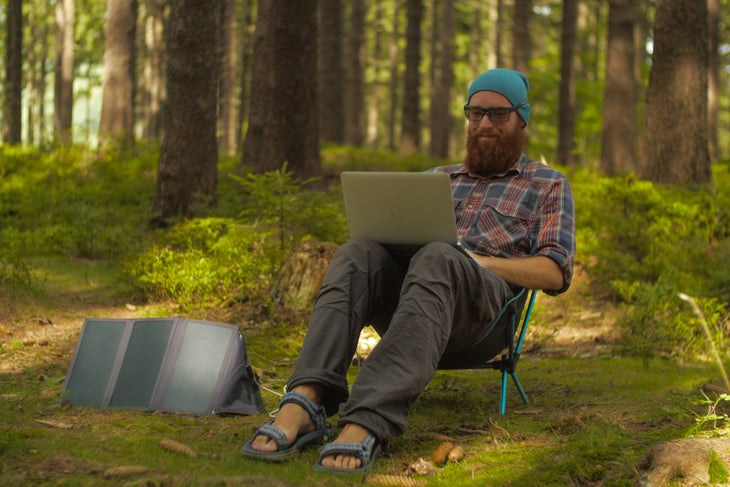 There are more reasons than ever to carry electronics into the backcountry, whether it's GPS navigation, filming GoPro movies, or bedtime reading on a Kindle. We're not advocating leaving your phone or satellite communicator behind, but it's worth taking stock of your gadgets, cables, and extra batteries before tossing the entire bundle in your pack. If you plan to hike all day, consider whether you'll actually have time and energy for all the electronics. Plus, you may discover that you'd rather spend your evening sitting on a rock, watching the sunset.
Dangling Items and the Carabiners They Dangle From
When your backpack is full, it's tempting to start attaching items haphazardly from straps and carabiners. Not only do these extra attachment methods add weight, but the items dangling from your pack will feel heavier since they're in motion. Try to fit everything inside your pack or its external pockets. Once you've cut some gear from your packing list using the tips above, this shouldn't be a tall task.