Traverse a Glacier Safely
Learn to identify the terrain hazards of glaciers to stay safe in ice country.
Heading out the door? Read this article on the new Outside+ app available now on iOS devices for members! Download the app.
Explore a frozen fantasy world by traversing a glacier, but be prepared for unique hazards*. Tony Tsuboi, mountaineering instructor at The Everett Mountaineers in Washington, describes what to look for.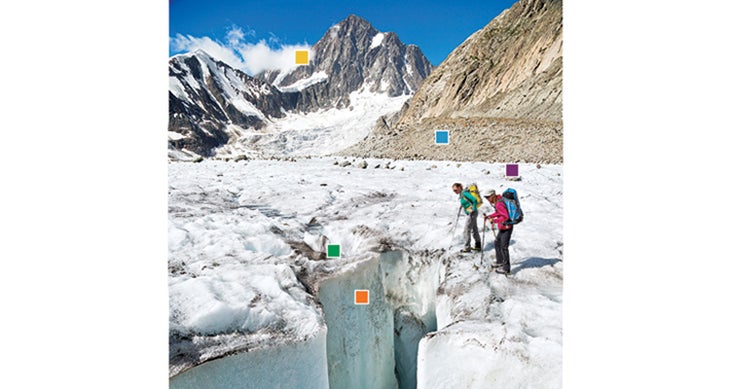 Glacier Hazard: Crevasses
These fissures are mesmerizing to behold, deadly to fall into. In spring and early summer, they're often concealed by snow bridges. As the weather warms, the bridges melt, eventually exposing the crevasses. In between, they can be exceptionally dangerous—hidden from view by a layer of snow too thin to hold a hiker's weight. (Caution: You can fall into one anytime, regardless of season.) Travel on a rope team of three or more. In the Pacific Northwest, Tsuboi prefers glacier travel in mid- to late spring. "The weather is less reliable," he says, "but the bridges are more stable."
Glacier Hazard: Moraines
Hike atop this glacial feature—an accumulation of debris like rocks and dirt—to skirt crevasse danger. But the transition from moraine to glacier can be hazardous. First, the slope tends to be steep—often as steep as possible before the slope releases—and littered with loose rocks. Second, you might encounter a "moat" between the moraine and glacier, where the ice pulls away from the rocks and leaves a dangerous gap.
Glacier Hazard: Moulins
Think of these sinkholes as part of a glacier's plumbing system, transporting meltwater from the surface down into the glacier's underbelly. But on the surface, flowing water means slick glacial ice. Slip here, and you can easily be pulled into the moulin by the water's force. Avoid running water and wet ice—and wear crampons.
Glacier Hazard: Boulders
Random large boulders, spread over the glacier like this, indicate a path where rockfall is a hazard. Avoid areas with rockfall, especially in warmer weather, when rocks tend to fall. Wear a helmet.
Glacier Hazard: Whiteout Conditions
Always keep an eye on the weather (best bet for glacier travel: clear, high-pressure systems). Whiteouts can descend quickly in the mountains; you should be skilled enough to navigate safely in low or no visibility.
* REALITY CHECK For our first glacier experience, go with a guide or experienced companion. Take a skills and rescue course near you.