The Unlikeliest Mountaineer
Take a fatherless herd boy from poverty-wracked Swaziland, endow him with an indomitable will and a few wealthy friends, give him the lungs of Ed Viesturs, and you have...
Heading out the door? Read this article on the new Outside+ app available now on iOS devices for members! Download the app.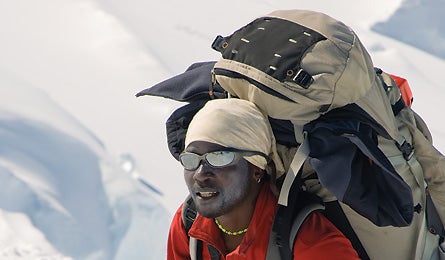 Sibu carries a load around Denali's windy corner.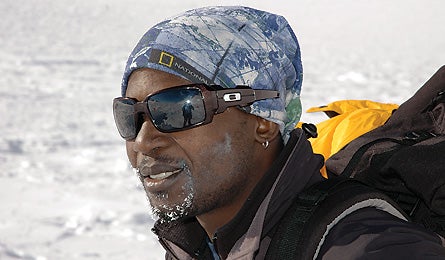 Sibu covers up new dreadlocks.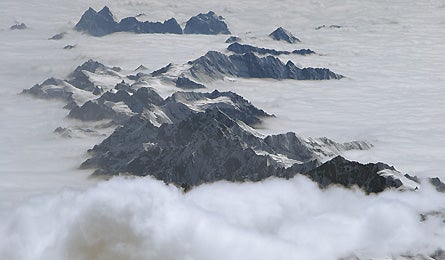 The view from 17,200-foot high camp.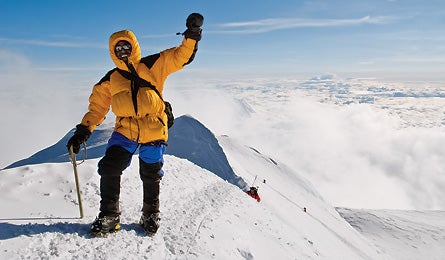 200 feet below the summit Sibu begins celebrating.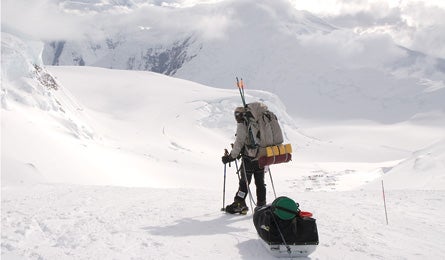 11,700 feet after hauling up Motorcycle Hill.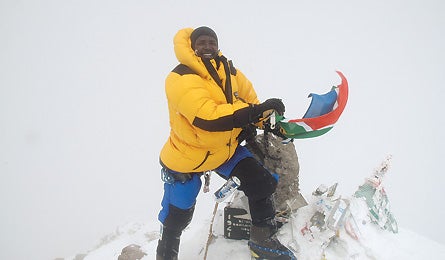 Sibu summits Mt. Elbrus in 2006.
Nothing I have ever encountered in the mountains
is quite so unsettling as climbing upward into a storm on Mt. McKinley. I squint into the blizzard and pull hard against my harness as the deepening snow drags on my sled, but the weather finally pins my partner and me down at 10,000 feet, where the Kahiltna Glacier turns right and climbs steeply onto Denali's West Buttress. This frozen, wind-raked saddle is not a hospitable place, but we're too exhausted to break trail anymore, so we wrestle the kitelike tent into submission, dive into our overstuffed mummies, and begin melting snow.
Some climbing snobs pooh-pooh the "West Butt" as a walkup route. I'm not one of them. There are no gimmes on the world's coldest high-altitude peak. I've humped loads to 22,200 feet in South America and skied first tele descents from 21,900, but I've never worked so hard, nor been so exhausted, as the day I carried camp up to 14,000 feet on a 2003 Denali solo. And that was before I spent four nights blizzard-bound in a snow cave at the 17,000-foot High Camp. I made the summit, eventually, after watching a series of climbers get helicoptered off the upper slopes.
In 2007, I returned to find the lower glacier in dangerous condition. By mid-May, there had already been several crevasse falls, a pulmonary edema evacuation, and two climbers dead after a 2,000-foot tumble. Ferocious, unrelenting storms up high forced me and others to retreat. This year, only a week before our June 1, 2008, arrival, two extremely skilled Japanese alpinists had disappeared in a whiteout near the summit. Their remains still haven't been found.
All of which is to say that I take Denali very, very seriously. In fact, there's only one thing I regard with more caution, and that's my new climbing partner. Mountaineering companions can make or break an expedition, and this nasty little storm presents the first opportunity to see how we'll perform together when things get ugly.
I have reason to be a little apprehensive: My ropemate has a particularly unusual climbing history. Yes, he's stood atop six of the Seven Summits, but those are the only big mountains on his resume, and until now he's climbed almost exclusively as a guided client. If not for one chance meeting, he tells me as we hunker down beneath McKinley's icy bulk, he would still be handholding tourists and stepping in leopard dung as a ranger in a hot, dry, decidedly low-altitude African game park. The truth is, he has more experience dodging elephants than avalanches.
Sibusiso Emmanuel Vilane grew up along the border of South Africa and Swaziland. Now 37, Sibu is from the Swazi tribe, a Bantu-speaking people culturally similar to Zulus. Swaziland remains an independent tribal homeland of 1.5 million people, surrounded on three sides by South Africa, and on the east by Mozambique. The climate is subtropical. Seventy percent of the population lives on less than a dollar a day. Thirty-eight percent of the population is HIV positive. Life expectancy at birth is a tad over 32 years, the shortest among all 250 countries listed in the U.S. Census Bureau's 2007 International Database.
Sibu's childhood in rural Mpumalanga Province was rocky even by local standards. His first memory: asking his mother where he should hide when his father came home drunk. When Sibu was 5 years old, his dad stuck a spear through the hut door trying to get at her. She ran off, so Sibu moved in with his paternal grandmother, who hired him out as a goat herder. But the money wasn't enough for board, so she sent him to tend cattle with an uncle who lived in the compound of a Swazi chief.
It was a traditional kraal: The chief and his five wives had their huts in one walled area; the men and boys lived separately. Sibu wore a calfskin skirt, no shirt or shoes, and slept on a dirt floor with the other boys. "We had one meal a day, usually in the evening, mealy pap [stiff corn meal] with a little tomato or spinach," Sibu explains. As one of the kraal's youngest residents, he got beaten up a lot, and the men were often sadistic. He leans out of his bag to show me his earlobes, pierced with slits, not round holes. "Normally getting pierced ears would be a happy event," he explains, "but my uncle just woke me up one night and did this with a knife."
When Sibu was 6, he ran away, abandoning his cattle in the hills and running back to his grandmother's. He ran all day and part of a night, 16 miles. "I was terrified," he recalls. "It was bush veldt, so there were hyenas and lions, and people had been stealing children for ritual purposes."
Listening to Sibu's tale in this frigid setting is surreal. His words hover in the air as frozen puffs of condensation. I try to imagine making such a journey–as a hungry, barefoot first grader–and fail completely. It's equally hard to imagine how that abandoned 6-year-old became the quiet, genial, smiling man huddled across the tent from me: an author, charity fundraiser, motivational speaker, Everest summiteer, polar explorer, and hero in his native land, literally knighted with South Africa's Order of Ikhamanga.
I first met Sibu on Denali in 2007, when we piled onto the same glacier flight from the staging village of Talkeetna to the Kahiltna landing strip. Yes, black mountaineers are rare, but what really caught my attention were his custom-logo high-altitude boots, which indicated he'd been on Everest. We talked about South Africa, which I'd visited, and Sibu told me about his mission: He was on the verge of becoming the first black man–and more importantly to him, the first black African–to climb the Seven Summits. Denali was his last peak. He'd already done everything else, including two Everest ascents.
We climbed separately that spring, but remained friendly whenever we crossed paths on the mountain. Denali slapped us both down, but the defeat gave us common cause; we commiserated online and cooked up a rematch. Now, a year later, it's been a hectic four days packing up, flying in, and humping 120-pound loads–split between pack and sled–up the lower glacier. Pinned down inside the rattling tent, this is the first real chance we've both had to get to know the exotic stranger we're trusting on the other end of the rope.
I doubt that eHarmony's computers would call it a perfect match. I'm a dwarfish Welsh-Irish subsistence journalist, predictably cynical and sarcastic, notably profane, and drawn to solitary rambles through the empty spaces of the slot-canyon Southwest. Sibu, just shy of six feet, is a quietly devout Christian and a gregarious, unrelentingly positive father of four with short dreadlocks and a quick smile. He's hardly sanctimonious, but I find myself unable to swear in his presence–proof, I guess, that example makes the best sermon. Despite our ocean-size personality gap, we swap stories with the ease of two longtime buddies. And we soon discover that–more importantly–this odd couple tackles the business of snowbound survival with a complementary flow.
When the storm finally passes, we dig our way out of the tent expecting an easy day. Instead, we find deep, wet cement that makes for brutal hauling up the steep grade to Eleven Camp. Ahead, the West Buttress thrusts up like a granite castle. We lurch and grunt upward beneath aquamarine ice cliffs. At camp that afternoon, we collapse onto the sleds, chow down a block of cheese and an entire salami, and yak wearily about the absurdities of professional adventuring.
Only now do I learn just how high the stakes are for Sibu on this trip. It almost didn't happen. After a management change, Harmony Gold, his mining-company sponsor, had suddenly terminated his contract–Sibu's only source of income aside from occasional speaking fees. "It was devastating," he tells me. "I was very uncertain that I could afford to come." At the last minute, he secured a round-trip ticket from Batsalani Investments, a consortium of black African entrepreneurs; he's financing the rest of the expedition costs with very hard-earned savings. This is likely his last shot at the Seven Summits.
Nobody who grows up in a rural Swazi village dreams of climbing the world's highest peaks. Mostly, Sibu just dreamed of finishing school. "Even at an early age, I knew that education was the only way out," he says.
Not long after he escaped the kraal, Sibu's mom returned with a new husband. "He was a good man," Sibu says. "He paid to send my younger sister and me to school even though we were not his children." All through elementary and middle school, Sibu walked six miles each way to the one-room, stick-and-mud schoolhouse where he learned impeccable, British-accented English.
When Sibu was 15, his stepfather moved on and the money vanished. Sibu spent the Christmas holiday looking for work in nearby Mbabane. "I asked door to door for days," he recalls. His persistence paid off when he met Canadians Doug and Penny Watts, who were in Swaziland drilling water wells. Every day after school and on weekends, he tended their gardens and trimmed the lawn with a hand scythe. The Watts paid for his schooling even after they returned to Canada.
By age 17, Sibu was lucky to have finished high school and landed a construction job paying hand-to-mouth wages. Then he met Nomsa, the 15-year-old sister of a friend. "It's not like in Western cultures where you take a slow approach," he smiles. "I just told her I loved her, and she told me to get lost."
As Sibu explains it, the pair had a relatively modern courtship. A traditional Swazi might enlist his female relatives to kidnap and hold the bride, so they could overwhelm her with all his good attributes until she finally gave in. One of them might even give the girl a child, in permanent adoption, as a welcome to the family. The groom would pay a dowry to the bride's family on a standardized scale: eldest daughter, 13 cows; second daughter, 12 cows. Sibu declines to quote Nomsa's bride price. "Let's just say I'm still paying," he groans theatrically.
With kids soon to come, Sibu started searching for a better job. Paging through the phone book, he noticed Malolotja Nature Reserve, a small mountain park not far from Mbabane. "I thought maybe a ranger's job was to herd the animals like cattle, and I'd already done that," he laughs. Instead, he faced a grueling six-week boot camp that included tough physical tests and instruction on tracking game, handling firearms, and conducting tourist drives. The 14 applicants underwent daily emergency drills like fixing broken vehicles and evacuating injured hikers. "It was intense," Sibu says. "We were always watched to see how we cooperated and filled roles. The slightest negative attitude got you expelled. Only six of us made it." He became a ranger for Conservation Corporation Africa, a private contractor that runs many parks in the region. His starting salary: 500 rand a month, about $50.
The outdoors had always been Sibu's refuge, and he loved the ranger's job. He regales me with stories about angry black mambas and the downsides of trail running in lion country. Once a notorious bull elephant named Killer chased Sibu's Land Rover, Jurassic Park-style, tusks scraping the tailpipe while Portugese schoolgirls screamed hysterically in the back.
By local measures, Sibu had achieved astounding success: an education, a good job, a modest bank account, a stable marriage, a house he built on land bequeathed by a local chief. The idea that someone might drop in and suggest he climb Everest was as unlikely as NASA inviting me to the moon. And then someone did.
The four-mile, 3,200-foot carry around Windy Corner from Eleven Camp to Fourteen feels even steeper than it sounds. Add bad weather and the route can be life-threatening. But Sibu and I luck into a bluebird day. We climb in crampons, released from sleds and snowshoes, reveling in the insane Peters Headwall, a 7,000-foot escarpment of rock and ice that rears overhead. "It's so good to be on haul-ee-day," Sibu shouts at the sky. It's a phrase he uses often when settling into camp or resting trailside. For all his obvious toughness, Sibu has a refreshingly casual climbing style, always content to chat with passing mountaineers or kick back guiltlessly when weather forces a delay.
From a distance, the bustling snow village of Fourteen Camp looks like an exotic casbah populated by neon-clad spacemen. This week, the fluctuating population of 150 or so includes Americans, Canadians, Russians, Norwegians, Swedes, Finns, British, Italians, French, Germans, Austrians, Swiss, Czechs, Poles, Brazilians, Venezuelans, Chileans, Argentines, Ecuadorians, Spanish, Koreans, Japanese, Chinese, an Indonesian, a Sikh, and an ethnic Tibetan Mongol ("not Sherpa," he pointedly clarifies).
Even in this polyglot assemblage, Sibu stands out with his dreadlocks and coal-black skin. Most climbers are curious about him, and Sibu, a social butterfly, returns from a brief walkabout with a fistful of business cards and scribbled addresses. Personally, I'm developing a case of melanin envy. I can't keep my pasty Irish skin from frying in the high-altitude sun, while Sibu wanders blithely through the microwaves unprotected, taking pictures and filming like a tourist.
He's a hopeless tech geek, hauling two digital cameras, a camcorder, a voice recorder, a sat phone, a GPS, and an iPod filled with audio books and motivational tapes. He wears two watches, a Suunto on Alaska time and a blingy titanium Tag Heuer on South Africa time. Most evenings he makes a call to Nomsa, or to a Nelspruit radio station, doing DJ shout-outs to drum up donations for a local preschool.
Finally, we get around to chopping out a tent platform, leveling the shelf with shovels and axes. Overhead, the Headwall swims in our ditzy, unacclimatized vision, a massive toilet-bowl ice slope plunging down off the Buttress ridgeline. Above here, the real climbing starts.
In 1996, John Doble, a veteran of the British Foreign Service, was appointed High Commissioner to Swaziland. "I'd only been in the country three days, and I knew absolutely nobody," says the 67-year-old Doble. "So I was wondering what the devil I'd do in tiny Swaziland." Looking at a map, he noticed nearby Malolotja Reserve. "I hiked to the top of Malolotja Waterfall, and it was wonderful," says Doble. "But Malolotja is a rugged mountain park, and it was a bit dodgy being alone."
Back at the reserve office, Doble asked if the park had hiking tours. The answer was no, but Sibusiso was there, just getting off duty. "He hadn't the foggiest idea who I was," Doble says. "But he gave up his one day off to take me on a magnificent walk up 6,000-foot Ngwenya [Crocodile] Mountain." The pair became friends and continued hiking together most weekends. Their first real scramble was Cathedral Peak in the Drakensberg Range. "I was clumsy, but Sibu had this incredible confidence on the rock," says Doble. "So I was wondering out loud why there weren't more native climbers."
Sibu replied that blacks in Africa didn't see climbing as a sport they had the means to pursue. "It doesn't fit our culture either," he explains to me. "If you ask Swazi villagers how to climb a local mountain, they say you'll never come back. The high peaks are where we bury our chiefs. There are spirits and animals there. We don't spend nights outside a village." But Doble challenged Sibu directly: In the more than 40 years since Edmund Hillary and Tenzing Norgay had climbed Everest, he told him, no black man had ever done it.
"We can't afford it," Sibu responded. To which Doble countered: "If you had the resources, would you go?"
"Absolutely!" Sibu remembers saying. But he had no idea how high Everest was, or what it involved. "Still," he tells me, "I was driven by the belief that I should try to show the world, and Africans, that we were up to such a challenge."
What started as an idle bet took on its own momentum. After retiring to England in 1999, Doble started working his connections to get Sibu on an expedition.
There was little support in South Africa, and not just because Sibu was an unheralded game ranger and climbing novice. The country was still smarting from a disastrous 1996 national Everest expedition whose leader's exploits were chronicled in Into Thin Air. Among other things, the leader had failed to list the expedition's two black members on the permit, meaning they couldn't climb above basecamp. The fiasco left South Africans with little taste for climbing as a symbol of national pride and reconciliation.
Doble didn't give up, and in 2001 he convinced British outfitter Jagged Globe to consider Sibu for an upcoming Everest climb. But first he'd have to summit three 20,000-foot trekking peaks and go on a winter shakedown in Wales. Doble sent Sibu to Nepal for part one. "I think they were expecting me to fail quickly [on the lower parts of the peaks], so I wouldn't complicate any summit attempts," Sibu says. "And given my lack of experience I can't blame them."
The Himalayas were a shock. "Suddenly you see these huge mountains covered in snow and ice," Sibu recalls. "I wondered, 'Am I even going to survive this?'" He developed a mysterious pounding headache on the approach hike up the Khumbu Valley; his companions had to tell him it was altitude. "I thought, 'Oh my goodness, this is only in the towns. How much worse will it get?' It was intimidating, but I also loved it. You'd climb this huge pass, and from the top there was range after range of giant peaks."
Then he had to master the gear and techniques. "I found it really explosive on my legs, wobbling along over blue ice in plastic boots and crampons," he says. Still, Sibu made it up Pokalde (19,048 feet) and Island Peak (20,285 feet); two of his more experienced teammates had to be evacuated for pulmonary edema. Jagged Globe called off the Lobuje climb (20,075 feet) after the second attempt because Sibu was the only client who wanted to give it another shot. "I suddenly realized I could be turned back on a mountain through no problem of my own," he says. "It was frustrating, but the lesson helped."
While in Wales for part two of the trial–the climbing school–Sibu and Doble met with the scion of a Scottish banking family (most famous member: Ian Fleming, author of the James Bond novels). The businessman–who wishes to remain anonymous–was so impressed by Sibu that he offered to underwrite the historic attempt. Mr. Vilane was going to Everest.
After a rest day to acclimatize at Fourteen, Sibu and I launch up the Headwall, ascending the fixed ropes in a full-body aerobic huff, making for the shattered granite spine high overhead. Atop the saddle, we unclip and crampon up the ridgeline, scrambling over rock bands and along a snowy whaleback to reach the squat pinnacle of Washburn's Thumb at 16,500 feet. We cache our loads there and retreat. Tomorrow we'll collect them as we climb through to High Camp. Sibu moves easily up the tangly ropes and awkward terrain, clearly a novice no more.
We finally stumble into High Camp at 8 p.m. the next day, our thighs and feet hammered from pumping up the steep grade beneath monster packs. Icy winds scour the exposed campsite as I fumble with the zippers of my puffy pants, fingers rapidly freezing. In the end, Sibu has to help me like a kid being dressed by mommy. I don't even ask. He's suddenly there, no rebuke, no good-natured flak, just a quick helping hand and another silent sermon.
The next morning, stiff with fatigue and nursing mild headaches, we stay in our bags and melt endless pots of snow. The day remains bitter and foreboding. Banners of spindrift scream through Denali Pass, swirling down across the traverse like alpine ghosts. Peering out the tent door, we watch a string of parties start up and turn back. Tense over the weather, we talk about everything but the climb at hand, and Sibu spills out an amazing list of current projects and hatching plans.
Back home, he sponsors a 20-person running club called Born to Win. He wants to start a children's outdoor center at Malolotja. He and John Doble plan to climb the Matterhorn. He wants to summit Kilimanjaro with his teenage daughters (he and Nomsa have a son and three daughters, ages 2 to 15). His autobiography, To the Top from Nowhere, was just released in South Africa.
He has several expeditions in the works: climbing Ama Dablam, a solo kite-ski crossing of Antarctica; an oxygenless ascent of Everest; a trek across the Rub' al Khali dune-lands of the Arabian Peninsula; and driving in the Paris-Dakar off-road race. His biggest dream, though, is a Pan-African Everest expedition–a multinational demonstration of African unity and pride.
These projects all require funding, of course, which means sponsors, and that's tough when you come from Sibu's zip code. He's having trouble just drumming up a handful of sleeping bags and tents for his running club so they can travel cheaply to events. And he has to spend considerable energy on the preschool telethon just to raise a few hundred dollars in construction materials. All of which makes climbing Denali and completing the Seven Summits–with the exposure that should bring–such a critical piece of Sibu's plan.
Sibu's first Everest attempt started inauspiciously. Upon arriving at basecamp in the spring of 2003, he learned that someone (probably jealous neighbors) had tried to burn his house down. Nomsa and the kids went into hiding, but the couple talked by sat phone and decided Sibu should stay. "I was going to climb Everest if I had to crawl," he says.
The Big E was a whole new league for the 33-year-old, surrounded as he was by giant peaks, grinding icefalls, and experienced, often well-heeled, mountaineers. Intimidated, Sibu dealt with the angst by working hard to learn the ropes and keeping a positive attitude. He told a Johannesburg correspondent, "I'm already the first South African from Swaziland to reach basecamp."
The expedition encountered terrible weather. Twice, storms drove the team down from the South Col high camp. Then, using the last of the supplies, a third attempt headed for the summit at 9 p.m. on May 24. The climbers were "almost crawling" because of hurricane winds, according to leader Robert Anderson's sat phone reports.
Those gales must have been strong indeed, because they turned around four of Sibu's teammates, including renowned Norwegian explorer Børge Ousland, who had already traversed both poles unsupported. Two young Mexicans, Alejandro Garibay and Rodrigo Limon, pushed on to the top, followed an hour later by Sibu and two guides.
Sibu's transition from unknown game ranger to national hero was instant. Newspapers lauded him. He met Nelson Mandela. His summit flag still hangs in South Africa's national assembly hall. But not everyone celebrated. Articles in the Swazi press accused him of betraying his country by having dual citizenship and by not flying the Swazi flag at the summit. Sibu says he tried to buy one but couldn't, and that Swazi government officials didn't respond to his requests for a banner until he'd already left for Nepal.
As a life-changing experience, climbing Everest proved more profound than even Sibu could have predicted.
"Originally my goal was just to climb Everest, then go home and lead an ordinary life," he explains. "But now I believe that mountains, big or small, have a transforming effect. After Everest, I realized that I could achieve almost anything I put my mind to. Confidence or courage or determination–whatever you call it–I didn't learn that from a father or a class. Mountains taught me these things."
After Everest in 2003, Sibu did not lead an ordinary life for long. He worked briefly as a ranger again–with paid leave for a second Everest trip in 2005, this one up the Northeast Ridge with British explorer Sir Ralph Fiennes. Sibu made the summit, but fell behind his teammates on the return and almost succumbed to the altitude. He barely survived an epic solo descent.
Upon Sibu's return, South African President Thabo Mbeki knighted him, not least because the climb supported charities. It raised funds for the Swaziland-based SOS Children's Orphanage, the Freeplay Foundation, which distributes hand-crank radios to remote villages, and the Africa Foundation, which works with Conservation Corporation Africa doing humanitarian projects around game parks. Since then, all of Sibu's climbs have included a charity effort. His particular emphasis is children's causes. "Africa's future lies with its youth, but so many of them are living desperate lives," he explains. "When I was small, I never had anyone I could look to and think, 'I want to be like that.' So I want to raise money to help, and perhaps be an example that even someone like me, who came from nothing, can change his life."
With his celebrity status solidified, Sibu became, in effect, Swaziland's first professional adventurer. Harmony Gold made him half of Team Extreme, along with white South African Alex Harris, providing a salary, training stipend, and expedition expenses. Harris was finishing up his own Seven Summits quest, and Sibu realized that, with support, he could become the first black African to achieve the iconic goal. Over the next two years, he plowed through five continental high points: Kilimanjaro, Aconcagua, Elbrus, Carstenz Pyramid, and Mt. Vinson (the last, with Harris, was his first unguided ascent). That left Denali, but in May 2007 the Great One handed Sibu his first real mountaineering defeat.
He didn't spend the next year moping. Instead, he and Harris embarked on the last Team Extreme hurrah, skiing to the South Pole unsupported, dragging 280-pound sleds in a 65-day sufferfest. Just three days after leaving, they were pinned down by a six-day blizzard. Then their food supplies proved inadequate. For most of the trip, they were slowly starving, but on January 17, 2008, Sibusiso Vilane became the first black man to ski to the South Pole.
"It made Everest seem like a weekend hike," says Harris. "And I have immense respect for Sibusiso, especially since he's really a novice at much of this stuff. But that's overcome and overshadowed by an unshakable belief in himself and Africa, and the toughness to follow through with his plans."
Harris says he learned the depth of Sibu's resolve during the fourth week of their sledging journey. "It was ten straight days of gray whiteout, a gloom like I'd never experienced," he says. "The sledding was sticky, and we were battling a headwind snowstorm. We were constantly tense, obsessing about food. We'd just struggle on in misery, barely able to see our feet, then collapse on our sleds briefly and get moving again before frostbite set in.
"It was the deepest despair I've ever felt," Harris recalls. "Right then, we got a sat-phone call that Sibu's 1-year-old baby had become desperately ill. It looked like she'd die. Sibu was anxiety-ridden, and there was no chance of evacuation. So he decided to fast the whole day, to send all his spiritual energy out to his daughter. Not one step that day did I ever hear any complaint. At our lowest point, in the worst conditions, he displayed the most steadfast perseverance one could possibly imagine." After weeks in the hospital, Siphosethu, now 2, survived.
We wake to bitter cold. Frost showers inside the tent with every gust. Fire-hose winds scour Denali Pass. The weather seems hopeless, but we organize our summit loads and set out anyway–just in case.
As always at altitude, the first minutes of climbing are cell-level torture, every muscle and neuron screaming for O's, heart pounding out mule-kick beats. Then we warm up and start covering ground. The ascent to Denali Pass is deceptive, with slopes just gentle enough to let you get comfortable, but too steep for a sure self-arrest. Crosswinds create slabs of wind-crusted snow that can break off suddenly, shooting from underneath you like a runaway skateboard. This is where fatalities happen most often on Denali, usually on the descent, in a brief moment of exhausted carelessness.
As we climb, the cloud cover vanishes and winds shift to the east. By the time we take a breather just beneath the pass, the sky is crystal clear but bitter and blustery, maybe–just barely–good enough for a summit try. We huddle in the lee of a boulder weighing options–and decide to go for it.
No room for doubts now–only haste and wariness. We plow through the headwinds of the pass, then turn sharply right toward the black and gray outcrops of Zebra Rocks. Goggled and hooded and face-masked, we struggle in isolation, listening to the roar of the wind and the bellows suck of our lungs. We adhere to a summit-day mantra: Don't talk. Don't daydream. Don't stop because you'll freeze. Just keep climbing.
After an eternity, the route levels off and rounds the tilted cone of Archdeacon's Tower, rolling up icy slopes to the Football Field, a broad flat at 19,500 feet. Ahead, Denali's summit rears as a massive fin-shaped ridge. The sight of our goal draws us up steep, dispiriting Pig Hill. Sheltered from the jet stream and tilted into the sun like a solar oven, the 500-foot grind is so hot I'm instantly sweating. Wet snow balls up on my crampons. After 30 minutes, we pop out atop the South Face into flash-freeze headwinds. In the seconds it takes to reposition my face mask, I frostnip the inside of my nostrils.
From the summit ridge, gullies plunge down into swirling clouds, offering glimpses of crevasse fields 12,000 feet below our boots. We studiously ignore the yawning gulf and tiptoe upward, straddling the airy, roof-gable crest. And suddenly we're on the summit, the icy Alaska Range floating far below like a separate world, a view from orbit.
Sibu and I pound each other's backs and do some short-breathed whooping. Then he grows quiet and misty-eyed, so I step aside to let my new friend reflect on his improbable journey. He deserves to savor the moment: He's stood atop every continent in the search for his own potential, to provide a tenuous living for his family, and to give hope to his downtrodden countrymen.
My eyes get a little wet, too. I'd like to blame the cold wind sneaking under my goggles, but the moment hits me powerfully. Sharing Sibu's victory is a rare brush with history. I know it's just a summit, a symbolic adventure at best. But symbolism matters. You could say that Joe Louis and Jesse Owens and Jackie Robinson were merely athletes whose exploits made no real difference to the world. Except they did. Back home, Obama is poised to take the Democratic nomination.
"Sibusiso walks between two worlds really, and it's not just race," Harris tells me later. "He comes from an impoverished area where adventure is simply not done. So he's using his experiences to make young people aware of different worlds, different possibilities." In other words, Sibu is half-right: Mountains are transformational–but so are the people who climb them.
I wander back over to my jubilant friend, and we snap summit photos. Our short stay on the peak is almost over, and already I'm thinking of Sibu's return to an uncertain future. Zimbabwe is collapsing. A million refugees pour south through Botswana and into South Africa, adding to the flow from Mozambique. Global economic woes will make fundraising harder than ever. What will come of Sibu's hopes and plans? I can't even imagine the discouragement I'd feel in such circumstances, but Sibu remains focused on possibilities.
"One legacy of apartheid and colonialism," he'd told me the night before at High Camp, "is that black Africans don't think they can do anything themselves, that they need a white man to tell them how. But we can solve our problems. Any African, given an opportunity, can rise to great heights." Ever modest, he'd neglected to mention one important fact: that one African, a goat herder from Swaziland, already had.
Rocky Mountain editor Steve Howe started swearing again shortly after returning from Denali.