The Ultimate First-Aid Manual: What to Pack
Construct a solid emergency kit with these medical must-haves.
Heading out the door? Read this article on the new Outside+ app available now on iOS devices for members! Download the app.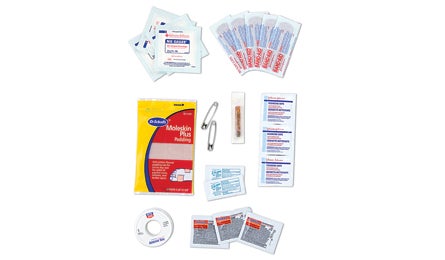 Basic Kit (Genny Fullerton)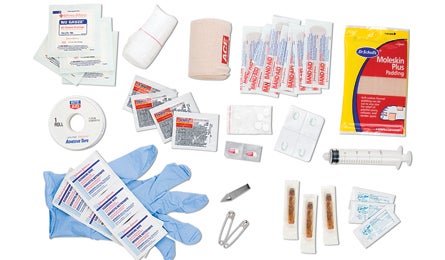 Group Kit (Genny Fullerton)
Upgrade your skills with our online Wilderness First Aid Basics class! Learn to conquer common problems and handle emergencies with grace. Start it instantly, complete it at your own pace, access it forever. Sign up now!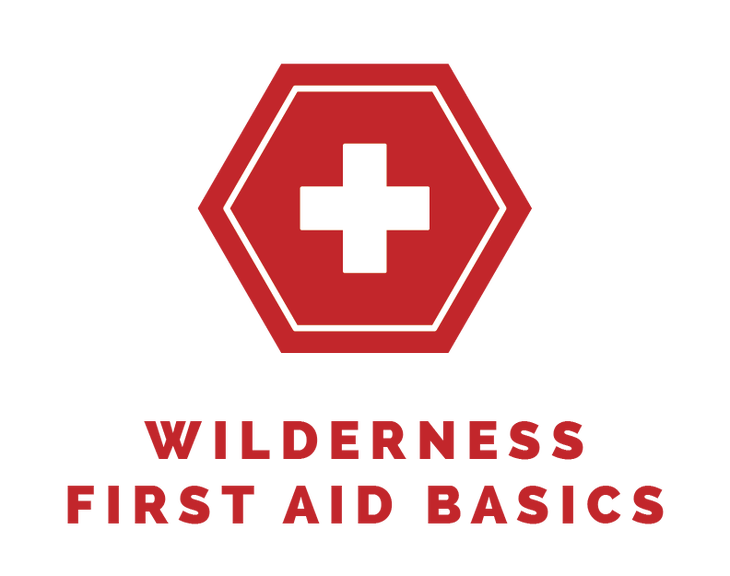 Minor Wounds |
Heavy Bleeding |
Muscles & Bones |
Animal & Insect Bites |
Gastrointestinal Illness |
Dental Emergencies |
Environmental Threats |
Stay or Go: Calculating Your Risk |
Extreme First Aid |
First Aid Improv |
What to Pack |
Evacuate or Wait? | Risk Factors
Basic Kit
Suitable for two people on a weekend trip
4 sterile, 3×3-inch or 2×2-inch gauze pads to clean and cover wounds
5 1×3-inch adhesive strips to cover cleaned wounds
2 blister dressings or moleskin
1 roll tape (1/2 inch x 5 yards) to hold dressings on wounds
6 200mg tablets ibuprofen for pain, inflammation, and fever
2 packets antibiotic ointment to cover wounds before dressings
1 swab tincture of benzoin to make adhesive bandages stickier or hold wound closure strips in place
3 antimicrobial hand wipes to clean hands and around wounds
2 safety pins
Group Kit
Suitable for four people on a weeklong hike
4 sterile, 3×3-inch or 2×2-inch gauze pads
1 sterile, 3-inch roll of gauze to cover cleaned wounds or hold larger dressings or splints in place
1 3-inch roll of elastic wrap (such as an ACE bandage) to compress sprains or hold splints in place
8 1×3-inch adhesive strips
2 blister dressings or moleskin
1 roll of tape (1/2 inch x 10 yards)
8 200mg tablets ibuprofen
4 tablets aspirin
2 antihistamines for allergies, swelling, or stuffiness of a minor cold
4 tablets antidiarrheal medication (such as Imodium AD)
1 irrigation syringe to clean wounds
3 packets antibiotic ointment
3 swabs tincture of benzoin
1 pair tweezers for removing splinters and ticks
1 pair medical gloves to protect you and the patient from contamination
6 antimicrobial hand wipes
2 safety pins
LEARN MORE
The Ultimate First-Aid Manual
Wilderness Medicine Institute cofounder Buck Tilton boils down a lifetime's worth of experience into 62 tips
Photo Tutorials: First Aid Center
From splinting a broken leg to duct taping a bloody wound, the BACKPACKER First Aid Center is an invaluable resource for backcountry first aid.