The Ultimate First-Aid Manual: Minor Wounds
No wound, now matter how minor, should go ignored in the backcountry. Check out these quick tips to clean it up and keep trekking.
Heading out the door? Read this article on the new Outside+ app available now on iOS devices for members! Download the app.

Minor Wounds |
Heavy Bleeding |
Muscles & Bones |
Animal & Insect Bites |
Gastrointestinal Illness |
Dental Emergencies |
Environmental Threats |
Stay or Go: Calculating Your Risk |
Extreme First Aid |
First Aid Improv |
What to Pack |
Evacuate or Wait? | Risk Factors
Blisters

Clean well with an antiseptic wipe. Sterilize the point of a pin or knife with flame or an alcohol swab and gently pierce the blister. Massage the fluid out, leaving the roof of the blister intact.
Cover with a friction-reducing dressing, such as Blist-o-Ban (sammedical.com), or cut a donut-shaped piece of moleskin and place it over the blister. Fill the hole with antibiotic ointment and cover the moleskin with athletic or duct tape.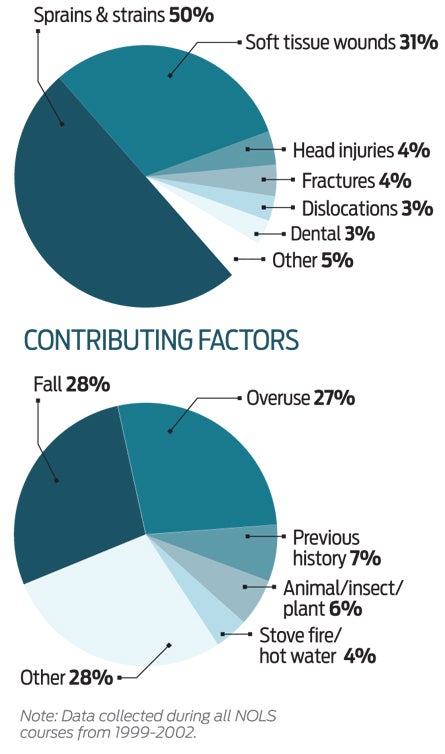 PHOTO SLIDESHOW: How to Treat a Blister

Learn how to fix this common hiking ailment correctly and you'll be back on the trail in no time.
Abrasions

Scrub the wound with soap and a gauze pad or bandanna, making sure to remove all debris (warning: It'll hurt). Rinse off all of the soap, then apply a layer of antibiotic ointment to a gauze pad and tape it in place. (You can also use a commercial pad with adhesive edges.) The pad should completely cover the wound.
Burns

Immediately plunge the burn site into cold water. Second best: Apply a water-soaked bandanna, a burn gel, or aloe vera. Continue cooling until pain has substantially subsided, then cover the burn with ointment and a gauze pad. If blisters form, prevent the blisters from popping as long as possible.