The Kids Are Alright: Family Camping
The only thing you'll regret about taking the brood backpacking is not doing it sooner - and more often.
Heading out the door? Read this article on the new Outside+ app available now on iOS devices for members! Download the app.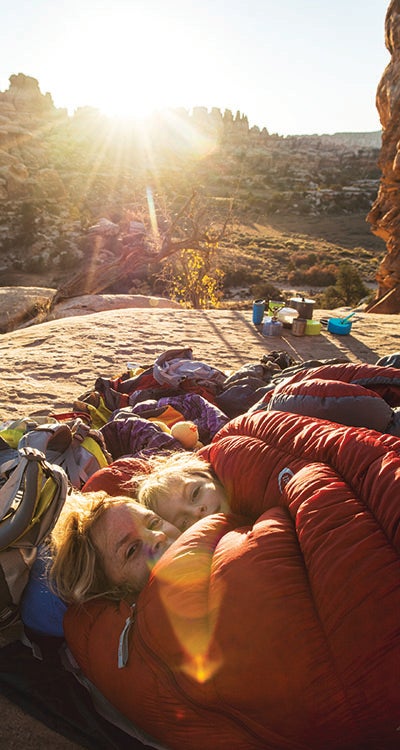 Photo by Kennan Harvey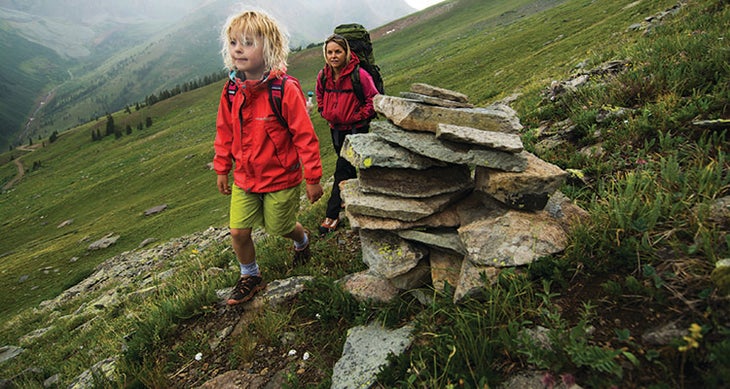 Photo by Kennan Harvey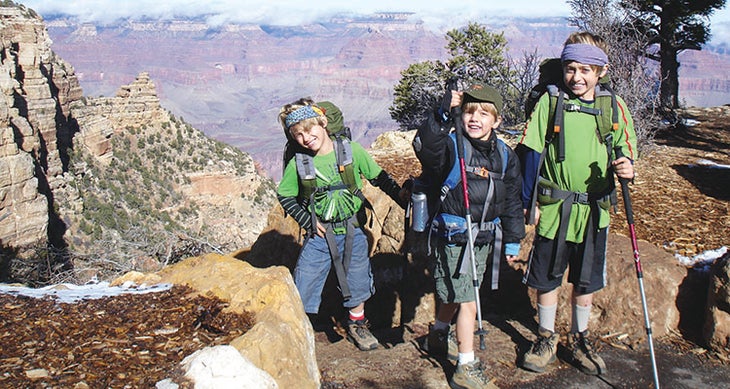 Photo by Dennis Lewon
"How much farther?" It's a question young kids seem hardwired to ask, whether on a car ride or a hike. My kids were no different. All three boys started camping before they could talk, then backpacking as soon as they could walk, and I'm pretty sure that was one of their first sentences. But really, is there anything to be gained from telling the truth? In my 20s, as a wilderness guide for teens, I had developed an "educational" strategy to address this inevitable question, and I adopted the same policy with my kids, Milo, Zig, and Tate, from the outset: No matter where we were—a few minutes from the trailhead, a few minutes from camp, or anywhere in between—when they asked how much farther, I'd respond: "We're halfway."
Admittedly, that answer didn't always lead directly to smiles, and it probably delayed their grasp of distances by a couple of years. But early on, they learned to stop dwelling on when we'd "get there" and start enjoying the hiking part of backpacking, because that's the real hurdle with kids. (Playing in the dirt, climbing rocks, eating s'mores, and wrestling in a tent don't need a hard sell.) In the beginning, expect some trial and error. There were plenty of times that we started too late and found ourselves pleading with preschoolers—keep hiking, you can do it—in order to make camp before dark (tip: there's no shame in candy bribes).
But mostly, it's just fun. All of it. Case in point: On a weekend trip in Colorado's Indian Peaks Wilderness, we tackled a route that climbs about 2,000 feet in 3 miles. Milo, Zig, and Tate were 8, 6, and 4 years old at the time, and I expected them to poop out, well, about halfway up the steep trail. Instead, my wife, Jen, told a Batman story, the boys stopped to explore an abandoned silver mine, and we all took a break to throw rocks in a scree field. They were surprised when we arrived at the pass on the Continental Divide so "fast," and ran down to the lake on the other side. Like true backpackers, they knew instinctively that the pine- and meadow-fringed basin was a magical place simply because we'd walked to it. That evening, a swirling, low-hanging cloud caught light from the setting sun and filled the cirque with a red glow. Moisture in the cloud reflected the light, so it felt like we were camping in the middle of an electric snow globe. Will they remember playing cards amid that otherworldly light? Doesn't matter. I'm convinced it left an imprint that will last a lifetime—on all of us.
"My pack's too heavy." Not a surprising complaint from a 5-year-old. So when Tate announced he couldn't carry his pack another step, I ignored him. We were hiking up a trail in the Rockies in October, amid aspens turned a dozen shades of gold. Jen, Milo, and Zig continued up the trail ahead of us, ascending along a creek. I slowed down and walked next to Tate, my youngest. I figured he was just tired from his school field trip. He'd gone to a farm near Boulder, where he and his classmates had been encouraged to pick all the potatoes, onions, carrots, turnips, and pumpkins they could carry. He'd come home dirty and exhausted, but excited about his haul.
The next day, we had this season-ending weekend in the high country on the schedule. We'd performed the normal fire drill getting out the door, haranguing the kids to pack their gear. They've been responsible for getting their own stuff together since they could carry the smallest packs, starting with the little things—a book, a headlamp—and growing into the heavier items. We figure if they're responsible for packing, they can't complain about what they don't have (admittedly, the rule has resulted in a few missing items). On this trip, Milo and Zig were responsible for all of their gear, and Tate, the kindergartner, was charged with carrying everything but his bag and pad. That's why I felt comfortable dismissing his whining. How heavy could a kid-size fleece and a comic book be?
But when he stopped to complain yet again, dropping his pack to the ground and leaning against a boulder to rest, I was torn. Like any parent who wants his kid to love the outdoors, I didn't want to let one moment undermine everything that had come before. "Please," he asked, "can you carry my pack for a little bit?"
"OK," I relented, knowing we still had a couple of hours to go. "Just for a bit." I reached down and grabbed the pack—and nearly lost my balance trying to lift it. "What in the world do you have in here?" I asked. "Just my pumpkin," Tate answered, as if it was one of the 10 Essentials.
Another reason to take your kids backpacking: You think you've seen it all, and then find yourself hanging a pumpkin in a bear bag.
Challenging kids— without pushing too hard—requires constant recalibration as they get older. You want to see them experience the triumph of achievement without overdoing the agony of defeat.
We had something like that in mind when we hiked to the bottom of the Grand Canyon for Christmas, a couple months after the pumpkin episode. Not surprisingly, the kids breezed down the South Kaibab Trail, gaping over the views and the trailside drops. We pitched our tinsel-draped tent at Bright Angel campground, where a ranger convinced the boys that a satellite passing overhead was Santa's sleigh, and we joined a group of carolers at Phantom Ranch. Mission accomplished? Not quite.
As every Grand Canyon hiker knows, getting in is the easy part. On the hike out, along the Bright Angel Trail, the boys slowed to a snail's pace. Every time they looked at the rim far, far above, they might as well have been contemplating the moon. Tate needed more superhero-stories-per-mile than usual. But their little legs kept churning away. Over two days, we inched our way upward, and they started hiking stronger as the inner gorge receded below. And thanks to backpacking, we experienced another parenting moment that's hard to beat: when your kids have every right to complain, but don't.
We were nearly at the top when we passed an older hiker, perhaps in this 60s, bent under a heavy load, resting beside the trail. "How much farther do you think it is?" he asked as we passed.
"Looks like we're about halfway," Milo responded, without hesitation.
I couldn't have been more proud.