Test Kitchen: Coffee
We perked more than 100 caffeinated cups to find the best trail-brewtechnique. Here's how to choose your method, gear, and grounds.
Heading out the door? Read this article on the new Outside+ app available now on iOS devices for members! Download the app.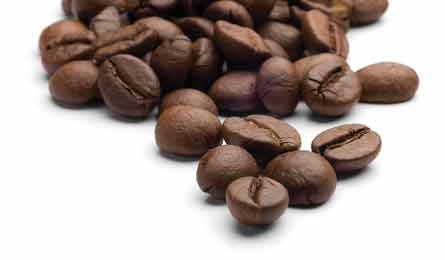 (Photo by: iStock Photo/P1Images)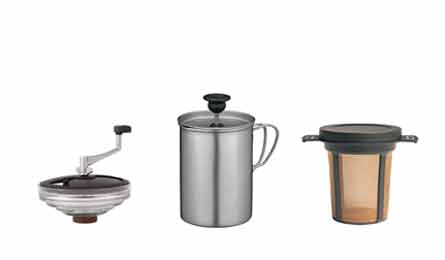 Coffee Grinder, Cafe Press, Coffee/Tea Filter (Photo by: Andrew Bydlon)
Technique: Make a perfect cup of joe.
Cowboy
Best for: Ultralighters and groups
Convenience: 4 out of 5 stars Taste: 3 out of 5 stars
Grind: Medium; grains sink better.
Brew it: Remove boiling water from heat and add coffee, stirring to saturate grounds. Cover, and wait three minutes. Lift the pot's lid and firmly rap its side with a spoon to break the liquid's surface tension and sink floating particles. (For info on other grind-dropping techniques, see backpacker.com/cowboycup). Serve when the coffee has settled (30 to 60 seconds). Avoid stirring up grounds in the pot's base.
Tip: Use a medium or light roast. Some dark roasts are parched, which makes beans and grounds more buoyant.
Tasting notes: A gritty, full-bodied brew.
French press
Best for: Weekend-warrior connoisseurs
Convenience: 2 out of 5 stars Taste: 5 out of 5 stars
Grind: Coarse; finer grinds clog the filter (and muddy the finished brew).
Brew it: Measure coffee into a French press carafe. Add hot water and cover the pitcher loosely to preserve heat (don't depress the filter). Wait four minutes, then remove the lid and stir briskly three to six times before replacing it. Firmly grasp the carafe with one hand and slowly push the filter to the bottom.
Tip: Decant all of the coffee into mugs immediately; it will turn bitter if it continues steeping with the spent grounds.
Tasting notes: Complex aromatics and robust flavor in a smooth-drinking cup.
Filter
Best for: Low-fuss caffeine addicts
Convenience: 3 out of 5 stars Taste: 4 out of 5 stars
Grind: Fine; small granules impart full flavor despite quick percolating.
Brew it: Loosely deposit dry grounds in your filter and position it atop a wide-mouth mug, taking care to ensure that it won't tip. Slowly pour hot water into the filter cup, gently shaking it to saturate the grounds evenly. Coffee is ready when the water finishes draining.
Tip: Use a flat-bottom mesh filter, which provides more even extraction and makes a richer cup than paper filters and cone-shaped models.
Tasting notes: The rich mouthfeel complements the low-acid brightness.
Tested: Water Temp
Brewing the perfect cup isn't all about the beans. The ideal temperature for extracting coffee's flavors—without leeching bitterness—is between 195℉ and 205℉.
If you're camped at sea level, where water boils at 212℉, let bubbling water rest for a minute before adding it to grounds. If you're brewing at elevations between 3,500 and 9,000 feet, you can pour boiling water straight into your filter or press.
Above 9,000 feet? Leave your coffee kit at home and bring a quality instant instead. At that elevation, water's boiling temp is below 195℉, so it never gets hot enough to extract subtle flavors.
GEAR: Choose camp-friendly brewing tools.
GSI's JavaGrind Coffee Grinder
Fact: Beans start spoiling the minute they're ground. Mill on the spot with this handheld tool. The ceramic burr evenly grinds textures suitable for any brew. ($25; 11.2 oz.; gsioutdoors.com)
Snow Peak's Titanium Café Press
This indestructible carafe and plunger combo brews three gourmet cups at a time and doubles as a produce protector in your pack. ($53; 6.3 oz.; snowpeak.com)
MSR's Mugmate Coffee/Tea Filter
Superfine gold mesh is easy to clean, reusable, and filters grinds without tainting flavor. ($17; 1 oz.; cascadedesigns.com)
Starbucks Via
With a superfine grind that dissolves in your cup (instead of dehydrated crystals), Via outperforms other instants we tried for taste and weight. Downside: Cost. ($10; 12 servings; starbucks.com)