Survival Lab Knife Test–The Final Cut
We test to find the toughest, most versatile, best survival knife.
Heading out the door? Read this article on the new Outside+ app available now on iOS devices for members! Download the app.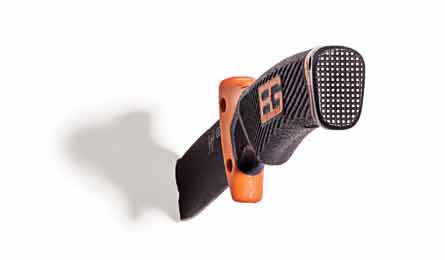 Gerber Bear Grylls Ultimate Fine Edge (Photo by: Ben Fullerton)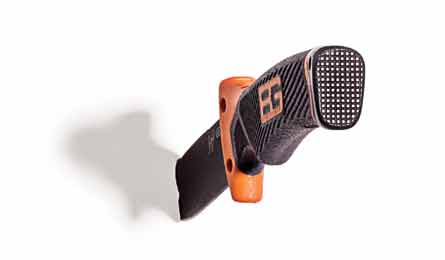 Gerber Bear Grylls Ultimate Fine Edge (Photo by: Ben Fullerton)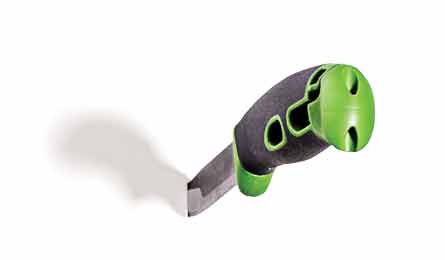 Light My Fire Swedish FireKnife (Photo by: Ben Fullerton)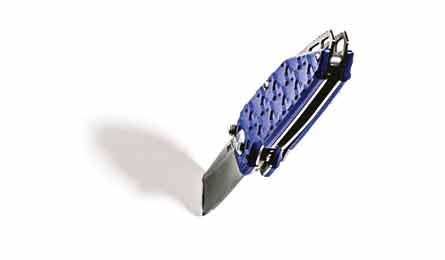 Tec X Inceptra (Photo by: Ben Fullerton)
Best Survival Knife Test Results
Gerber Bear Grylls Ultimate Fine Edge: BURLIEST
Power: This bruiser chopped through knots in a cedar log like they were cardboard, and the Rambo-worthy blade set our wood-splitting speed record on a four-inch-thick log: 30 seconds.
Precision: Drilling with the wide tip made an acceptable firebow hole. A thick spine and solid balance enabled smooth two-handed maneuvering for detail work like carving tent stakes.
Verdict: There's a reason the Ultimate is the best-selling knife in the world. This version has a smooth edge and thicker-than-average blade made with high-carbon stainless steel that hacked wood like an axe. The scary-sharp edge easily filleted a trout after days of heavy use. Bonus: Extras include a whistle, sharpener, and firesteel. Bummer: Bulk and weight.
$62; blade: 4.75 in., 8.5 oz., sheath: 5.3 oz.; gerbergear.com
Light My Fire Swedish FireKnife: DO-IT-ALL
Power: Slight and light, this knife made short work of prying pencil-thin kindling from a log, and the petite blade surprised by splitting a hunk of 3.5-inch wood in four minutes flat.
Precision: Drilling perfect holes and v-notches for firebows with this easy-wielding blade is like slicing paper with an X-ACTO knife. A precise, fine edge skinned sticks like onions.
Verdict: Survival instructor Tony Nester favors Swedish models like this for good reason: Superior edge hold, a versatile shape, and superb control (credit the plush handle) ease carving. It's also ultralight, and the butt hides a magnesium firestarter that shoots sparks like a rocket. Bonus: An easy-sharpening grind angle. Bummer: Excessive blade flex.
$30; blade: 3.75 in., 2.9 oz., sheath: 1.1 oz.; lightmyfire.com
Tec X Inceptra: BEST FOLD-UP
Power: This tough stainless steel blade (with aluminum handle) is the rare folder that won't crumple when you hit it with a hammer to split logs. The ratchet-tight lock didn't buckle when torqued.
Precision: A thinner tip (due to the dramatic drop point) drilled holes better than the Gerber, but this knife shined at making feather sticks (below). The superior edge easily shaved a branch into quick-ignite ribbons.
Verdict: Simple, sharp, secure: This blade nails all three. A hollow core saves weight, the blade stayed hair-splitting through our tests, and the anodized grip looks uncomfortable but actually nestles into the palm, thanks to a perfectly placed finger notch. Bonus: It's more compact than a straight blade, without shorting strength. Bummer: Only two extras: a pocket clip and a landfill-worthy hanger.
$25; blade: 3.5 in., 4.3 oz. (no sheath); tecx.com
Runners-up Read reviews of other blades—including our favorite ultralight, ultraluxe, and multitool knives Click Here.
Knife Skills: Sharpen up
Blade too dull to skin a squirrel? Need to start a fire? Use these techniques to keep an edge and make tinder.
NOVICE
Skill: Sharpening in the field
Worth it? Yes. A dull knife blade is both ineffective and dangerous.
Difficulty: You'll master it in two tries.
Do it: No whetstone? Find a flat, smooth, palm-size rock (river stones are ideal) and lubricate it with spit. Set your blade at a 15-degree angle and apply gentle pressure while passing the sharp part along the stone, blade first, in a smooth arc (about 20 times per side). Focus on the middle third of the blade.
Perfect it: Remove burs by pulling the knife (flat, spine first) across your pant leg.
PRO
Skill: Carve a feather stick
Worth it? Yes, for light-up-anywhere tinder
Difficulty: Awkward at first, but the learning curve rewards quickly.
Do it: Kneel and brace an arm-length stick of juniper or pine between your chest and the ground. Grab your knife with both hands and push the blade along the stick in long strokes, peeling curls of wood. Rotate the stick so tendrils collect on all sides and whittle progressively finer slivers. Ideal spark-catchers are paper-thin.
Perfect it: Keep a shallow angle and tilt the point up or down to spiral curls precisely.
Take a Seat Standing while carving is a recipe for a bloody cut. Safer: Sit, rest your arm on your knee, and aim the blade away from your body.

DO NOT TRY THIS AT HOME Learn about the rationale we used to find the best survival knife, and watch Ted go ninja on logs, slice up a backcountry meal, and show serious lapses in judgment Click Here.