Summer Camping Secrets: On The Trail
Once you've left camp, these tips and techniques will make your on-trail miles more enjoyable.
Heading out the door? Read this article on the new Outside+ app available now on iOS devices for members! Download the app.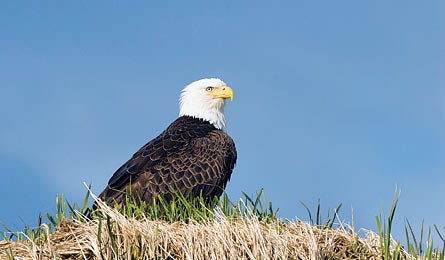 Bald Eagle (Michael Francis)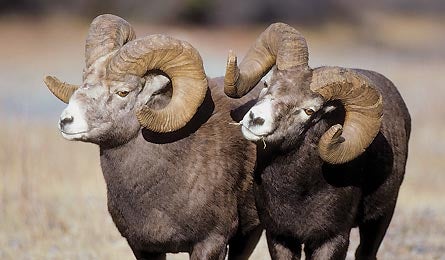 Bighorn Sheep (Michael Francis)
SEE MORE…

>> Moose In summer, scope for these behemoths (they can tower six feet tall and weigh more than 1,200 pounds) at dawn and dusk in marshes, willow ponds, and rivers. Approach them from downwind, but stay at least 50 yards away—moose will charge humans who seem to pose a threat. Hot spot Grand Teton National Park, on the String Lake Trail

>> Bald eagles You can see them throughout North America in any season, but in May and June, parents hang out near the aerie, caring for eaglets. Spot the five-foot-wide stick nests atop trees and cliffs near rivers and lakes. Hot spot Canoe or kayak any of the lakes in Voyageurs National Park (p. 98).

>> Bighorn sheep Find them on steep, rocky slopes in the mountains and high deserts of the Rockies and Southwest. Scan for white rumps standing out from the rocks. You'll find ewes with lambs April through June. In fall, listen for rams butting heads during the rut. Hot spot Glacier National Park, on the Highline Trail
LIFT A HEAVY PACK

Grab a shoulder strap with one hand and the pack's grab loop (the webbing loop located just below the top lid) with the other, then heave the pack up onto one bent knee. Next, slide an arm through one shoulder strap. Swing the pack across your back as you straighten up—lifting with your legs—and thread your other arm through. Option #2 Prop up the pack on a log or boulder and slither in.



STAY DRY

Reach for the raingear (duh), but wear it right: Open the pit zips and pockets to prevent overheating, which will make you sweat and feel clammy. Keep your jacket's hood out of your eyes by pulling it over a billed cap, and wear gaiters under your rain paints to prevent drips into your boot cuff.
CURE ACHY KNEES

First line of defense: Put your pack on a diet. "Every pound on your back puts seven pounds of pressure on your knee joints when ascending," says Ryan Hutchins, a Wyoming-based NOLS instructor. Also, use poles, which reduce impact on your knees (especially on the downhill). Too late? Pop an ibuprofen, take smaller steps, and when you hit camp, fill a bladder with cold water and "ice" them.
SAFELY APPLY DEET TO YOUR FACE

To cut exposure to your mouth and eyes, spritz a cotton bandanna (deet melts synthetics), and tie it around your neck.
HIKE FARTHER

Save energy on steep slopes by using the rest step: With each stride, lock your back knee and rest all of your weight on that leg for a moment. Step up, letting momentum swing the back leg forward. Also, use pressure breathing: Exhale forcefully through pursed lips, as if blowing out a candle; this allows more air to enter when you inhale.
AVOID SUNBURN

Pick an SPF (30+) with avobenzone, zinc oxide, or titanium dioxide. These block both UV-A and UV-B rays. Reapply every two hours and after swimming or sweating madly. Sun-scorched? Wear a wide-brimmed hat and, throwing fashion to the wind, hang a shirt from your pack to shade your legs.
RIDE THROUGH A PARK

Forget windshield tourism: Hop on a bike and cruise the roads, which some parks restrict to cyclists during shoulder seasons and off-hours. Many vendors also rent bikes, like Yosemite Lodge ($25.20 per day). Check with rangers for specific opening and closing dates. Here are a few good options:

>> At Yellowstone, riders have free rein mid-March to mid-April and in November when roads are closed.

>> During summer in the Smokies, the über-popular Cades Cove Road becomes a cyclist-only loop twice a week before 10 a.m.

>> Yosemite's (p. 53) Tioga Road around May
CLIMB A FOURTEENER

Acclimate by spending one to two nights near the trailhead (often around 9,000 feet high). Sip water regularly (four to five liters a day) so your pee stays almost clear. Ascend at a conversational pace; take a 10-minute break every hour. If you start feeling acute mountain sickness (headache, nausea), slow your ascent or descend, and take ibuprofen.
PORTAGE A CANOE

Have two people lift up the boat, but just one person carry it, says Tyler Fish, Outward Bound guide in the Boundary Waters: Most canoes weigh about 70 pounds, and two people beneath one can easily knock each other off balance.



REMOVE A TICK

After hiking in woods or tall grasses, check your body (particularly ankles, groin, pits, and neck) for these sesame seed-size bloodsuckers. Found one? Grasp the tick's body right behind its head with tweezers and pull straight out gently but firmly. The tick will tire and release its mouthparts. Wipe the bite with antiseptic.