Summer Camping Secrets: In Camp
From picking the right campsite to stargazing like a pro, these summer camping tips will ensure a restful overnight.
Heading out the door? Read this article on the new Outside+ app available now on iOS devices for members! Download the app.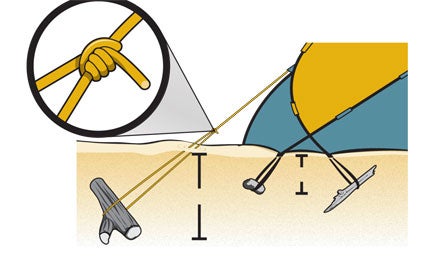 (Illustration by Peter Sucheski)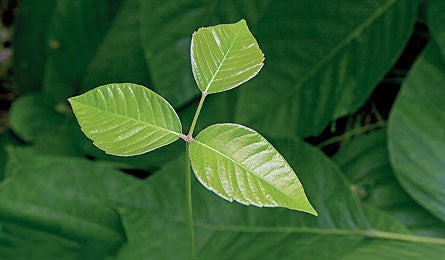 Poison Ivy (Tim Seaver)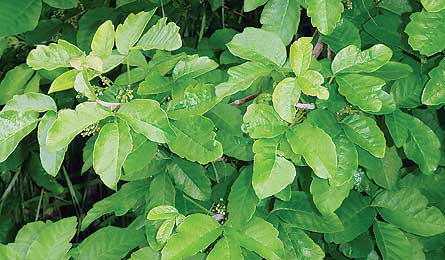 Poison Oak (Donna Ikenberry)
PICK THE RIGHT CAMPSITE

>> Opt for established sites to concentrate impact. Otherwise, camp 200 feet (about 70 steps) from lakes or streams and on a durable surface, such as a gravel bar, slickrock, sandy beach, or forest duff, instead of delicate grassy meadows or alpine tundra,

>> Look for widowmakers. Pitching your tent beneath old, dead trees or large, suspended branches can lead to a nasty wake-up call in high winds. Also, avoid rockfall zones, such as beneath steep, loose cliffs.

>> Avoid depressions where rain might pool. Pitch on flat, well-draining surfaces.

>> Don't set up shop near a patch of poison ivy, oak, or sumac. If you do contact them, you have about 10 minutes to remove the urushiol (an oily resin on the leaves and stems) before it binds to your skin, triggering an itchy rash a few days to a week later. Wash the affected area with biodegradable soap and lukewarm water, then wipe with an alcohol pad to get every last bit. When you get home, thoroughly clean everything. Urushiol can linger on tents, boots, clothing, and even your dog for up to a year after initial exposure.
SLEEP ON THE BEACH

Choose a spot well above the high-tide line, advises Hutchins: It's usually marked by a line of washed-up debris. Then securely pitch your tent. "I tie the guylines around big rocks at every corner of my shelter," he says. You can also tie them to sand-filled stuffsacks or sturdy sticks. Bury them about two feet down at every corner. Secure guylines with a tautline hitch well above the sand.
STARGAZE LIKE A PRO

>> Choose an area away from smog and lights and with low humidity (dry air is more stable and transmits starlight better), such as Big Bend National Park and Natural Bridges National Monument.

>> Go on the night of a new moon (June 1, July 30, and August 29 in 2011).
FIX A SLUGGISH WATER FILTER

If the filter isn't drawing water at all, turn the housing upside down and try pumping again, which often does the trick. If that doesn't work, it could be a dry or cracked O-ring. Remove the rubber O-ring from the piston, wipe it clean with a soft cloth, and lubricate it with saliva, lip balm, or silicone grease to restore the seal.

UNSNAG A TENT ZIPPER

Work the fabric out by pulling it gently parallel to the slider. No luck? Try to move the slider up and down over the snagged area. If damaged zipper coils are the culprit, carefully bend the coils back into shape with the sharp end of a safety pin from your first-aid kit.
MAKE A CAMPFIRE FEEL HOTTER

Hang a space blanket from two trees or trekking poles behind one side of the blaze. It will reflect heat back. Keep the blanket a few feet away from flames to prevent its catching fire.
PREVENT TENT CONDENSATION

You can't stop breathing, so reduce moisture buildup by maximizing airflow: Crack open one door or window at the top and another at the bottom. Hot air will rise out of the upper vent, and cool air will be drawn into the lower one, explains Nick Cross, a NOLS guide out of Tucson, Arizona. You also can reduce drips by skipping the rainfly on clear-sky nights.
HAVE A PLAN B

Freak weather can wreak havoc on your vacation. Research backup options—e.g. trails in a peak's rain shadow in case of a weeklong storm. Also, a few days before your trip, ask rangers about current conditions, such as snow levels or water availability.
PLAN SMART

Avoid these mistakes

1. Forgotten gear It's easy to do, even for veteran hikers, so print out a packing list from backpacker.com/checklists and tick items off as you load them.

2. Painful blisters Break in stiff boots with at least 40 miles of dayhikes before big trips. Keep feet dry with wicking wool or synthetic socks. Stop the second you feel a hot spot and cover it with moleskin, duct tape, petroleum jelly, or Bodyglide (lip balm works in a pinch).

3. Wrong partner Hiking with someone who doesn't share your goals, skill level, and attitude can cause conflict. Talk honestly pre-trip to confirm compatibility.
Score a permit

Asleep at the wheel when reservations for primo campsites were up for grabs? It doesn't mean you have to stay home:

>> Call the backcountry office. Many parks reserve a percentage of campsites and/or trailhead permits for walk-ins. Find out how they're handed out (usually the same day your trip starts), and show up early, with a preferred route and alternatives at the ready.

>> Start at a remote trailhead. At parks with quotas for popular trails—like Yosemite's Tuolumne Meadows routes to Half Dome—start from a more distant trailhead (like Saddlebag Lake, in Inyo National Forest, for Half Dome) and take an extra day to reach your location.

>> Rough it. Instead of camping in a designated spot, backpack into a dispersed camping zone (where you're free to choose your own site within the zone's boundaries), which casual campers tend to overlook.