Summer Camping Secrets: At the Stove
Bake without an oven! Build your own spice kit! A DIY guide to dining while summer camping.
Heading out the door? Read this article on the new Outside+ app available now on iOS devices for members! Download the app.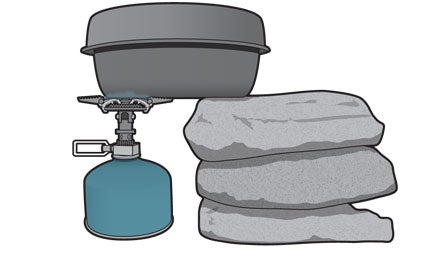 (Illustration by Peter Suckeski)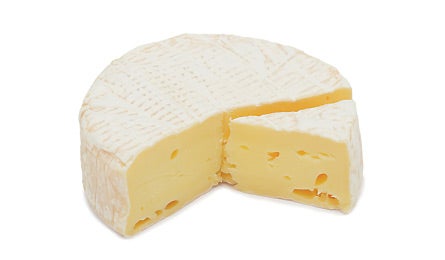 (Photo by iStock)
BAKE WITHOUT AN OVEN

Pizza in the backcountry? Yes, please. Lugging a dutch oven? No thanks. NOLS teaches the "around the clock" method: Stack a few rocks near your stove, at the level of the burner. Place the covered pot, filled with dough, on the burner, but position it so one quarter of it is over a low flame and three quarters rest on the rocks. Every two to three minutes, give the pot a quarter turn so a new section is above the flame. Keep rotating the pot until your baked goods are done. This ensures even baking and prevents burning.
FUEL UP

A good rule of thumb for summer is 3,500 calories per day. Choose calorie-dense items (cheese, bars, peanut butter) so your food weighs no more than 2 lbs./person/day. Store each day's meals in separate zip-top bags.
FANCY UP YOUR S'MORES

Pretrip, soak marshmallows in cognac for five to 10 seconds, then double-bag them in zip-top bags (you can also soak them in camp). Roast the treats over a campfire, then combine them with dark chocolate and two shortbread cookies.
ENJOY A HOT LUNCH

At breakfast, fill a thermos with boiling water. At lunch, pour it on your dried meal of choice (like a hearty soup or macaroni). We like the Primus Vacuum Bottle ($18-$32, primuscamping.com).
GOT CHEESE

Choose the right one and make it last.

>> Hard and semi-hard varieties—Parmesan, Swiss, Gouda, Jarlsberg—last about a week in moderate temps.

>> Softer, oilier cheeses, like cheddar and Brie, only last a few days.

>> Waxed bricks or wheels keep better than blocks or slices.

>> Direct sun and warm temperatures speed spoilage. Packing the cheese in two zip-top bags and stashing it near the center of your pack will insulate it on hot days.
DINE ON WILD BERRY COMPOTE

Lucky enough to stumble upon a huckleberry, raspberry, or blueberry patch? If so, throw a few handfuls into an empty bottle, and generously sprinkle on sugar. Let sit overnight so a syrup forms, then heat on medium heat in a pot until berries begin breaking up (one to two minutes). Serve on flapjacks or oatmeal.



BUILD YOUR OWN SPICE KIT

A dash of spice can make bland glop divine. Pack them in tiny plastic bottles, like Nalgene's Multipurpose Vial Kit ($8, nalgene-outdoor.com). Avoid zip-top bags, as spices clog zippers. We like: onion powder, garlic, Parmesan, oregano, dried mushrooms, cinnamon, sun-dried tomato, cayenne, salt, and pepper.
MY 11th ESSENTIAL

Ryan Hutchins Dental floss

and needle

Used for Sewing ripped pack straps, tents, and trail runners

Tim Kish Cotton washcloth

Used for Mopping up sweat, tent condensation, and spills

Nick Cross Light, long-sleeved wind shirt

Used for Protection from gusts, sun, and bugs

Tyler Fish Games (mini dice and photocopied Yahtzee scorecard, Scrabble tiles, cards)

Used for Rainy, tent-bound nights

Cary Rhodes, Appalachian Mountain Club education programs coordinator Cotton T-shirt

Used for PJs; dipping in rivers, then wearing on hot days—cotton dries slowly, prolonging the cooling effect.