Skip the Christmas Tree Farm and Go to the Forest Instead
Hiking for your tree is your family's new favorite holiday tradition.
Heading out the door? Read this article on the new Outside+ app available now on iOS devices for members! Download the app.
Christmas tree season is upon us, and finding and decorating the perfect evergreen is a beloved tradition for many. You could go pick one out of a parking lot, but let's be honest: You're a hiker, and this is a great excuse to spend some time in the woods.
Before bringing a little taste of nature into your home, consider an immersive experience: cutting down your own tree is a festive activity for the whole family, and can feel like a novel adventure compared to visiting a local farm. Before you head to your favorite trail armed with a hatchet, know that cutting down a tree isn't allowed just anywhere. Dozens of national forests across the country offer Christmas tree permits. Here's how to plan your own tree-hunting hike. 
Where to Cut Down a Christmas Tree
No, you can't just wander into any woods and chop down the first sapling that catches your fancy. Make sure to follow all local regulations when hunting for festive decorations. Dozens of national forests in the following states allow visitors with a permit to cut down a tree:
Arizona

California

Colorado

Florida 

Idaho

Illinois

Michigan

Minnesota

Montana

Nebraska

Nevada

New Hampshire

New Mexico

Oregon

South Dakota

Utah

Vermont

Washington

West Virginia

Wisconsin

Wyoming
Each forest that permits Christmas tree harvesting enforces specific guidelines. For a full list of national forests and guidelines for your destination, visit recreation.gov.
Your state not listed? You can still forage for festive decorations–gather fallen pine boughs (don't cut them from living trees), pine cones, and twigs for DIY garlands and wreaths. Just be sure to follow foraging etiquette and LNT guidelines. 
Securing Permits
National Forest Christmas tree permits range from about $5 to $20 per tree and allow harvesting within designated zones. Purchase your permit on recreation.gov, and read up on exactly what it allows. Restrictions vary from place to place. Christmas tree permits often specify the following:
Where you can harvest within the forest

A minimum and maximum tree size

Select species you're permitted to cut

Proper harvesting techniques

Location-specific tips for a successful outing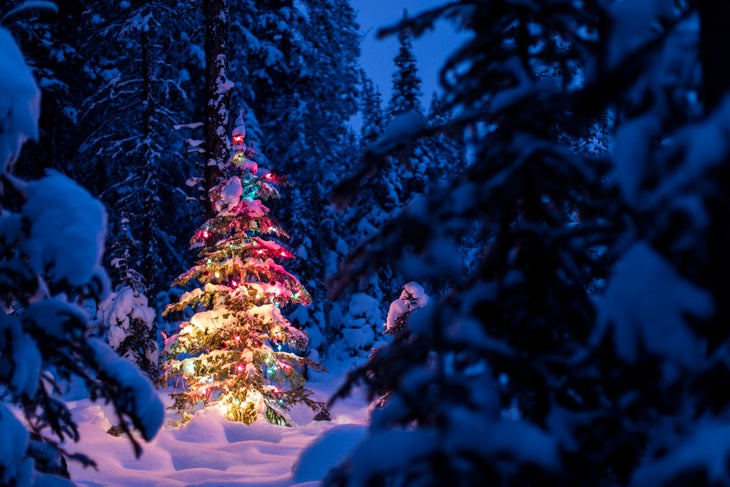 Picking the Perfect Tree
A naturally growing tree might not look as full or symmetric as one you pick up from the farm, but finding it yourself makes it all the more special. Turn your tree-hunting excursion into a hike, scoping out options along the way. The Forest Service recommends cutting from clusters of trees to allow the remaining ones more space to grow. Leave isolated trees to continue growing. 
Remember, a tree will look smaller in the forest than in your living room. Many forests restrict cutting to trees of a certain height (no more than 10 or 15 feet in some places). Measure your space before leaving home, and measure your tree before cutting it. 
Your permit likely specifies what type of tree you're allowed to take home with you. Firs, pines, spruces, and cedars all make good Christmas trees–just make sure you know how to identify the species allowed in the forest you're visiting. In general, it's not permitted to cut down certain hardwoods like aspens and oaks. Check your permit for more information.
Tools for the Job
Your average dayhiking kit won't cut it for a Christmas tree excursion. In addition to the 10 essentials, pack the following: 
A copy of your permit 

Tape measure

Hand saw

Rope or ratchet straps for securing the tree to your car 

Protective gloves (a pair you don't mind getting sap on)

Optional: a sled (a pulk, or your kid's plastic sled will do) for carrying the tree to your car, pruning shears, an empty sack for collecting additional natural decorations, and a tarp for wrapping your tree for transportation 
Family Fun 
Holiday outings can go from idyllic to stressful or even dangerous when it's cold outside. Prepare correctly, and your tree hunt will be a memory the whole family looks back on fondly for years. Dress appropriately. Bundle up in warm layers, waterproof boots, hat, and gloves. Don't plan to hike too far—you will have to carry a tree back with you, after all. Want to make it really special? Bring a picnic. Up the festive factor by packing your family's favorite holiday treats (don't forget the hot chocolate). Fun food will help your tree hike feel like an occasion whether or not you find the perfect tree.