Seeking Solitude While Car Camping? Here's How to Find it
Use this strategy to escape the crowds, without reservations.
Photo: Christian Schrader
Heading out the door? Read this article on the new Outside+ app available now on iOS devices for members! Download the app.
If last summer taught us anything, the upcoming hiking season is going to be a crowded one. A host of national parks, other federally- and state-managed lands, and campgrounds both public and private are preparing for an influx of hikers by implementing reservation systems and limiting the number of visitors at any one time. 
Overall, these systems are a good thing: They help preserve the wild places we love by mitigating overuse. But they do make it harder to find a place to pitch your tent, especially for car campers. Thankfully, the United States—especially the western half of the country—is blanketed by federal public lands that offer scenic, (relatively) easily accessible, and free campsites if you're willing to do some research and exploring to get to them. 
To keep things simple, let's focus on the two most common designations of public land that you'll encounter: areas managed by either the Bureau of Land Management (BLM land) or the Forest Service (national forests). Both BLM and forest service lands are expansive, and both are largely amenable to car camping without the need for you to post up in a designated (read: crowded and possibly reservation-reliant) campground.
Generally, if you can find a road in one of those land designations that's not within an area where motorized vehicles are forbidden—steer clear of designated wilderness areas, for example—you can camp alongside it.  
Take, for example, this swath of land west of Salida, Colorado, that's near Tabeguache Peak and Mt. Shavano, two 14,000-foot mountains. This land lies within the boundaries of San Isabel National Forest, but is outside the Collegiate Peaks Wilderness to the north. If you wanted to car camp and make an attempt at Shavano and Tabeguache, posting up on a forest road nearby would make an ideal basecamp.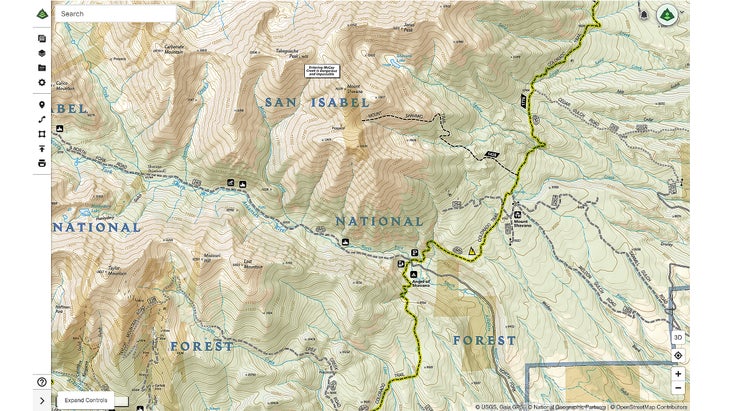 On the right-hand side of the image, in the foothills east of the peaks, you'll see a number of parallel dashed lines; these are Forest Service roads that are open to motorized vehicles. (Note: Maps usually do not indicate the condition of a road; check in with the local ranger office to ask whether a road is only suitable for high-clearance vehicles or seasonally impassable.) Look at Sawmill Gulch Road, Weldon Gulch Road, Cedar Gulch Road, and North Fork Road, which heads further into the mountains. Each of those are open for dispersed camping—per Forest Service regulations, make sure your site is 150 feet away from the road and 100 feet from any water source—and connect to hiking trails that will take you into the alpine.
Keep Leave No Trace guidelines in mind when you camp: Look for a flat, previously-impacted spot, and don't built new fire rings (or light fires at all when restrictions are in place). Then all you have to do is set up, kick back, and revel in how easy it was to escape the crowds.