Romance Your Outdoor Valentine With a Backcountry Picnic
Nothing says "I love you" like charcuterie and mountain views.
Photo: Maskot / Maskot via Getty Images
Heading out the door? Read this article on the new Outside+ app available now on iOS devices for members! Download the app.
My boyfriend and I had only been dating for a couple of months when our first Valentine's Day rolled around. I wasn't expecting much in the way of mainstream, romantic gestures. Our first dates, after all, had consisted of mountain bike rides and ski films, not sit-down dinners and fancy clothes. So when he said he had a plan for the holiday, I wasn't sure what to think. And when that plan turned out to be a ski-powered picnic of freshly-dipped chocolate raspberries and marshmallows beneath the snow-capped peaks of Rocky Mountain National Park, I knew he was a keeper.
A backcountry picnic has become our Valentine's tradition in the years since. While some have been more successful than others (the weather doesn't always cooperate), our little ritual has given me a new appreciation for what I once considered a cheesy holiday. (Now, it's cheesy in the best way. As in, the charcuterie way.) Backcountry skiing isn't especially novel for us—it's something we do together almost every weekend. But when we pick a scenic destination, take the time to shop for special treats, and indulge in a long break to snack and enjoy one another's company, it makes for a memorable outing. 
Want to plan your own Valentine's excursion? Here's how to succeed.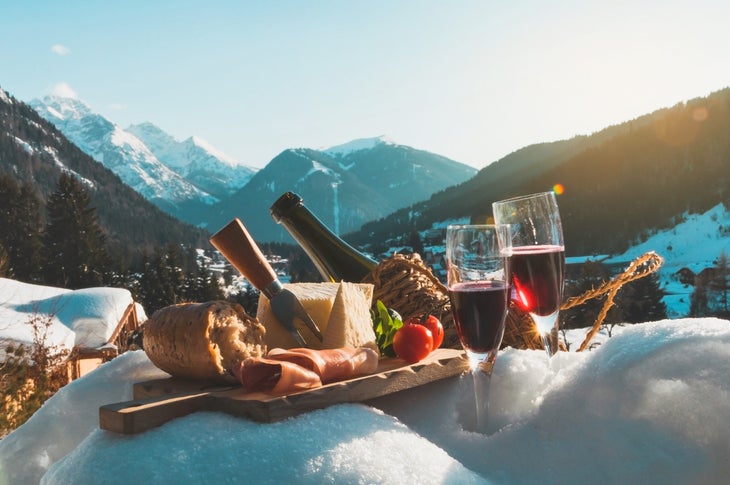 Pick the right activity 
It's still winter, which can make picnicking challenging—or extra rewarding, depending on how you look at it. That first outing a few years ago was actually my first ski tour, and I gotta say, it was made a lot more fun by the fact that I got to stop for melty chocolate and juice pouches halfway through. Valentine's Day may or may not be the right time to try a new activity—you know your partner best. Whether you choose to snowshoe, ski, or hike, keep it low-key, low mileage, and with maximal payoff. Today is about enjoying each other's company, not suffering. 
Scope out a spot
Good views aren't the only criteria for a romantic picnic. Scour the map for a spot flat enough to get comfy, with features like protection from the wind. I'm speaking from experience here: It's hard to melt fondue when violent gusts keep blowing out your stove and biting at your fingers. With some due diligence, you can reduce your chances of bailing to eat frozen cheese in the car with the heat blasting. 
Pack the right stuff
A few extra supplies will help take your picnic to the next level. This isn't the time to go ultralight: Prioritize comfort with a foam pad for sitting, a blanket, and extra layers. Thin liner gloves afford the dexterity you'll need to serve up snacks while keeping your fingers warm. Don't forget a knife to slice up salami—there's nothing romantic about taking bites straight off the log (who, me?). 
Ball out on snacks
This is the fun part. You're not hiking far, so load up with all the luxury items you'd never take backpacking. A bottle of wine? Why not. A full-size baguette and a wheel of brie? Now we're talking. Here's the mini cast iron fondue pot that kicked off our tradition a few years ago. It fits on most canister stoves and is great for melting chocolate. This year, we'll be testing out a pair of portable candle-heated raclette grills. An insulated mug of hot tea or chocolate is always a winner in cold conditions. And the element of surprise rarely fails: Pack in tacos from your date's favorite spot (and a stove to reheat them), and they'll love you forever.