Prof. Hike: Prevent Civil War on the Trail
Don't let different hiking speeds tear your group apart.
Heading out the door? Read this article on the new Outside+ app available now on iOS devices for members! Download the app.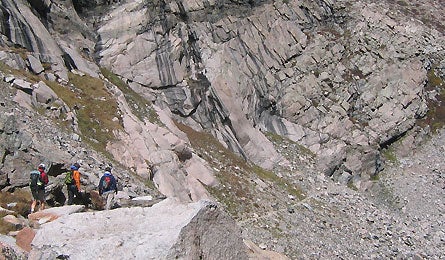 Groups who hike together, finish together. (Jason Stevenson)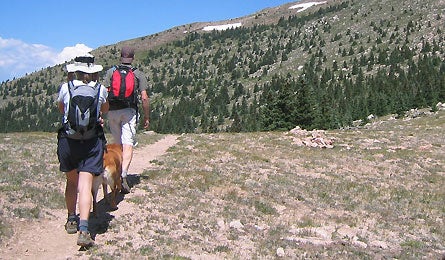 Groups who hike together, finish together. (Jason Stevenson)

Here's a common problem. You're on a group hike when some people want to hike faster and others are struggling to keep up. What's the solution?
Split up? Not recommended, especially if you're dealing with novice hikers and confusing trail junctions. Dividing a group skyrockets the chance that someone will end up lost or injured. Don't believe me? Type the query lost hikers "split up" into Google and start reading the tragic results.
So if breaking up isn't an option, how do you keep the racers and stragglers together?
Trust me—herding feral cats with social anxiety disorders is often easier.
Nonetheless, here are five steps that often work.
1) Notice the problem

Unless you're marching in formation, a line of hikers will naturally spread out. In most cases they will separate into distinctive "conversation clumps." This isn't a problem as long as everyone remains in contact. That means maintaining visual or audible contact with the person or groups ahead and behind you. Occasional lapses are fine, as long as the gaps between segments don't get too big. Individual stragglers, however, as well as extended periods of no contact, are a cause for worry. Rules like stopping at all trail junctions and signposts can highlight these problems before someone gets confused, hurt, or lost.
2) Identify the source

Slow-moving hikers are the most frequent cause of pace problems. But sometimes the flashpoint is someone sprinting to the finish line. I encountered that scenario while leading a dayhike outside Santa Fe, New Mexico.After this individual complained about how slow the group was moving, I recommended that he finish the hike independently. Yes, that violated the "Don't divide the group" rule. But given the ease and popularity of the trail, and his experience and fitness, I felt this solution was better than continued complaints. He duly ran to the top of the mountain and back down before the rest of us, moving at an easier clip, made it to the summit.
3) Reduce pack weight

Redistributing gear from slow hikers to faster ones is the best way to boost the overall speed of a group. Unfortunately, most people, including those exhausted and in pain, will resist lightening their packs. Face it: They don't want to be singled out as the weakest link. But reducing their pack by several pounds will help the entire group remain together. To get resistant hikers to comply, suggest that you can pack their gear more comfortably and efficiently. Once you get access to their gear, remove heavy items like food, cooking gear, fuel, and tent parts, and give them to faster hikers. Once their pack is open and disgorged, there's little a disgruntled hiker can do to stop you from cutting weight.


4) Slow the pace

Putting the slowest hikers at the front of the group is another tactic to keep everyone together. Compared to reducing pack loads, people are less likely to resist this move. Just be careful, however, that the lead group includes a good navigator. You don't want them leading the rest of you down a game path instead of the trail, or making a wrong turn. Also, because front-loading the slowpokes will reduce the pace of the group, you might need to recalculate your daily mileage expectations, and even the group's turn-around time.
5) Boost morale

A hiker's pace isn't all muscles and energy. It's also attitude. A discouraged hiker will naturally slow down. Dehydration can fuel pessimistic thoughts, but so can the idea of being left behind. Several years ago I lagged behind the main group during a climb of Colorado's Longs Peak. Each time I finally arrived to the rest stops, the whole group would stand up and resume hiking to leave me alone again. After several hours of hiking solo, my confidence was flat and I ended up not finishing the climb. Of course, if my slower pace had endangered the group (afternoon lightning strikes are a constant threat on Western peaks), their behavior and my decision to turn around would have been appropriate. But racing the clock wasn't an issue on that climb. My failure to summit was partially the result of hiking in a group, but not feeling like I belonged to the group. So besides redistributing weight and slowing the pace, try to boost a struggling hiker's morale. A good attitude can easily increase any person's pace.
If you want more trail leadership tips, check out the Appalachian Mountain Club's Mountain Leadership Handbook. This is the same textbook used by the AMC's Mountain Leadership School, a five-day backcountry training program. Other non-medical training classes are offered by NOLS,The Mountaineers, REI stores, EMS stores, and your local hiking clubs and outdoor retail stores.
What are your tactics to herd hikers? Leave a comment, or send an email to profhike@backpacker.com.
—Jason Stevenson




Jason Stevenson is the author of The Complete Idiot's Guide to Backpacking and Hiking