Why Every Hiker Should Take a Wilderness First Responder Course
Yes, it's time-consuming and expensive. But you don't want to be unprepared when a wilderness emergency strikes.
Photo: Westend61/Westend61 via Getty Images
Heading out the door? Read this article on the new Outside+ app available now on iOS devices for members! Download the app.
Last summer, my girlfriend and I were hiking through a remote part of Big Cypress National Preserve when, after innocently leaning up against a tree, she was swarmed by ants. 
At first she only let out a yelp—ah, ants!—but within minutes, I saw a change in her persona. Hives began to form on her chest, and her neck and face began to swell. We were thirty minutes from the trailhead by foot, and then two hours to civilization by car, with no cell service and no emergency device. I discovered, in that moment, that she was allergic to Benadryl, the only semi-appropriate drug I had in my feeble first aid kit. 
I stood there, scared stiff, wondering what the hell to do. With no other ideas, I put both our lives on the line by embarking on a very high-risk, high-speed evacuation, dangerously weaving through traffic at 20, sometimes 30 miles per hour over the speed limit en route to the hospital. 
It was this situation that inspired me to sign up for a Wilderness First Responder Course with Wilderness Medic. I wasn't prepared to treat an injury beyond a small cut, yet I routinely wander off on multi-mile backpacks, river trips, and ski outings beyond cell service. That needed to change. 
I chose the Wilderness First Responder certification over other course options, such as the more basic Wilderness First Aid, because I wanted to go deeper into the theories of backcountry medical assessment. The course entails a minimum of 70 hours of instruction on managing medical problems in isolated and extreme environments. Wilderness First Responder is a certification that enables you to administer care within the scope of the wilderness, including certain medications, like epinephrine.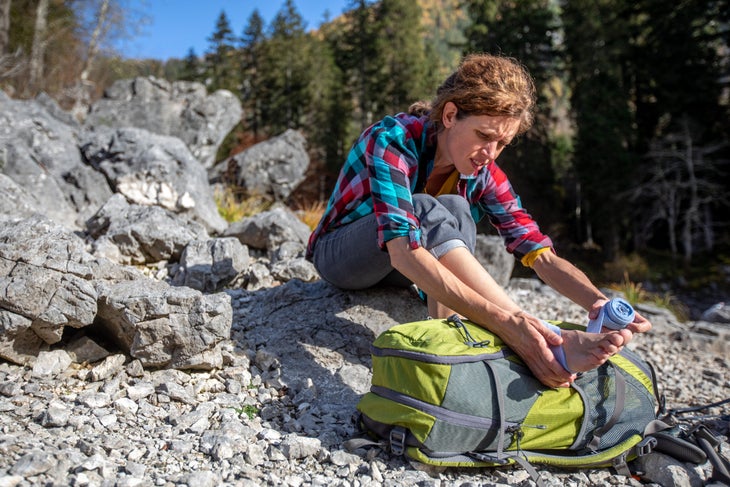 Wilderness Medic in Moab offers a seven-day intensive program that takes place at a campground classroom (Big Bend Group Site). Other courses had more flexible schedules with alternating in-class and field days spread out over multiple weeks, but being out in the wilderness for the whole course appealed to me. 
"The wilderness is our classroom for a reason," said Brad Sablosky, Owner and Instructor at Wilderness Medic. "It simulates real life in the backcountry; you're sandy, cold, hot, whatever the case may be, you don't have to imagine it."
I was nervous in the days leading up to the course; I knew that a lot of what I would learn would be unpleasant. For as long as I can remember, blood, broken bones, and other major injuries have made me uncomfortable. My dad was a homicide detective and my mom a nurse, but apparently a tolerance for gore is not hereditary.
Those fears aside, I knew I made the right decision the moment I pulled up to the campground. The site was adjacent to the Colorado River, with the tight red walls of the canyon billowing above, and my 23 classmates were all fellow adventurers. 
We set up our personal camps and then gathered under the shaded pavilion for the first lecture. The practicality of the course was evident from the moment we opened our textbooks. 
"In a wilderness rescue situation, you are not being quizzed on the ideal hospital or ambulance treatment for the condition you have identified," the first page began. "You are being challenged to come up with a plan that makes sense for the environment in which you are operating."
The core of the curriculum focuses on complications associated with the three critical systems—circulatory, respiratory, and nervous—and the next seven days consisted of alternating outdoor lectures and staged wilderness scenarios. They varied in intensity, but all took place under the red rocks and beside the river. The curriculum is thorough, yet not overly complicated; the whole idea is to teach it in a way that is basic and understandable by everyday adventurers. 
"Our belief is that many of these skills and practices are so simple and elemental that they should really be taught in 5th grade health class," said Sablosky. "Whether you're 18 or 80 years old, this course gives you the risk management skills to take your friends and family on the river or trail, and to go a little bit deeper with confidence."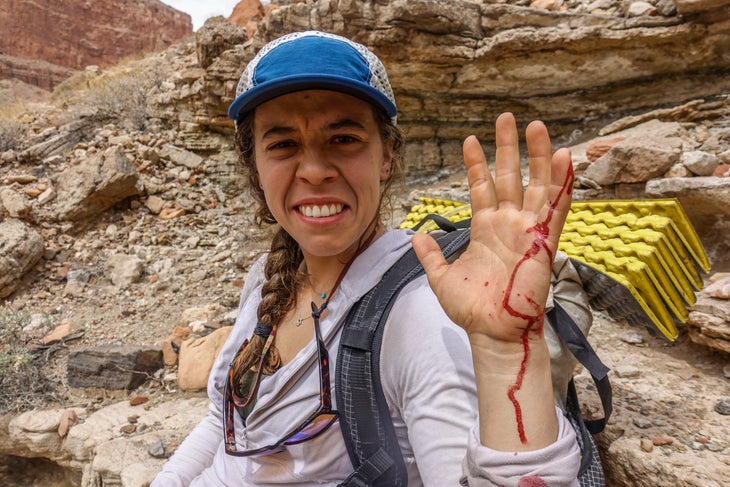 Over the first few days, we practiced scenarios treating cuts and allergic reactions, and by the end of the week, we were dealing with more complicated situations, such as the compound fractures, internal bleeding, and spine injuries commonly found in biking, climbing, and ski and snowboard accidents. In between there were femur fractures, puncture wounds, and head injuries, made all the more real by some impressive makeup and acting (signs about the course are posted at the campground so passersby do not respond to the screaming and/or fake blood). 
The subject matter is serious, but participants are set up to succeed. Everyone in the course passed the final exam (50 questions, multiple choice), and after, we were presented with our credentials.
Better than any credential was the growth I felt inside myself. The course taught me to read situations: the backcountry care you can provide for someone, the situations that warrant a high-risk evacuation, and how to pull it off safely. The more I learned, the more I realized that my fear of blood stemmed from a feeling of helplessness. Driving home, I admittedly still didn't want to see blood, but I was confident that if I did, I'd know how to help. 
"The great thing about [a Wilderness First Responder] class is that you've got an interesting group with diverse backgrounds," Sablosky said. "And because the course takes place in a world-class destination [like Moab], you remember the experience as well as the coursework."