Building a Trail is Hard—and Dangerous—Work. Here's How Crews Stay Safe.
Digging, lifting, and sawing in the hot sun take a toll on the body.
Heading out the door? Read this article on the new Outside+ app available now on iOS devices for members! Download the app.
At the tail end of last summer's west coast heat wave, I ran across a crew from the California Conservation Corps rebuilding a steep section of trail. Wearing yellow hardhats and long sleeves under an oppressive sun, they were lifting boulders with chains, clearing thick brush, and scrambling up a slope with heavy tools. That looks brutal, I thought. Trail work takes an immense toll on the body, with the heat, risk of injury, and long hours of manual labor. As a doctor and wilderness medicine specialist, I wondered how these workers manage all of the physical stress. 
When I got home I asked Matt Moore, a professional trail crew manager for the Appalachian Mountain Club, how trail crews keep themselves safe, healthy, and ready to perform. Moore has been doing trail work for more than 15 years, helping to maintain heavily traveled trails from the AT to Yosemite and Mt. Rainier. 
The teams that Moore manages focus on communication and prevention, keys to success whether you're moving boulders with heavy equipment or just enjoying a weekend hike. 
"Safety is constantly at the front of our mind," he told me.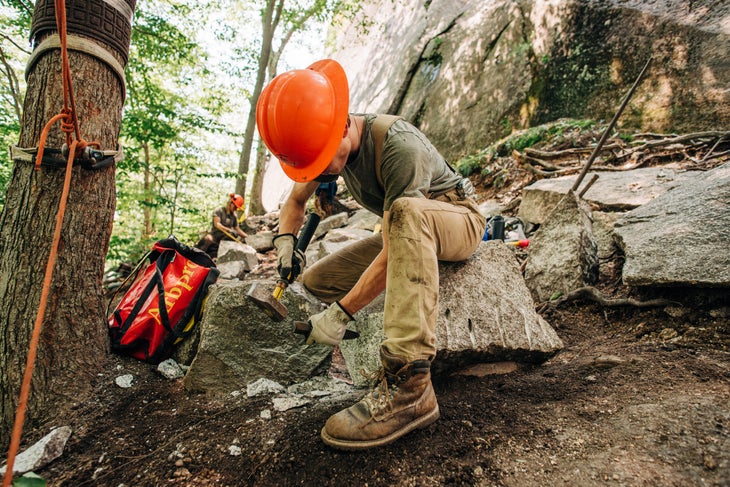 AMC trail crew members are trained in wilderness first aid at a minimum and start their days with stretching and strengthening exercises. Each crew member then has some time to discuss a particular safety issue for the day—maybe a concern about introducing a new tool, or simply a lesson learned, like they didn't drink enough water the day before. 
Trail crews are part hikers and part construction workers, Moore explained, working with heavy equipment in rough terrain. Workers must remain vigilant about occupational hazards like slips and falls, smashed fingers, and the dangers of using power tools in the backcountry. One rule that applies to backpackers and trail builders alike: Keep hands out of the way when using dangerous tools.
Nonetheless, crews primarily struggle with the same concerns as the rest of us: hypothermia, minor trauma, and GI illness from spending time in close quarters (hand sanitizer and hand washing stations solve this problem). The risk of ankle injuries is particularly high. Moore makes a strong case for breaking in your boots before hitting the trail, whether you're on the job or out for a weekend hike. 
Trail workers can also function as impromptu first responders, and crews are well-poised to take part in search and rescue operations. Come summer, AMC has a crew of around 30 that can help with evacuations or SAR operations. Last summer, a team chipped in to help carry out an injured shelter caretaker along a trail in Maine. 
These crews do hard work in rough terrain, in part so the rest of us can enjoy the outdoors safely. Next time you come across all those hardhats while hiking on a scorching summer day, don't forget to say thank you.