How to Treat Injuries From a Bear Attack
Animal attacks are rare, but they do happen. Learning what to do after a run-in with wildlife could teach you a few things about how to handle any wilderness emergency
Heading out the door? Read this article on the new Outside+ app available now on iOS devices for members! Download the app.
First, let's get this out of the way: According to the National Park Service, the chance of being injured by a grizzly in Yellowstone is one in 2.7 million. That's low, and you can make it lower by using common-sense strategies like traveling in groups of three or more and having bear spray at the ready. 
Nonetheless, we've already seen several reports of fatal bear encounters this year. As humans continue to encroach on the habitats of bears, mountain lions, and other predators, it's wise to think about how we could react if we or our companions were wounded by a wild animal. Even if you're not a trained wilderness first responder, sticking to a simple mental checklist for serious trauma empowers any backcountry traveler to save a life.
Like any emergency in an uncontrolled setting, scene safety comes first. If it's not immediately obvious, then "where's the bear?" is a pretty reasonable first question to ask. Rescuers should never expose themselves to hazards in order to help an injured hiker, so taking steps to reduce the risk of ongoing danger takes priority.
Once the animal is gone, treating the injuries it has caused is the same as dealing with any other traumatic injury. In the aftermath of significant trauma—damage caused by external forces like rockfall, tumbles, or, yes, bear bites—I like to take a page from the playbook of combat casualty care. The mnemonic "MARCH" helps prioritize my actions. It's about addressing critical issues in the order that they'll kill someone: Massive hemorrhage, Airway, Respiration, Circulation, Hypothermia.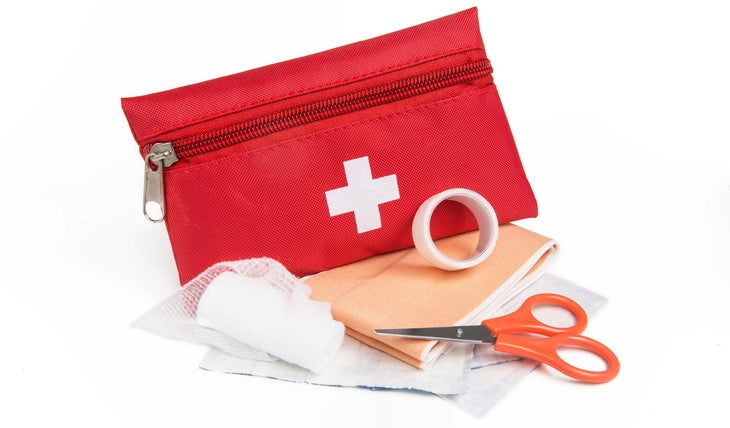 While most backcountry travelers can't be expected to provide advanced life support in the field, everyone can remember that direct pressure stops nearly all bleeding. Firm and focused pressure—applied continuously for up to 10 or 15 minutes—may be enough to stem arterial bleeding and buy some time. For extremity bleeding that can't be controlled by pressure, tourniquets can be safe and effective. Commercial models work far better than improvised ones. Anyone can learn effective hemorrhage control techniques like pressure dressings and tourniquet placement; seek out a local "Stop the Bleed" course for hands-on practice.
Once bleeding is controlled, work your way through the rest of the algorithm: address airway and respiratory issues as best you can, repositioning a patient to open their airway and improve their breathing. Fluids by mouth may help improve inadequate circulation, and ensuring that patients are kept warm can prevent further decompensation.
Rescuers without advanced resuscitation training or equipment shouldn't be expected to address a major backcountry trauma like an animal bite or provide the same level of care as a professional SAR team. But a levelheaded, systematic approach from bystanders on the scene can build a bridge to survival while waiting for the pros to arrive.
Christopher Tedeschi teaches and writes about wilderness and disaster medicine. He is associate professor of emergency medicine at Columbia University and an editorial board member for the journal Wilderness and Environmental Medicine. He enjoys hiking and biking near his home in the lower Hudson Valley.