To See the Best Hiking in Cuyahoga Valley National Park, You Need to Go Deeper. Here's How to Do it.
To see the best of this Ohio park, you're going to have to work a little harder than usual. Shape up with this off-trail hiking advice from a national park ranger.
Heading out the door? Read this article on the new Outside+ app available now on iOS devices for members! Download the app.
Sometimes, you find adventure in the most unlikely of places. Case in point: Ohio's Cuyahoga Valley National Park. While most people think of this stretch of Ohio woods and rivers as a glorified bike path, Stephanie Vermillion discovered that when she started trekking off-trail up the park's streambeds and overland, a whole new, wilder side to it opened up.
Below, we share some hard-won tips for off-trail hikers, courtesy of Denali National Park Ranger Sarah Hayes; if you're an Outside+ member, you can read Stephanie's full story today. If you aren't, well, what are you waiting for? Outside+ members get exclusive access to stories from Backpacker, Climbing, Outside, and 30 other titles, plus a Gaia GPS premium membership, print subscriptions, event invites and more. Become a member now.
Tip 1: Study navigation
Simply having a map won't get you very far, but knowing how to interpret topography will. "Practice looking at and reading a topo map and match it up to the landscape around you in an area you're already familiar with," Hayes says, noting free topo maps are available through the U.S. Geological Survey. "Learn to place yourself on the map with it oriented correctly, and study what the symbology means." (You can further hone those skills with Backpacker's Backcountry Navigation or Basic Map and Compass Skills online courses.)
Tip 2: Know your limits
Sure, understanding your physical capabilities is important on any hike, but when mapping your route, it's important to build in time for navigation, orientation, and watching the ground to avoid fragile plant trampling.
"Folks who are used to hiking 10 to 20 miles on a trail need to scale back their expectations to about half of that," says Hayes. "The ground you're walking on is much more uneven and dynamic than a built trail, you have to make your own switchbacks, you may have to deviate significantly to avoid disturbing animals, and unexpected hazards, such as river crossings or landslides take more time to navigate."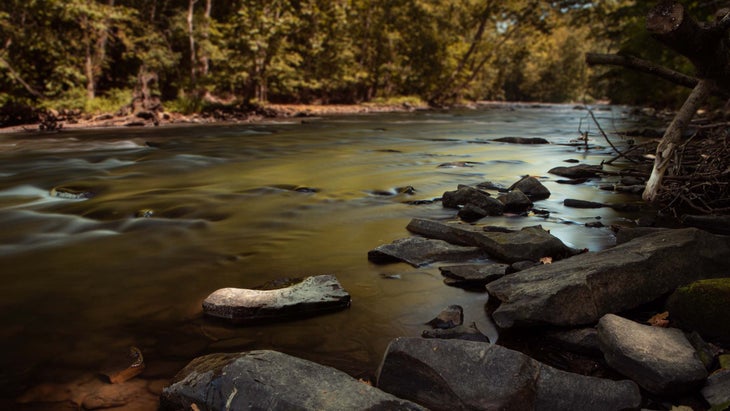 Tip 3: Keep it simple
Hayes suggests "navigational handrails" for those new to off-trail hiking like me. I use CVNP's Cuyahoga River as my go-to handrail when possible. In off-the-grid wilderness like Denali, though, this situational awareness is even more important.
"We recommend first-time off-trail hikers stick to the major river drainages," Hayes says, noting brushy areas with dense vegetation are notoriously tough. "Since the park road generally runs east to west, and the major rivers flow south to north, you note which side of the road you leave from and whether you're hiking upstream or downstream. To get back to the road, just reverse the stream direction."
Tip 4: Leave no trace
Off-trail hiking doesn't mean anything goes. Just the opposite: Whether the land is wild like Denali or tamer like CVNP, off-trail hikers need to follow leave-no-trace rules to keep the wilderness pristine. "Remember to leave no trace as you travel," says Hayes. "You're not there to create a trail, but rather to experience the terrain on its own terms. Don't mark routes with cairns, arrows, or broken branches, and remember to pack out your trash and bury your poop."
Where to (legally and responsibly) hike off trail
Of course, CVNP and Denali aren't the only spots to head cross-country. Other off-trail hiking destinations (where off-trail hiking is specifically allowed) include: Dinosaur National Monument, Olympic National Park, Lake Clark National Park, and Wind Cave National Park.
To fully prepare for off-trail hiking excursions—from emergency response to how to properly purify water—explore Backpacker's master classes, including: Outdoor Survival 101, Backcountry Navigation, and Wilderness First Aid Basics.
It's important to observe Leave No Trace protocols while hiking off-trail and to only do it where it's permitted, such as trailless wilderness or destinations that specifically state they allow it like CVNP, which confirms off-trail hiking is OK (unless signs post otherwise) on its website. Read more about Backpacker's stance on off-trail hiking here