Open Up the Wilderness by Learning to Hike Off Trail
A new kind of adventure starts where the maintained trail ends. Advance your hiking game and take on the unknown with these tips for route-planning and navigation. Then, practice footwork skills for safer, more efficient mountain travel.
Heading out the door? Read this article on the new Outside+ app available now on iOS devices for members! Download the app.
Finding Your Way
Off-trail travel is all about navigation savvy. Before you set out, make sure you know how to read a topo map, use a compass, and identify features to pinpoint your location. Use these tips to stay on track when there's no trail to guide you.
1. Make it foolproof.
Pick a route bounded by "guardrails"—roads, rivers, trail systems, or mountain ridges—which make navigation easier and limit how lost you can get. Ensure you have plenty of camping options.
2. Spin around.
Use "reverse-mapping" to improve situational awareness: At every break, turn around and look where you came from. Was that dark-gray slope easy walking or scary scree? Which hill did you eat lunch on? That way, if you lose the way, you'll know where to go to backtrack to your last known location.
3. Take the path of least resistance.
Your walking surface makes a huge difference in your energy expenditure. If you can take a longer route to avoid post-holing in snow or scree, or unnecessary changes in elevation, do it.
4. Trust the wisdom of wildlife.
Find a game trail? Go for it. Tracking skills come in handy when hiking off-trail. Use your judgment (sometimes sheep and goats can go places people can't), but keep an eye out for scat, tracks, bear tunnels in thick shrubbery, and trampled paths that might lead to safer water crossings or a swifter traverse.
Tip: In flat or forested terrain, check your GPS every 30 minutes and your topo map every hour. In mountainous and open terrain, identify your surroundings at viewpoints and rely on your memory for efficiency. Check your topo map every hour.
Essential Gear for Off-Trail Hiking
• GPS (A PLB isn't a bad idea, either.)
• Paper topo map
• Compass
• Durable pack (You want your gear to be as compact as possible, with nothing strapped or hanging on the outside.)
• Gloves
• Long sleeves (Wear your sturdiest clothing—or stuff you don't care about.)
• Eye protection
• Bug repellent
• Gaiters
• Headlamp
• Extra batteries
• Emergency shelter
• Sturdy hiking boots
• Neon duct tape (Use it to make essentials more visible. Dark-colored gear is hard to find if you drop it in dense vegetation.)
Hiking on Loose Terrain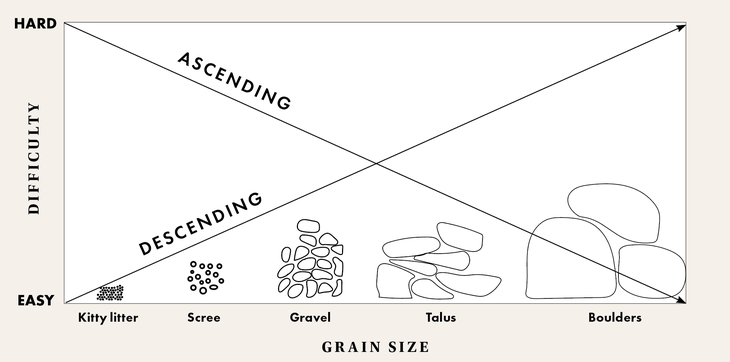 Scree, gravel, talus: No matter what you call it, unstable terrain can be a nightmare. Master it all with John "Monte" Montepare's tips for efficient travel. 
Going Up
Don't fight the slide. In scree, if you wait for one foot to settle before moving the second, you'll never get anywhere. Instead, just keep moving. Think of it as a productive stumble. 
Pay attention. Move calmly and methodically, and make every step intentional to eliminate shifting rocks.
Use a pole. Trekking poles are critical for balance on loose slopes. If you have an ice axe, keep it on your uphill side. 
Be patient. Learning to traverse loose terrain takes experience, both with off-trail travel and with local rock types. After a while, you'll learn which patches of rock or dirt will hold your weight and which ones won't.  
Going Down
Heel-plunge. In gravel or scree, point your toe toward your shin and sink heel-first, as you would descending snow. Keep your nose over your toes to keep from butt-sliding.
Switchback. On boulders or stable talus, step carefully, and switchback to spare your knees. Test each rock before committing your weight. 
John "Monte" Montepare is the owner and lead guide of Kennicott Wilderness Guides in Glennallen, AK.
Off-Trail Hiking by the Numbers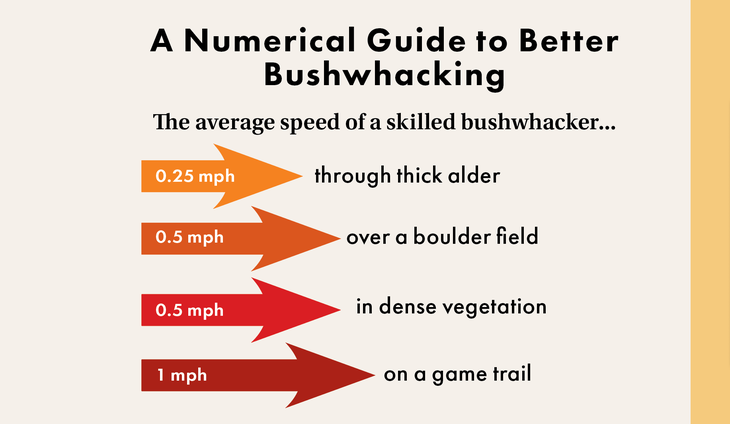 15° to 20°: The maximum slope angle you'll want to hike straight up. Any steeper, make switchbacks. 
50 years: The minimum amount of time it takes cryptobiotic soil to re-strengthen after it's been trampled (but it can take centuries). Tread lightly in the desert.
5 miles: Average daily distance covered by a bushwhacker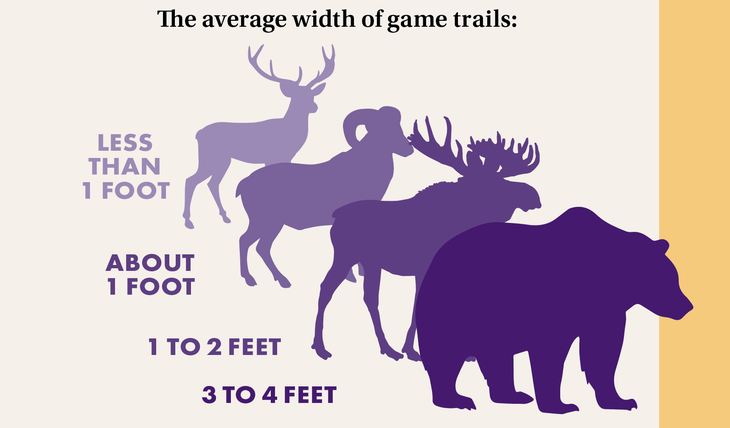 40 feet: The vertical gain represented between two contour lines on most USGS 1:24,000 topo maps
5 to 300 feet: Range of visibility in forested terrain (and how far you can walk between taking compass bearings to the next visible landmark.) 
Dan Crane, based out of Syracuse, NY, is a bushwhacking expert and writer who runs bushwhackingfool.com.
The Danger of Bushwhacking: Getting Cliffed Out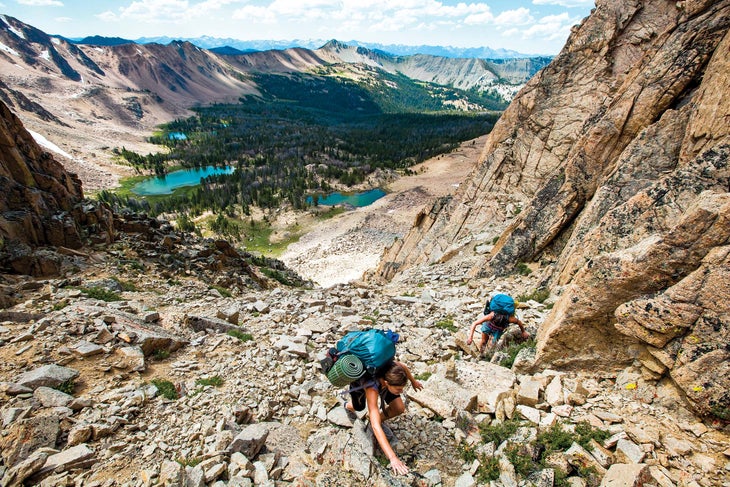 In August of 2019, climbers Corey Buhay, 26, and Liz Pecknold, 28, found themselves trapped at the end of a technical ridge traverse in the Indian Peaks Wilderness, Colorado.
It wasn't until we reached the top of 13,442-foot Apache Peak that we realized we were out of options. My partner Liz and I had intended to finish the mile-long ridge scramble and descend via fourth-class terrain on the east side of the cirque. About halfway through, we realized our descent was completely buried under snow. But we'd come so far! Loath to turn around, we kept going. Surely another option would present itself. 
We'd fallen into the heuristic trap of sunk cost: Even when retracing steps is the smarter option, human beings tend to overvalue the work already put in. It happens to lost hikers all the time. They don't want to "waste" progress, or admit they're wrong. So they move forward, digging themselves a deeper hole.
Our hole: We now saw our plan B escape route was about twice as long as we'd originally estimated, and it was already 3 p.m. We had headlamps, but no overnight gear. And we'd already been awake for 12 hours.
Our third option was a long, steep, snowy couloir. Neither of us had boots or ice axes, and I was the only one with snow experience—and gloves. I told Liz that our choices were to either descend the couloir or spend the night on the ridge. We chose the couloir. 
We each picked up a sharp rock and one glove. I went first, kicking steps with my hiking shoes, punching into the snow with my rock, and trying to convince myself that I'd be able to self-arrest if I slipped. 
The sun was setting fast. If temps dropped, the slope would re-freeze, making it too hard to kick into. I tried not to look over my shoulder at the steep runout and the boulders waiting like teeth below us. We were in a no-fall zone.
Above me, I could see Liz was shaking. 
"One step at a time," I said, to both of us. I tried not to think about what would happen if I fell. Step, step, punch. Step, step, punch.
I made it to the bottom, but Liz was still above me on the slope. It was getting dark. I looked around, panicked. And there, lying in the snow, was an ice axe, dropped by some other hiker. I grabbed it and scrambled to hand it to Liz. She reached the bottom just as the slope fell into shade. We knew better than to celebrate too much; we'd just gotten lucky. —Corey Buhay
An Off-Trail Hiking Master's Advice: Stay Present
Between 2015 and 2017, Mario Rigby completed a 7,456-mile trek through Africa along trailless coastline, desert, and lakes. Here's what he learned.
My first big hike started because I was frustrated by the noise, pollution, and dense crowds in the city. I wanted to get out as quickly as possible, so I decided to walk from Toronto to Hamilton, Ontario, a 75-kilometer (47-mile) journey over trails, highways, and paved paths. It was tough, but I was hooked on walking as exploration. Since then, I've hiked the length of Africa from Cape Town to Cairo. Unlike my first walk, most of my hike on South Africa's coast was off-trail. There, I learned that mental endurance is just as important as physical endurance. 
The mind plays an important role when it comes to sustainable motivation during tough hikes. On my hike in Africa, I seldom thought of Cairo, Egypt (my end point) until I made it halfway through Sudan, which shares its southern border. To think of the end goal would have been too overwhelming, so I focused on the day-to-day to keep my morale high. The same mentality goes for bushwhacks and off-trail treks: Be in the moment, or you'll end up missing the entire journey.
Mario Rigby has walked the length of Africa, kayaked Great Lakes, and cycled from British Columbia to Newfoundland.