How to Safely Summit Rainier Without a Guide
Taking your first unguided step onto a big mountain is a leap of faith. Backpacker editor (and retired guide) Shannon Davis tells you how to do it right.
Heading out the door? Read this article on the new Outside+ app available now on iOS devices for members! Download the app.
There's joy to be found in the high mountains, but there's friction too. That's a fact that Cherlyn Eliza knows well: In an essay published this week on Backpacker, she shares her story about navigating her way up Rainier—literally and figuratively—as a climber who stands out in mountaineering's disproportionately white, male subculture.
Want to follow in Cherlyn's bootprints? Below, we share some advice for new mountaineers thinking of going unguided, courtesy of current Backpacker editor and former Rainier guide Shannon Davis; if you're an Outside+ member, you can read Cherlyn's full story today. If you aren't, well, what are you waiting for? Outside+ members get exclusive access to stories from Backpacker, Climbing, Outside, and 30 other titles, plus a Gaia GPS premium membership, print subscriptions, event invites and more. Become a member now.
Eleven years ago, on assignment for Backpacker, I went "undercover" and applied to be a guide on Mt. Rainier. I was invited to a tryout, and (spoiler alert) made the team. Then, after a mildly awkward conversation with the lead guides regarding my intention to write about my experience (and hold down two jobs in different states at the same time), I joined rookie guide training and got put to work on 3-day summit trips via Disappointment Cleaver. 
Most of our clients were fit but few had ever been on terrain like you encounter on the "R-horn," the most glaciated peak in the Lower 48. We taught the basics of crampon use, traveling on a rope team, the rest-step, pressure breathing, the self-arrest, and how to stay (relatively) comfortable in an environment that can bake you one minute and flash-freeze you the next.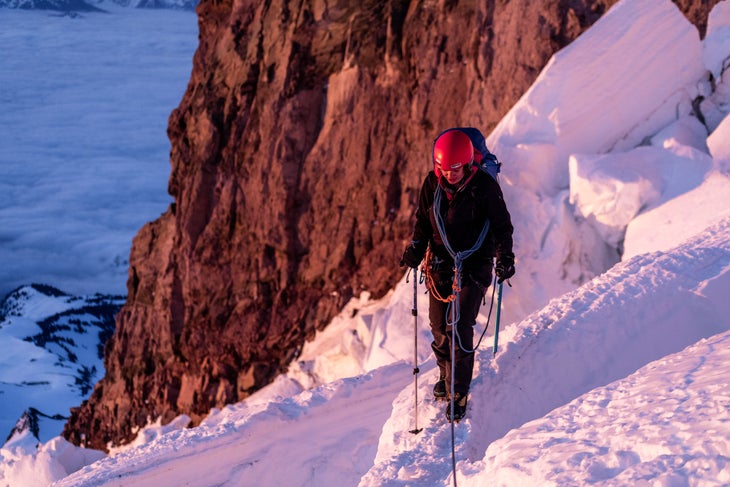 You need to have all that—along with navigation, crevasse rescue, snow camping, and more—down pat before a Rainier attempt. You have an advantage as a backpacker, especially if you already thrive while winter camping. Grow from there by practicing elements of steep snow travel on generally less-committing peaks like Mt. Adams or Mt. Hood or on Rainier's Muir Snowfield. Or, if you would prefer to tackle new mountaineering skills with more supervision, you can take a course or join a guided trip from RMI, IMG, or Alpine Ascents. 
There are two bits of advice I give to anyone interested in a private climb on Mt. Rainier:
The 60/10 Rule Hike for 60 minutes and rest for 10. During that rest, sit on your pack, throw on a puffy jacket, drink 8 ounces of water, slam 200 calories of snacks, hit the bathroom if you need to, check your crampon straps, and make any other futzy gear adjustments you've been thinking about. And keep it to 10 minutes. This will keep you moving at a steady pace and keep you fueled, hydrated, and fairly comfortable. 
Go Mid-Season Every climbing season is different, but generally there's more snow (and avalanche risk) early in the season and wider crevasses and more rockfall late in the climbing season. July is often a sweet spot with a higher percentage of successful summit attempts. Check Mt. Rainier National Park's climbing page for regulations and permit beta.