Afraid of Getting Stuck? Here's How to Drive the Gnarliest Roads to Trailheads
Don't get stuck in the mud. Learn to evaluate road hazards, overcome obstacles, and navigate the unpaved passages between your front door and your next adventure.
Photo: Artur Debat/Moment via Getty Images
Heading out the door? Read this article on the new Outside+ app available now on iOS devices for members! Download the app.
When it comes to backpacking, sometimes remoteness starts right at the trailhead. And that can mean driving on rough, rutted dirt roads, which can feel even more treacherous than scrambling an exposed ridge. If you're headed to an area where adventure begins as soon as you exit the highway, it's important to be confident in your driving skills so you don't start your hike with frayed nerves—or worse, a stuck car. Follow these tips to arrive safely at your destination.
Know Your Vehicle
Drive in a range of conditions so you're familiar with your car's capabilities. Measure the clearance (most standard vehicles have five to six inches) between the ground and the lowest point on the undercarriage. An experienced driver in a four-wheel-drive (4WD) can expect to tackle boulders and uneven surfaces. An all-wheel-drive (AWD) can maneuver over smaller rocks (within a few inches of its clearance height). Two-wheel drives should stick to maintained dirt or gravel.
Scout Road Conditions
Call rangers and ask about seasonal challenges like thick mud or stream crossings, specific hazards or impasse zones, and possible turnaround points.
Tackle Obstacles Safely

Water Crossings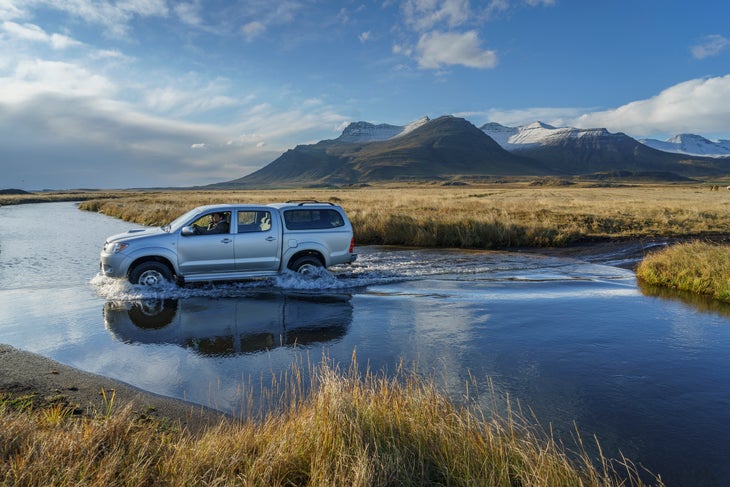 Check depth. Get out of your car and walk across puddles or streams to scout for rocks and assess the depth before driving. If the water is shallower than your tires' hubs, it's safe to cross. Any deeper and you may stall or damage the engine.
Test the flow. Current too strong to walk across? Don't drive through it. Tires act like pontoons, and you may float downstream.
Cross. Go slow and angle slightly upstream, which helps keep sediment in place and improves traction. Use designated crossings.
Steeps
Assess the angle. A 4WD vehicle can handle inclines up 35 degrees on firm surfaces. In AWD vehicles or on loose turf, be cautious. Don't charge hills; hitting the slope at speed can harm your alignment.
Scout the descent. Recon steepness before committing.
Go slow. Three to five mph is the sweet spot where you'll have enough speed so the tires won't slide, but not so much that a rock could derail the car. Downshift for more control.
Large Boulders
Pick a line. Get out of the car and plan your path. Check for rock height, sufficient width, and safe places to stop. If possible, have one passenger get out and direct the driver.
Beware of wheel cheat. In turns, a car's front and back wheels don't track the same. Compensate by making wide turns. Adjust your mirrors to monitor your rear tires.
Use rocks.If two rocks are aligned with your wheel base but are too tall to straddle, drive directly over them to avoid getting hung up. Tip: Build a ramp so the approach angle isn't so steep that you hit the car's undercarriage.
Get Unstuck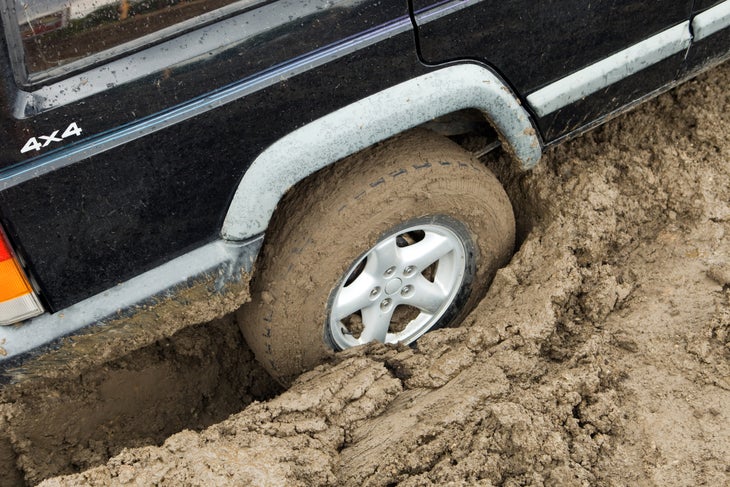 1. Jack each wheel above surface level. Use plywood, a log, or a wide rock to keep your jack from sinking. Fill holes under the tire with sand, dirt, wood, or rocks. Beware of flying debris upon acceleration.
2. Find traction. Place branches, planks, or floor mats in front of, under, and in line with tires. The traction aid needs to be at least halfway under the tire for the rubber to bite.
3. Deflate tires. Drop to 15 to 18 psi (from 30 to 32). You'll increase the tire's surface area and improve flotation. Drive slowly (less than 35 mph) until you can reinflate.
Don't rest a car's weight on its transmission. On steeps, apply the emergency brake, shift the car into park (reverse for manuals), then turn it off. When departing, shift into neutral before releasing the brake. Avoid plants so you don't ignite dry grass with a hot catalytic converter. Face downhill on soft surfaces or if rain threatens; you may need gravity's help to get moving.
Equip for Off-Road Safety
Must-have
Jack, spare tire, pressurized sealant
Fluids: brake, power steering, transmission, oil
Tow strap
Sturdy shovel
Map and GPS
Cell phone
Car manual
Food and water
First-aid kit
Nice-to-have

Portable battery jump-starter
AAA 200-mile-tow insurance or local tow truck contact
Fire extinguisher
Originally published in 2012; last updated in December 2021