Mud Hiking Season is Almost Here. Here's How to Embrace It.
For one hiker, the secret to recovering from a chronic overuse injury was falling in love with hiking in the muck.
Heading out the door? Read this article on the new Outside+ app available now on iOS devices for members! Download the app.
A few years ago, a surgeon diagnosed me with a torn labrum in my left hip and basically told me my hiking career was over. The tear wouldn't heal, but surgery wasn't recommended, he said. Long hikes could lead to further pain. No carrying heavy loads. Avoid walking or running on hard surfaces. Oh, and do some more squats; your ass is weak. (Literally—my glutes were not doing an adequate job, and squats would allegedly help.) After this speech, he nodded, grabbed his clipboard, and left the room. As soon as he did, I cried.
The doctor had not only insulted my ass (a muscle I had, until this point, taken great pride in) but he'd also told me to stop doing everything I loved. I wasn't sure if I'd ever be able to hike or run again, at least not at the levels I was used to. I didn't realize that the journey ahead would be full of ups and downs—and that the kind of hiking I hated most would ultimately save me. 
Over the next year, I rested and stretched. I did the squats. My symptoms began to improve, and I was able to hike and run again as long as I kept it to a few miles at a time. The only thing I wasn't able to go back to was hard surfaces. This wasn't a huge problem—until I moved to London.
In this particular concrete jungle, it rains all the time. Everything that's not paved is forced to absorb the runoff from everything that is. That means urban hiking options are always binary: You can hike on pavement—or you can hike in mud.
For a while, I chose pavement. In doing so, I chose pain.
By early November, my hips ached from pounding concrete, and I was ready to give up on human-powered travel altogether. Everything hurt. I felt hopeless. It rained for a week straight, and I didn't leave the house for days.
Then my housemate requested that I walk his dog. Begrudgingly, I accepted. I grumbled and clomped down the stairs, looking for my shoes. The impatient dog howled. Raindrops scratched against the windows.  I grabbed a leash, flicked up my raincoat hood, and headed outside.
For the first half mile, my hips ached. I hobbled to the local park. There, I eyed the standing water covering the dirt path, and I took a deep breath. 
Nothing prepares you for that first, sickening step. As soon as my first foot sank into the muck, I felt cold water filling my shoes. The mud squelched. After a second step, I felt squirmy and irritated. After the third, it was hard to tell what color my socks were. But after the fourth, something started to change.
Cushioned by the soft surface, my pain ebbed away. I could feel my energy coming back. The dog, muddy to her knees, was having a blast—and so was I. I felt like a kid again. It reminded me of high school, and a particular workout my shave-headed, earring-wearing, tattooed high school cross-country coach used to have us do.
Every time it rained, Coach Stasko would cancel whatever the real plan was and send the team out with one objective: to get as muddy as possible. He called them "Rambo Runs." They gave us the opportunity to romp around and goof off in a squealing-with-joy kind of way. I don't think I ever came home after a Rambo Run without having fallen in love with running all over again.
Over the past few months in London, I've rediscovered that feeling, and with it, my love of hiking. I've also felt closer to nature than I ever have, and not just because I come home covered in it.   
Mud is tactile. It's a constant, physical reminder that you're off the beaten path—you're out there, you're in it. The surfaces we normally travel kick back at our feet with the force of rebounded energy. They take our momentum and they send it right back; they don't want us. The mud, though, welcomes us. It grabs, it embraces. Moving through mud is a dance of balance and laughter. There's a push and a pull as you let yourself be taken in, just for a moment, before bounding free and moving on. To hike through mud is to crowd-surf across a dynamic, rolling field. It's to ride a wave of living earth.
And in return for braving that first step—and second and third—the mud has done me a favor. It cushions my footfalls. It absorbs the battering pressure that's ground down my joints all these years. On hardpack, I get the sense that my hiking days are numbered. In the mud, my pain is gone, and I get the sense that I'll be able to hike forever. 
These days, I go mud hiking a few times a week. (My housemate's dog loves this. My housemate, who is in charge of cleaning the dog, does not.) I'm happy to report that the first step gets a little easier every time. And when I get home, feet heavy and mud-caked, arms and shins streaked with organic matter I care not to know the origins of, I've forgotten I was ever cold to start with. Instead, I just feel alive.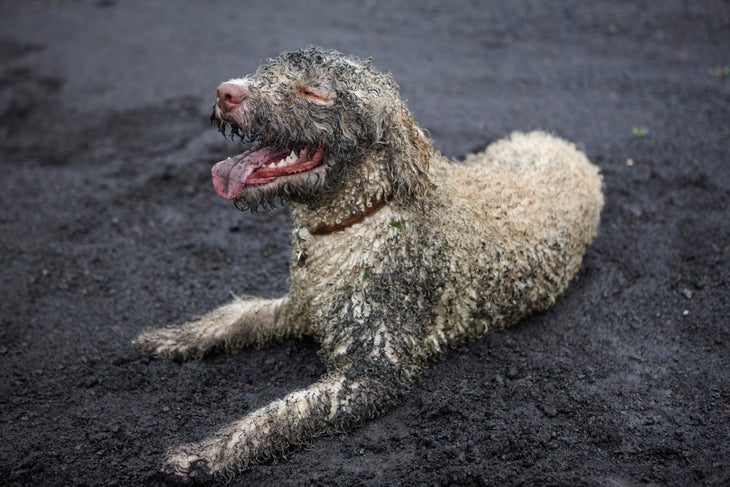 How to Embrace Mud Hiking
Staying on trail—even when the trail is soggy—is a quintessential tenet of Leave No Trace ethics. [Editor's note: Except when they're closed—see tip number 7 below.) Walking beside a trail contributes to erosion and trail-widening, which negatively affects both trailside vegetation and other hikers' experiences. Plus, soggy trails can be way more fun than dry ones if you take the right approach. 
1) Designate some mud shoes. During mud season, set aside a pair of hiking shoes for mud-hike-only use. That way you won't stress out about getting them dirty. If you can, choose shoes with large, well-spaced lugs, which will give you better purchase in slick conditions. Mud buildup can degrade your shoes faster over time, so give 'em a rinse now and then, and scrub any stubborn gunk with a toothbrush at the end of the season. 
2) Dress appropriately. If you expect particularly deep mud, consider adding gaiters; they won't necessarily keep all the goop out of your socks, but they'll certainly help prevent shoe loss in sucking mud. Finally, whenever you're hiking in wet or rainy weather, be sure to pack appropriate warm layers. I usually opt for merino wool baselayers and a synthetic sweater, and I carry a rain shell and sometimes rain pants with me if I expect a downpour.  
3) Have a cleanup system. I always leave a towel hanging just inside my front door. That way it's ready to wipe off my legs (and dog) the minute I get home. A thoughtfully routed garden hose can also be handy. If you drive to the trailhead, leave a bunch of towels in your car.
4) Bite the bullet. Like jumping into a cold pond, mud hiking requires swift commitment. Don't dance around the edge of the trail procrastinating. Head right in, and stay in no matter how deep it gets.
5) Bring friends. Sufferfests are always better with friends. If the weather is gross or you're dreading your hike, enlist a buddy. For day trips, consider making it a competition: Muddiest friend wins. 
6) Practice good mud management. For overnights, pack dry socks and clothing, and keep these items in a dry bag inside your pack. Be sure to change into dry clothes as soon as you get into camp. If possible, turn your pants inside out as you take them off to keep mud from getting in your tent. Ditto with socks, gaiters, and any other contaminated items. Anything particularly nasty should stay in the vestibule.
7) Respect closures. Some trails close altogether when it rains, either to keep out the kind of hikers who erode trails by refusing to get dirty, or to prevent vulnerable trails from turning into deep trenches. Regardless, if you see a mud closure, turn around and hike somewhere else.