How to Go Ultralight Without Really Trying
The most hardcore ultralighters spend years perfecting their packs—but you can slash your pack weight today with just a little effort.
Heading out the door? Read this article on the new Outside+ app available now on iOS devices for members! Download the app.
Dreaming of backpacking with the bare minimum? Learn to go ultralight the easy way with our Master Ultralight Backpacking course from Outside LEARN. Get expert advice from thru-hiker Jennifer Pharr Davis; study at your own pace, totally online. Outside+ members get access now.
Shed the Easy Stuff
Reduce your pack load by just a few pounds and you'll hike farther, cut injury potential, and reduce trail fatigue.
Leave Nonessentials at Home
Take a critical look at your packing list and off-load (or substitute) these items.
Wallet (6 oz.) Bring only your insurance card, ID, and some cash.
Food packaging (4 oz.) Discard boxes and measure servings into zip-top bags.
Pillow (2 oz.) Fill your sleeping bag hood with rolled-up clothes.
Stove (1 lb.) Hiking in warm weather? Cold-soak your meals in a screw-top jar instead.
Camp shoes (10 oz.) You don't need 'em. Unlace shoes and switch socks to walk around camp.
Stuffsacks (20 oz.) Stuff clothes into pack corners; roll your tent.
Trowel (2.5 oz.) Swap for an ultralight model like TheTentLab's The Deuce, or just use a tent stake.
Repair kit (4 oz.) Pack a tiny sewing kit, tube of SeamGrip, and safety pins.
Weight saved: 4 lbs.
Streamline Your Pack
Don't purchase an ultralight hauler until your baseweight (all your gear not including food, water, or fuel) is less than 15 pounds; lightweight packs lack the suspension and comfort features (like hipbelt padding and frame stays) that you need for heavy loads. Instead, cut up to 20 percent of your pack's weight by ditching the top lid and trimming unnecessary features like extra buckles, webbing, and pockets. You can shave pack heft without sacrificing functionality or comfort.
Weight saved: 12 oz.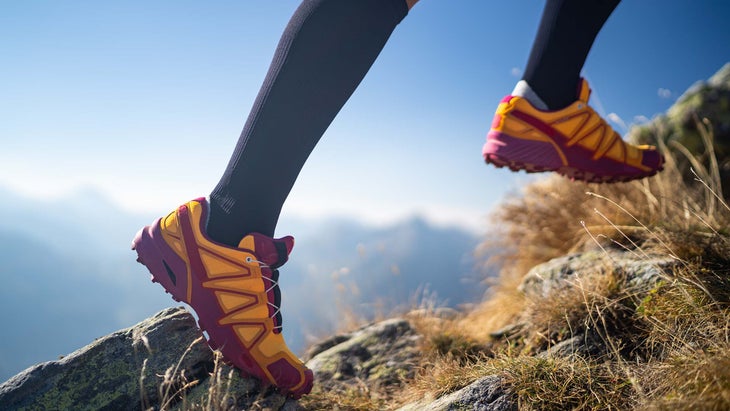 Ditch Unused Gear
Count individual items like tent stakes, guylines, trail bars, and lengths of TP. After each trip, make a list of gear you carried but didn't use. If a piece of your kit makes the list after three consecutive trips, leave it behind next time (exception: first-aid supplies).
Plan Calorie-Dense Meals
Combine high-calorie foods for efficient fueling on trail and in camp.All these foods have more than 100 calories/ounce.
Fruity PB Roll-Ups
Spread peanut butter on a tortilla and top with dried apricots and chocolate squares, then roll it up. 6.5 oz., 522 calories
Buttered Hot Chocolate
Make hot chocolate using 2 packets of powdered mix; stir in a tablespoon of unsalted butter. 2.5 oz., 348 calories
Cheesy Salmon-Pesto Pasta
Cook 2 cups of pasta; toss with a 5-ounce pouch of salmon, 2 tablespoons pesto, and 1/4 cup Parmesan. 8 oz., 640 calories
Upgrade Core Gear
You don't need all-new equipment to shed another five pounds, but a few ultralight investments can add up to huge weight savings. Rethink your layering and sleep systems to drop double-digits.
Dress Down
What do ultralighters wear? Use ultralight backpacker and author Mike Clelland's three-season packing list as a guide to dropping your layering system below 4 pounds.
Wear while hiking
Short-sleeve baselayer top (4.3 oz.); sun hat (1.7 oz.); thin, synthetic running shorts as underwear (3.5 oz.); long, quick-dry pants (10.4 oz.); thin, shorty running socks (.6 oz.).
Carry in your pack
Long-sleeve baselayer shirt (7.5 oz.); windshirt (3.3 oz.); lightweight puffy (10.2 oz.); rain jacket (7.1 oz.); rain skirt (2 oz.); warm hat (1.3 oz.); liner gloves (1.1 oz.); one pair of thin, shorty hiking socks (.6 oz.); one pair of warm, sleeping socks (1.4 oz.)
Wear Light Shoes
Many lightweight hikers opt for Build ankle strength to stay injury-free as you transition from overbuilt boots to trail runners.
Weight saved: 1.5 lbs.
Reboot Your Sleep System
A tent/bag/pad combo can weigh 10 pounds. You can cut that number down instantly—if you're willing to drop a grand or so on the lightest gear. Alternatively, whittle down your pack weight for less with these tips.
Shelter
Potential weight savings 3+ lbs.
Light Ditch your tent's inner canopy on mild, bug-free nights; pack and pitch the fly and footprint only. In bug season: bring a headnet.
Lighter Pack a waterproof tarp with reinforced seams like the REI Quarter Dome SL Tarp, which is as light as an ultralight tent but at a fraction of the price. Even cheaper and lighter? Sleep under the stars in nice weather. Set up on high ground in forests; depressions and meadows collect condensation.
Sleeping bag
Potential weight savings: 3+ lbs.
Light Carry a bag that's rated to the expected low, and wear insulating layers to bed to make up the difference.
Lighter Carry a single-sided blanket in mild temps, like Therm-a-Rest's Stellar Blanket ($80; 1 lb., 6 oz.)
Sleeping pad
Potential weight savings: 1+ lbs.
Light Upgrade to a light pad that's cushy and warm enough for a deep sleep. We like Paria Outdoor Product's Recharge S Insulated Sleeping Pad (13.4 ounces, $70)
Lighter Cut the corners off a closed-cell foam pad like the Thermarest Z-Lite Sol (10 ounce and $36 for a small) and chop material extending below your knees. Cushion your legs with your pack.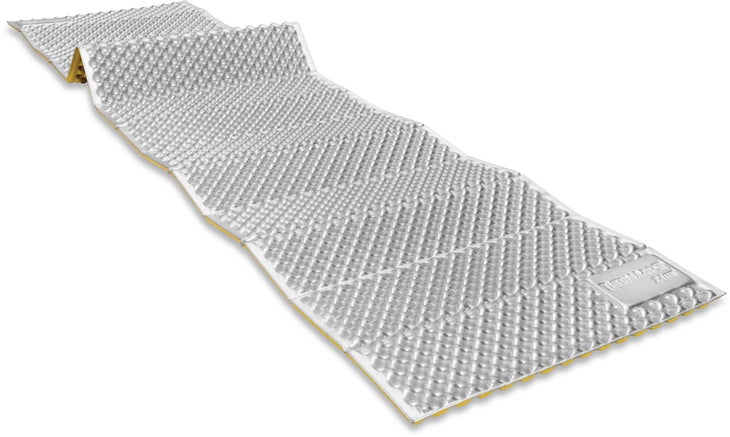 Carry Less With Careful Planning
Jettisoning those last few pounds requires thorough trip research, confidence in your trail skills, and, yes, sacrificing some creature comforts. The prize? Easier hiking every step of the way.
Research Trail Conditions
Pack only what your route requires.
Get seasonal beta. Call park offices to ask about campsites, trail conditions, water access, and other seasonal issues. Are fires allowed? Leave your stove at home. No snow in the
passes? Don't pack crampons or an ice axe. Also review recent trip reports at backpacker.com/community.
Be weather-wise. Research backcountry forecasts at weather.gov. Subtract 4℉ for every 1,000 feet of elevation above the
forecast area. Warm front approaching? Ditch your puffy.
Potential Weight Savings: 5+ lbs.
Carry Less Water Weight
Water's heavy—two pounds per quart. Schedule breaks to coincide with water sources, drink at planned refill stops, and tote no more than two quarts on the trail (unless safety requires it). Plus: Shed bottle weight. A 32-ounce-capacity Gatorade jug weighs 1.6 oz.; a similarly sized Lexan screw-top weighs 6.2 oz. Prefer a hydration bladder? Only fill it to 60 ounces (use as a pillow at night).
Potential weight savings: 3 oz.
Switch Your Pack
Baseweight below 15 pounds? Downsize to a frameless midsize hauler (we're fans of the Mountain Laurel Designs Prophet 48L, which sells for $245 and weighs 17 ounces). Use your sleeping pad to add structure to the backpanel, pad sharp gear (stove, tent poles) with clothing so fabric doesn't wear, and don't yank compression straps or secure heavy items to them, which might cause seam blowouts.
Tip: Grab a Smaller Headlamp
Save high-power headlamps for caving. Grab a lightweight rechargeable like the Biolite Headlamp 200, which lasts 40 hours on low ($45; 1.7 ounces). Willing to push it even further? The Photon Freedom Micro is a keychain light that weighs a paltry quarter-ounce; during long summer days, many ultralighters find it enough to deal with round-camp tasks and the occasional predawn start.
Potential weight savings: 6 oz.
Originally published in 2012; updated in 2021