Master Class: Cook Like a Pro
Use these tips to advance your cooking skills and improve your camp grub's taste and nutritional value.
Heading out the door? Read this article on the new Outside+ app available now on iOS devices for members! Download the app.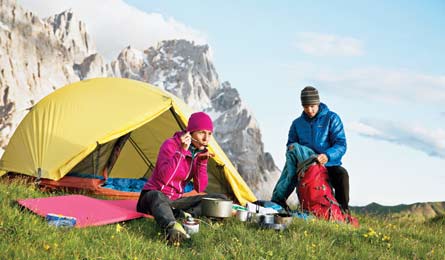 Photo by Patitucci Photo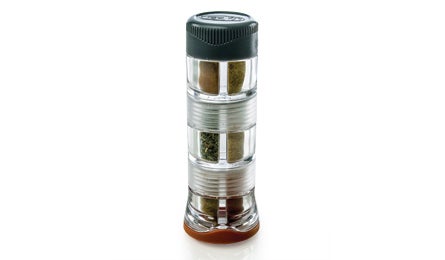 Make a Five-Star Spice Kit (Photo by Ben Fullerton)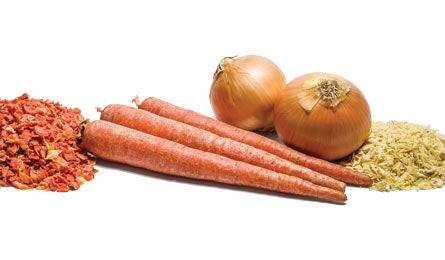 Dehydrate your own ingredients. (Photo by Ben Fullerton)
Cookset Basics
Upgrade your kit for versatility.
Stove: Get a canister model with a separated burner, which offers precise flame control and allows for baking. (We like MSR's Wind Pro II; $100; 11.5 oz.; msrgear.com.) Cookset: Start with at least a 2-liter pot, a sauté pan, and a lid that fits both. Try pairing MSR's Alpinist 2 ($60; 10.8 oz.) and the nonstick, aluminum Quick Skillet ($30; 5.9 oz.). See our kitchen checklist at backpacker.com/chefgear.
Master Key Stovetop Techniques
Use these methods to go from freeze-dried meals to gourmet menus.
» Simmering

This slow-cook method (a near-boil) is hard to master on a camp stove. If hot spots cause boiling, hold the pot off to the burner's side. For even heat, create a windbreak out of rocks. With liquid-fuel stoves, run the stove with low pressure (just pump the fuel bottle a few times). Best for: poached trout, sauces with dehydrated add-ins.
» Flip baking

Warm ½ tablespoon of oil in a skillet on medium low and sprinkle cornmeal in the bottom (it helps prevent burning). Add batter, cover, and bake until the top is bubbling and bottom is set. Drizzle oil atop the dough, sprinkle with cornmeal, and flip. Replace the lid and bake until browned. Best for: fry bread, cornbread, brownies.
» Twiggy fire baking

Place your loaded cookpot on your stove. Using palm-length twigs, build a pyramid-shaped fire on top of your covered pot. Put the stove on low and light the fire; feed the fire to maintain constant heat as your treats bake. Note: A twiggy fire will permanently singe your pot's lid. Best for: cookies, cinnamon rolls.
Fix Common Mistakes
Salvage a botched meal with four easy tricks.
Burned sauce Pour the unburned portion into a clean pot to finish cooking (don't scrape blackened bits). Mix in a spoonful of peanut butter, which helps mask lingering burned taste.
Watery soup Boil away the extra liquid (stir constantly to prevent burning) or add a few tablespoons of dehydrated potato flakes or flour (both are thickeners) to achieve your desired consistency.
Salty stew Dilution is the solution: Add water and more carbs, like noodles or potato flakes. Next time, taste before salting; many prepackaged foods are already high in sodium.
Overcooked noodles Stop the cooking by adding cool (treated) water. Then redeem mushy pasta by sautéing drained noodles for three to seven minutes in an oiled pan until the edges are golden-brown and crisped.
Cook Over a Campfire
Boost flavor with these no-stove methods.
» Bake Let your fire burn down to hot coals. Create foil packet dinners by layering meat, veggies, and spices of your choice in 18 by 18-inch squares of heavy-duty aluminum foil (one per person), placing uncooked meats on the bottom. Form a loose pouch around ingredients, then seal tightly by repeatedly folding over the edges. Nestle packets directly on coals and cook for about 20 minutes.
» Grill At home, marinate steak, then freeze it in a zip-top bag. (Alternative: Bring frozen burger patties or catch a trout.) In camp, let your fire burn down to hot coals, place four large rocks around it to form a platform, and place a grill (like Purcell Trench's Streamside Traveler; $64; 4.7 oz.; purcelltrench.com) on the rocks; it should be 6 to 8 inches above the heat. Grill thawed steaks for eight to 10 minutes per side (you may need to feed the coals). For trout: Coat grill and fish liberally with oil to prevent sticking, and flip after three to five minutes.
Dehydrate Your Own Ingredients
Add flavor and keep pack weight low.
Get a quality dehydrator (we like NESCO/American Harvest's line; $44 to $150; nesco.com). They're simple, dry better than your oven can, and pay for themselves quickly. Then, upgrade even simple meals by adding these flavor boosters:
» Veggies Carrots, corn, onions, mushrooms, and peppers all maintain good flavor and texture in savory dishes; cut into small pieces for faster drying. The Conners's timesaving trick: Load frozen veggies directly onto dehydrator trays; dry until brittle.
» Fruits Berries, apples, peaches, pears, bananas, and pineapples make excellent snacks. Like veggies: Cut into uniform slices. Unlike veggies: Peel and soak fresh fruit pieces in orange juice for three to five minutes before drying to preserve color. (Skip the soak for berries and pineapples.)
» Proteins Ground beef or turkey, steak, or veggie burgers like MorningStar Farms Grillers (morningstarfarms.com) make versatile mix-ins. Fat impedes drying, so get the leanest meat possible, then trim all visible fat. Cook (rinse ground meats after browning to remove residual grease), then dehydrate.
Serve Inspired Courses
Impress with this easy, gourmet trail menu.
Appetizer
Instead of A hunk of snack cheese Try Cheese-stuffed dates
Make it Combine 4 ounces of goat cheese, ¼ cup chopped almonds, and 2 tablespoons brown sugar in a zip-top bag; knead to mix. Cut a hole in the bag and use it to pipe cheese filling into eight whole, pitted deglet noor dates. Serves 2 to 3.
Entrée
Instead of Tuna mac Try Poached trout fillets
Make it Boil 2 cups water, a bouillon cube, and spices in a shallow pan. Add two cleaned, skin-on trout (they should be mostly covered in water); bring to boil. Reduce heat, cover, and poach for two minutes. Remove from heat and let sit covered until flesh is firm.
Dessert
Instead of A candy bar Try Chocolate fondue
Make it Improvise a double boiler: Heat a pot of water (¾ full) over medium heat. Put chocolate in a metal cup or smaller pot; float in the larger pot. Add a bit of oil and stir until melted. Dip fresh or dried fruits, nuts, or marshmallows into the chocolate.