Make the Most of Mud Season Hiking
Don't let muck stop you from hitting the trails this spring.
Photo: Michael Lloyd / EyeEm via Getty Images
Heading out the door? Read this article on the new Outside+ app available now on iOS devices for members! Download the app.
With winter ending, hikers everywhere are gearing up for another epic spring season. But Spring also brings mud, which presents a unique set of challenges to hikers. Known well to northeasterners, mud season is that soggy, filthy span of time when trails are waterlogged from the combination of melting snow, frozen ground, and a whole lot of boots on dirt thanks to hikers eager to head back outdoors after a long winter.
But while mud season has a bad reputation—and often results in a fair amount of trail damage—you don't have to stay indoors for the weeks or months it can last. Instead, gear up thoughtfully, be prepared to do some deep cleaning post-hike, and know how to leave no trace to make the most of spring hikes.
Hike Mindfully 
Avoid sodden trails
The compound effect of hundreds of hikers tromping over miles of soggy trails can worsen flooding and trail damage. Check trail conditions and alerts before you go and have a backup plan in case routes are prohibitively wet and muddy. Always respect trail closures, which preserve the longevity of your favorite trails.
Stay on the trail
Your first instinct when you hit a muddy section of trail may be to find a way around. But skirting puddles can widen the path and damage delicate plant life, so stay near the middle of the track as much as possible. Embrace the slop and hike straight through mud puddles rather than venturing off-trail. 
If necessary, stay to the side
That said, if mud is more than a few inches deep, stomping through it can cause compacting damage to trails, so while it's a hotly-debated concept, some trail maintainers concede that walking along less sodden edges is a pragmatic solution if no other options exist. Just make sure to stay on the trail itself, rather than alongside it (like where you're likely dodging tree branches) as this can cause trail widening and erosion plus destruction to vegetation.
Utilize nature
If there are stepping stones, logs, boardwalks or the like along muddy sections, use them. They're there to protect the trail and keep it passable.
Gear Up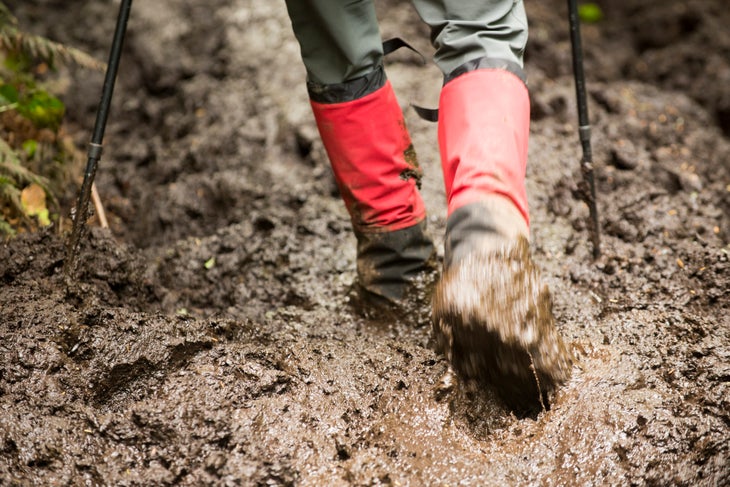 The gear you bring can make or break your hike. We suggest starting with versatile shoulder-season gear, like what you'll find in our all-weather spring packing list. For extremely muddy weather, however, you can make a few tweaks. Go for a mid-top hiking boot instead of a low-top shoe (make sure it's waterproof, too.) Alternatively, pack a quick-drying mesh shoe or even sandal and just plan on washing off when you get to your destination. Consider bringing synthetic socks which often dry faster than wool, and pack another pair of them in a drybag, zip-top, or somewhere else where they won't get dirty or wet.
Keep Your Gear Clean
Clean and dry it out
When you get home, don't wait to clean and air out your gear, especially tents and sleeping bags that are prone to mildew when stashed wet. Remove mud from boots and other gear to protect their longevity.
Use your garden hose
Before you bring muddy gear and clothing inside for a good cleaning, spray it down with a garden hose to dislodge debris.
Wash and waterproof your boots
Clean your boots thoroughly. Caked-on mud can reduce water repellency and durability. So after a muddy hike, wash, brush, and re-waterproof your footwear.
Advice from a trail scientist
Jeff Marion knows a thing or two about mud season—he's not only a recreation ecologist and USGS federal scientist, he literally wrote the book on Leave No Trace Principles, Leave No Trace in the Outdoors. Plus, he's logged plenty of miles on trails in Vermont, also lovingly known as VerMud. His advice? If there's any time to go above and beyond on the trail, it's mud season. 
"If you want to be a good Samaritan, consider placing a few more stable rocks or logs [on muddy trails] for you and others to use. Even better, take a few minutes to find the low point for draining large mudholes and kick out blockages of loose leaves and mud to drain it down," he says.
Manage it all and you can make the most of mud season for yourself and those around you.